PHOTOS: GEORGE ROCKETT & ZOE LONDON
EDIT & WORDS: ZOE LONDON
ALTHOUGH WE WERE ONLY IN BARCELONA FOR THREE DAYS, WE ATE IN QUITE A FEW DIFFERENT PLACES. BUT I DO FEEL WE ONLY SCRAPED THE SURFACE…
As you're well aware by now, on my most recent trip to Barcelona I completely and utterly fell in love with the city all over again after visiting first three years ago. I wrote all about some different places to visit on your trip to Barcelona here, but I am yet to cover the beautiful food that we ate, so I thought i'd round it up nicely incase you were planning a trip to Barcelona in the future! And if not, put it on your bucket list. You wont regret it.


FOR A PIZZA BRUNCH: LUZIA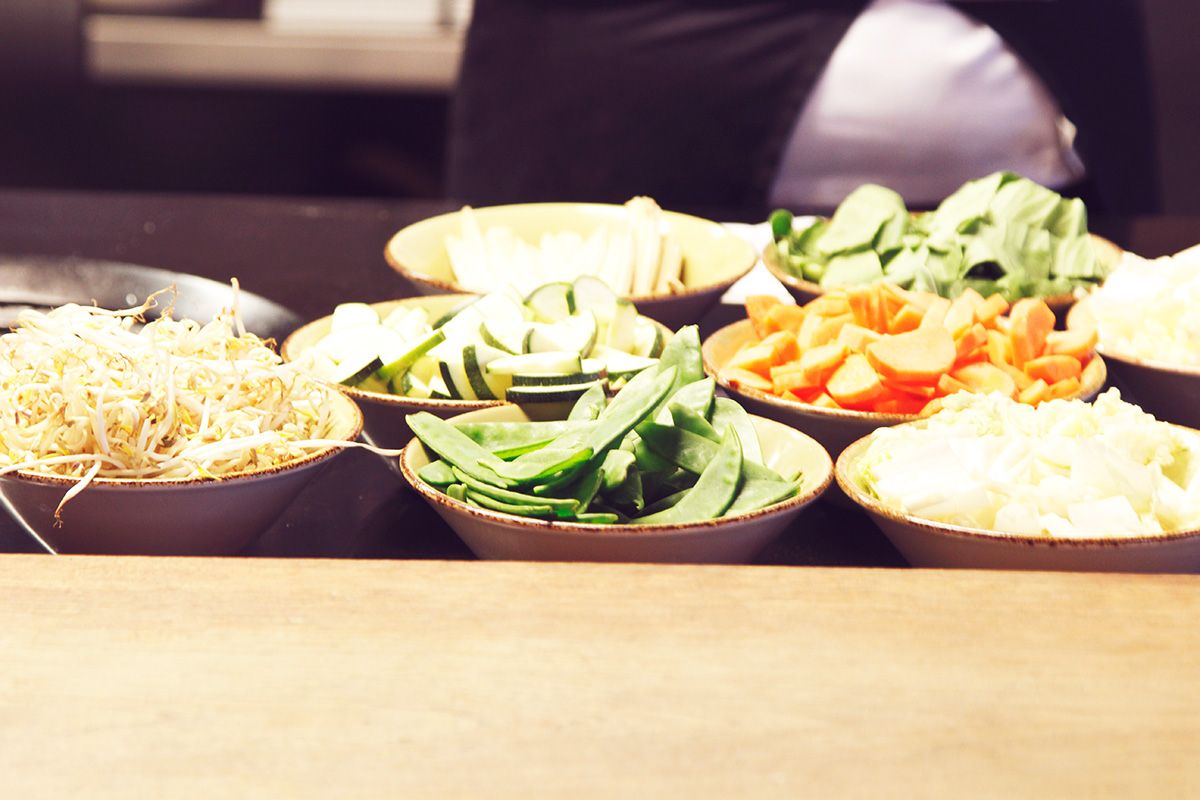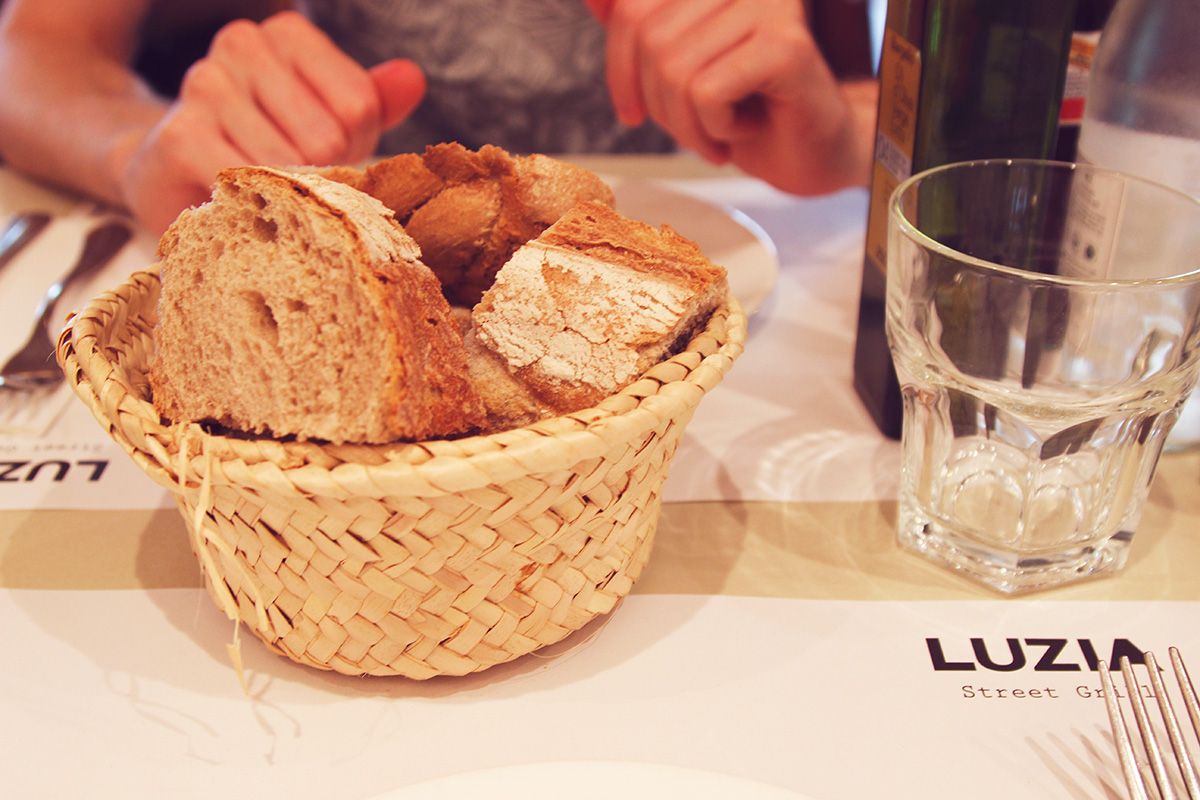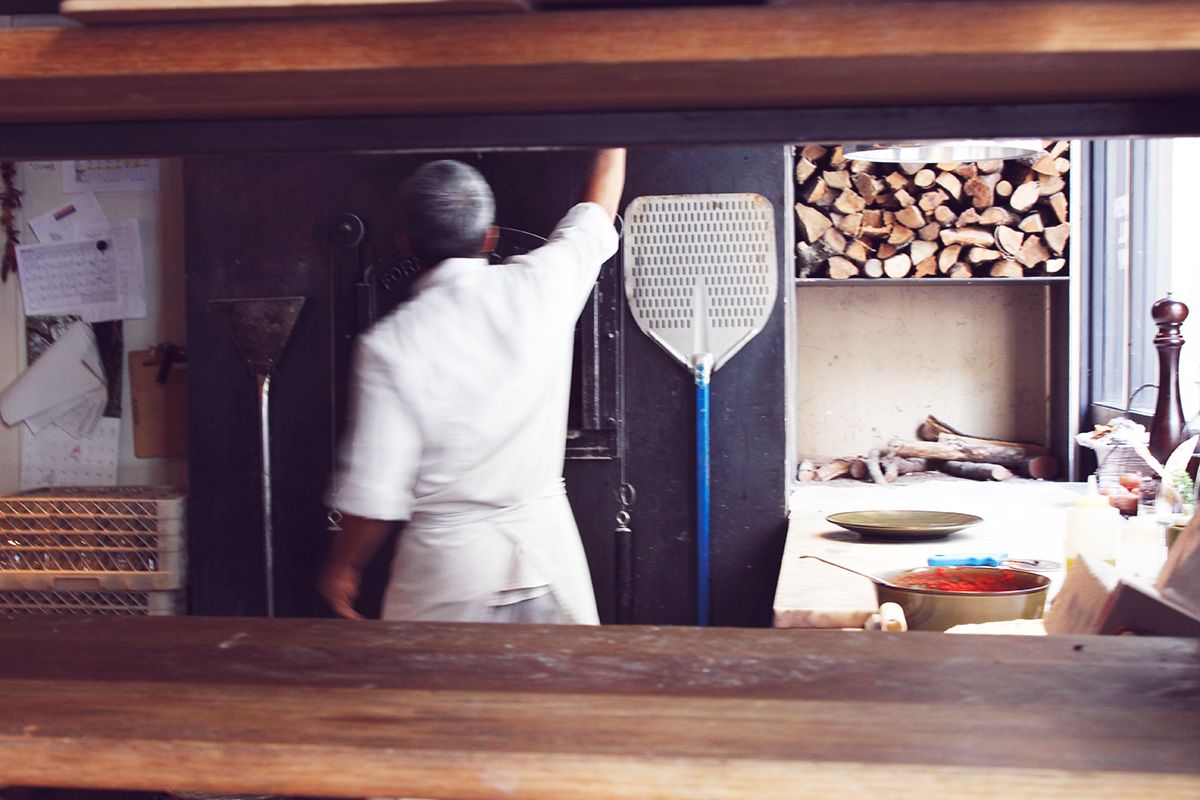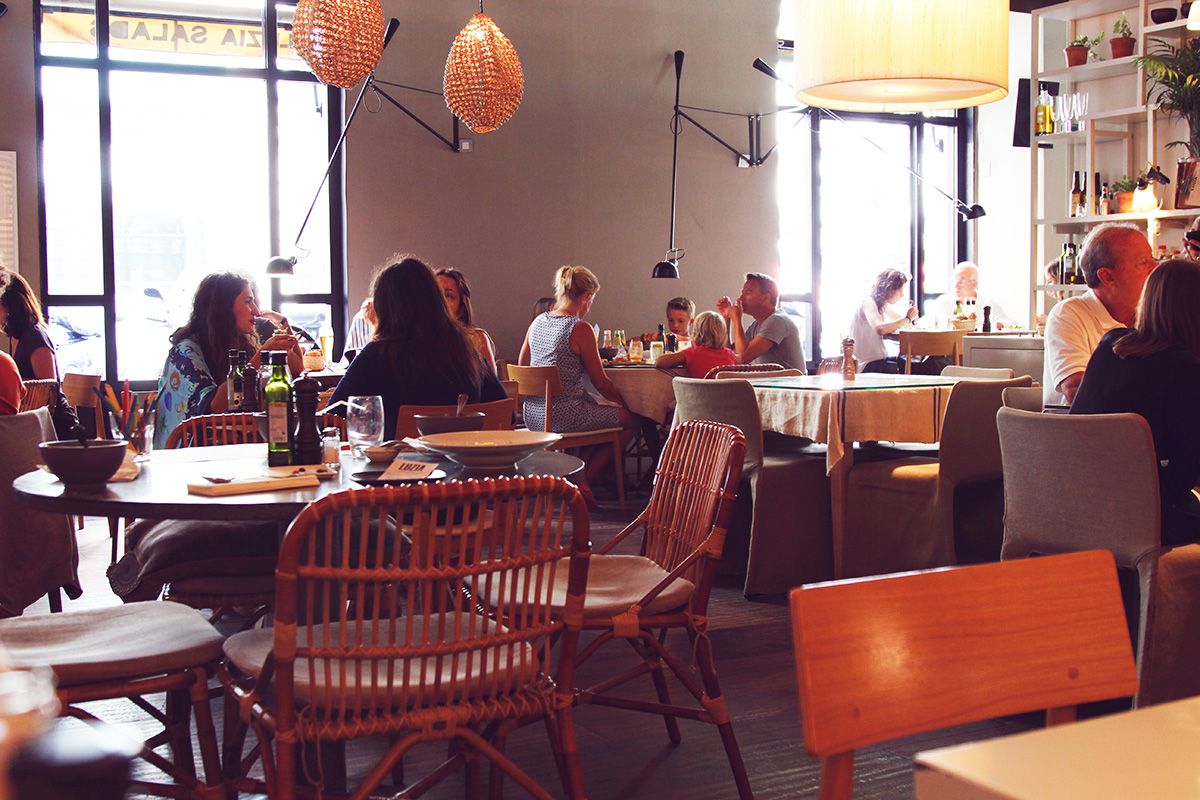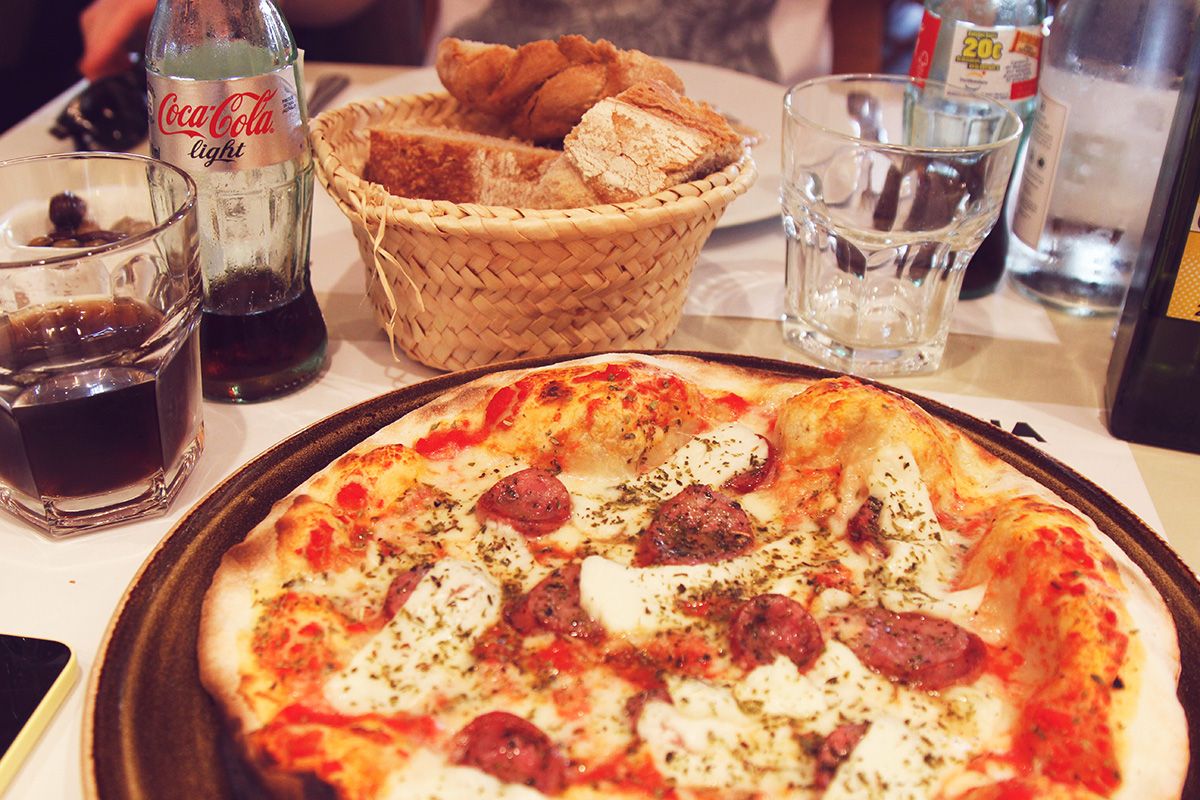 This charming little Italian style eatery had me in love. From the homely and simplistic decor inside to the reasonably priced menu and it's rustic style pizzas, this firmly cemented itself as a great place for a gorgeous brunch in Barcelona on my hit list. I opted for the pizza while George went for ravioli, and he enjoyed it immensely. The service in this place was warm and personable, which made the whole experience a joy. This felt to me quite similar to a London style restaurant, which means we felt right at home.
Price range: Pizza about 13 euros
Location: Just off La Rambla
FOR LIGHT BITES: ROOFTOP BAR, HOTEL 1898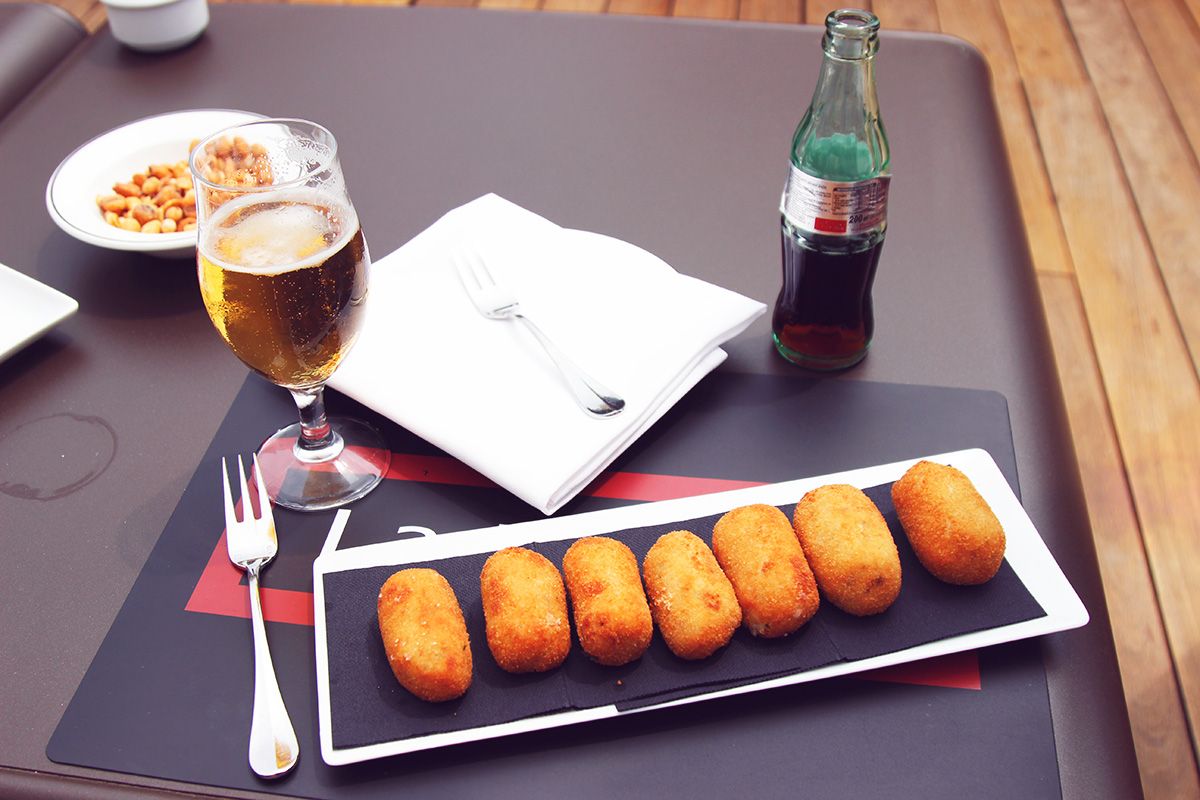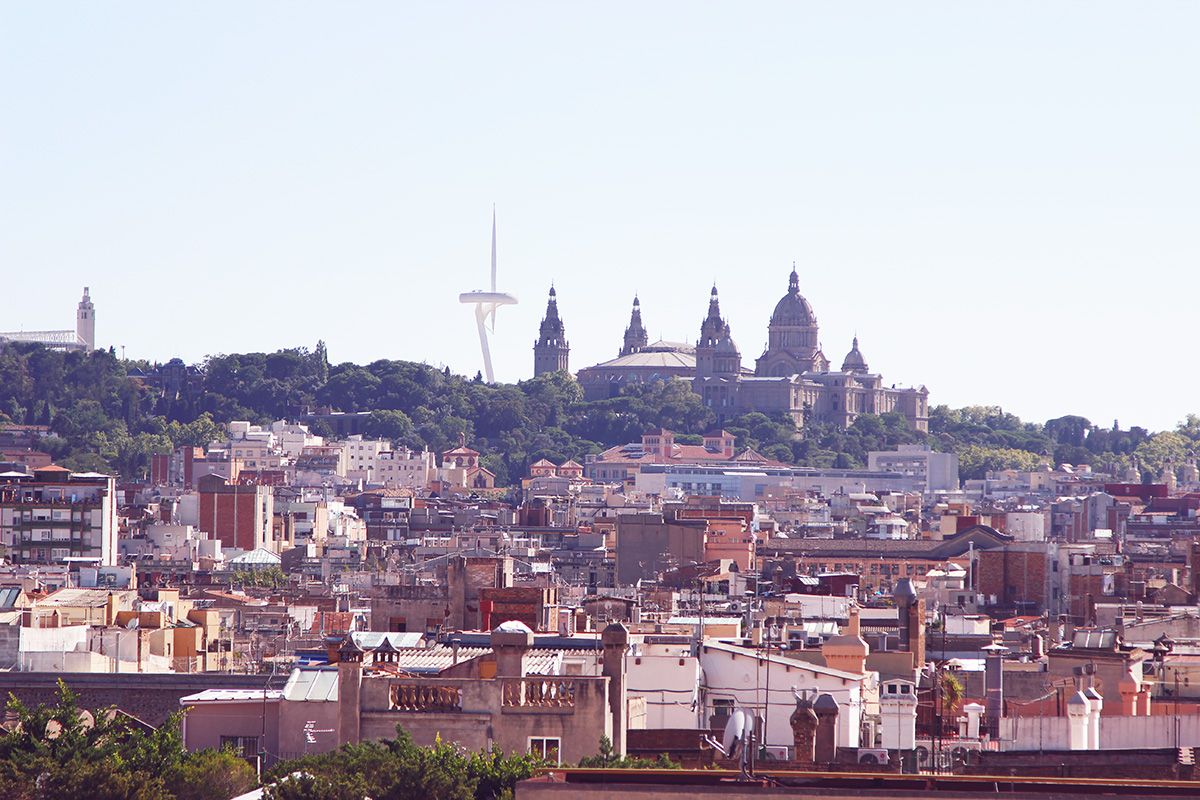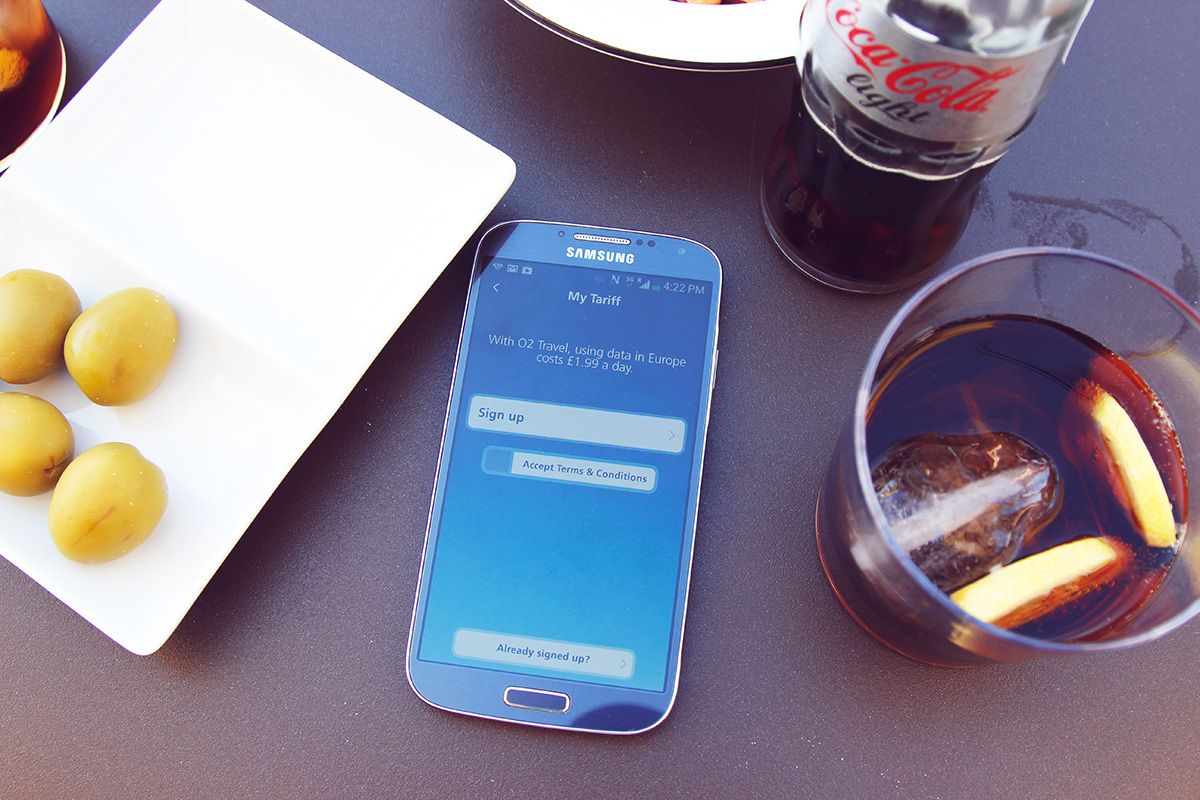 Is there anything better than food with a view? Bit of a cheat this one as it was the rooftop bar of our hotel, so we lucked out, but I saw plenty of people dining there in the day from hotel goers to locals and travellers. Bit posh this one, so I wouldn't dress too casually, but if you're in the mood for a soft drink or a cocktail/beer and a few light nibbles, the rooftop bar at 1898 is perfect. The view from up here is unrivalled, the service is impeccable and if you're anything like me and love people watching – you'll spot some right characters in here from flashy Spanish businessmen and their women, to tourists from all over the world. Try the croquettes, i've never had better!
Price range: £9 a tapas dish, quite pricey
Location: Just off La Rambla
FOR A UNIQUE LUNCH: CARAVELLE CAFE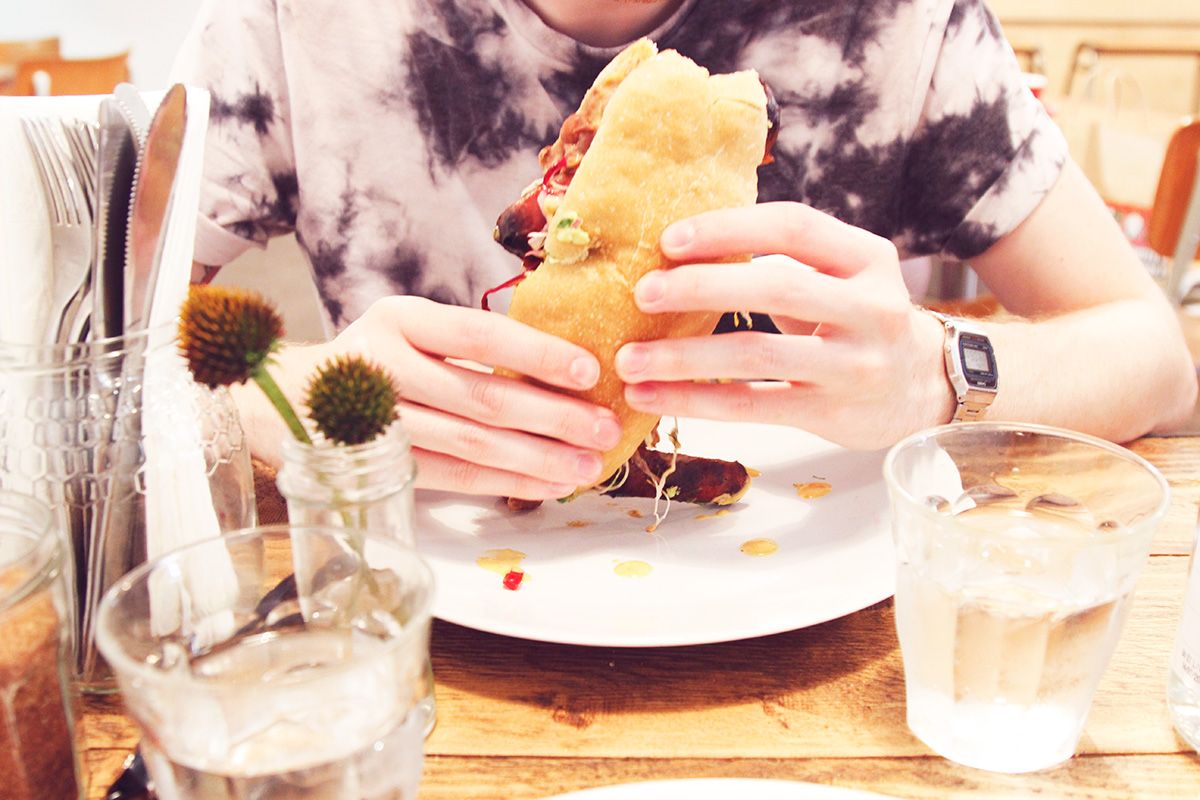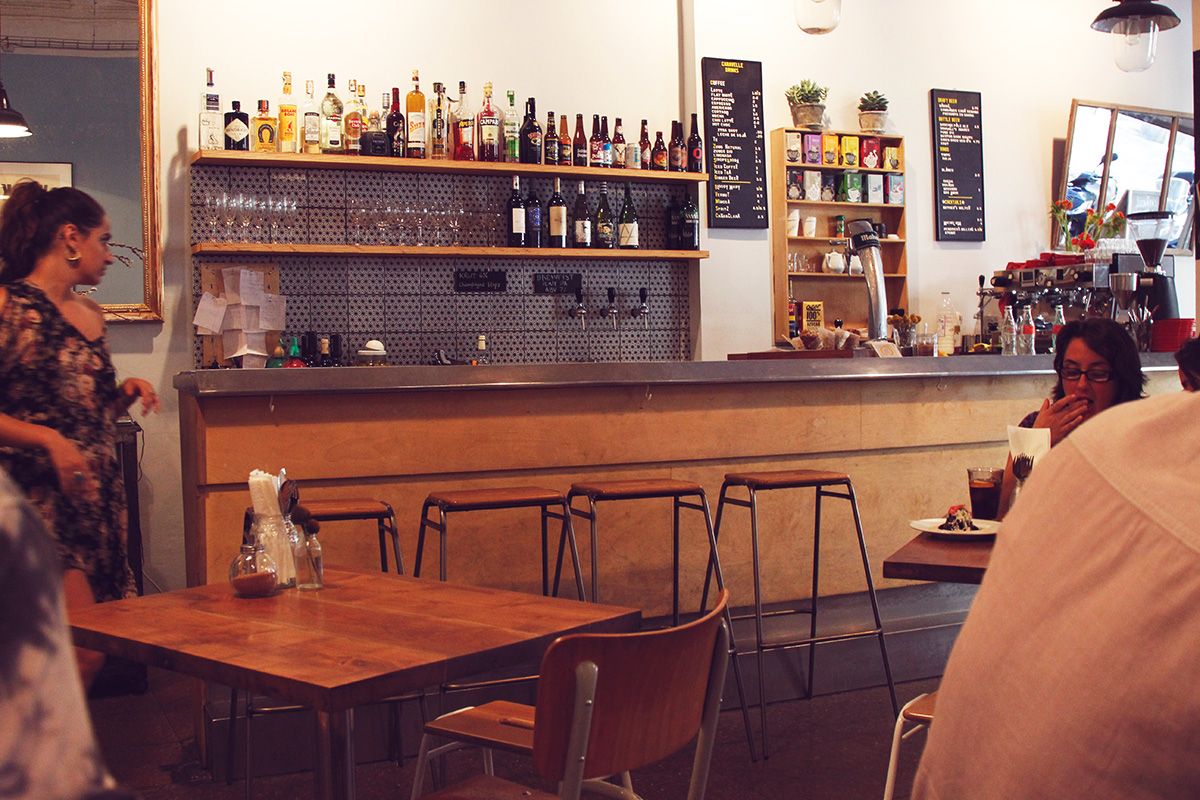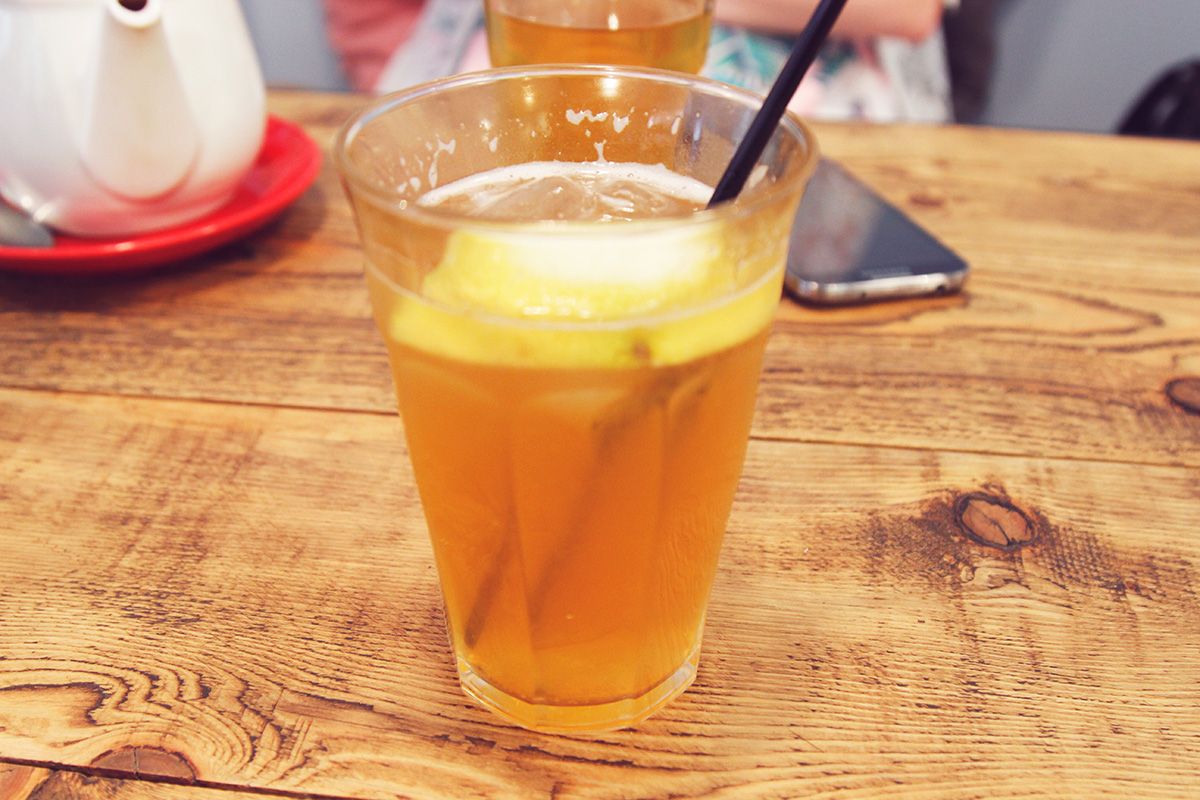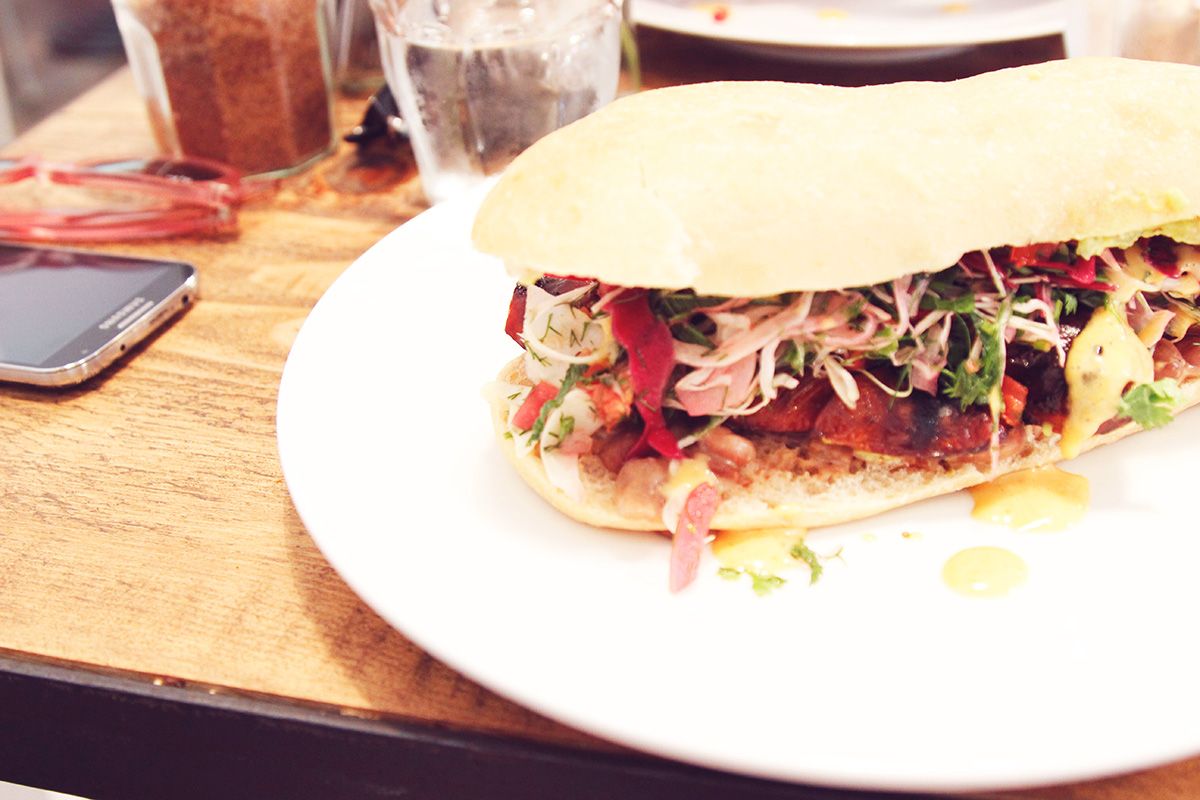 I'd never eaten anything like the sourdough pulled pork, chorizo and homemade slaw roll I got at Caravelle, and after a quick pit stop here for a coffee earlier on in the week, we knew we had to come back to try this food. It's actually been opened up by two Brits, which quite explains the Dalston-esque feel of the school yard chairs and jam jar vibes, but don't let that fool you. This is absolute fresh food at it's best, and I genuinely could not recommend a better place. You know this is the place to go when you see groups of young Spanish creatives alongside American businessmen meeting Spanish clients in the same cafe in here, and George and I (albeit tired by this time) felt both comfortable and relaxed in it's surroundings. Go here, you wont regret it.
Price: Pretty cheap, about 8 euros for the sandwich we had
Location: In the heart of the vintage shopping district in the Gothic quarter
FOR BEER AND A BURGER: BOLLOCKS BAR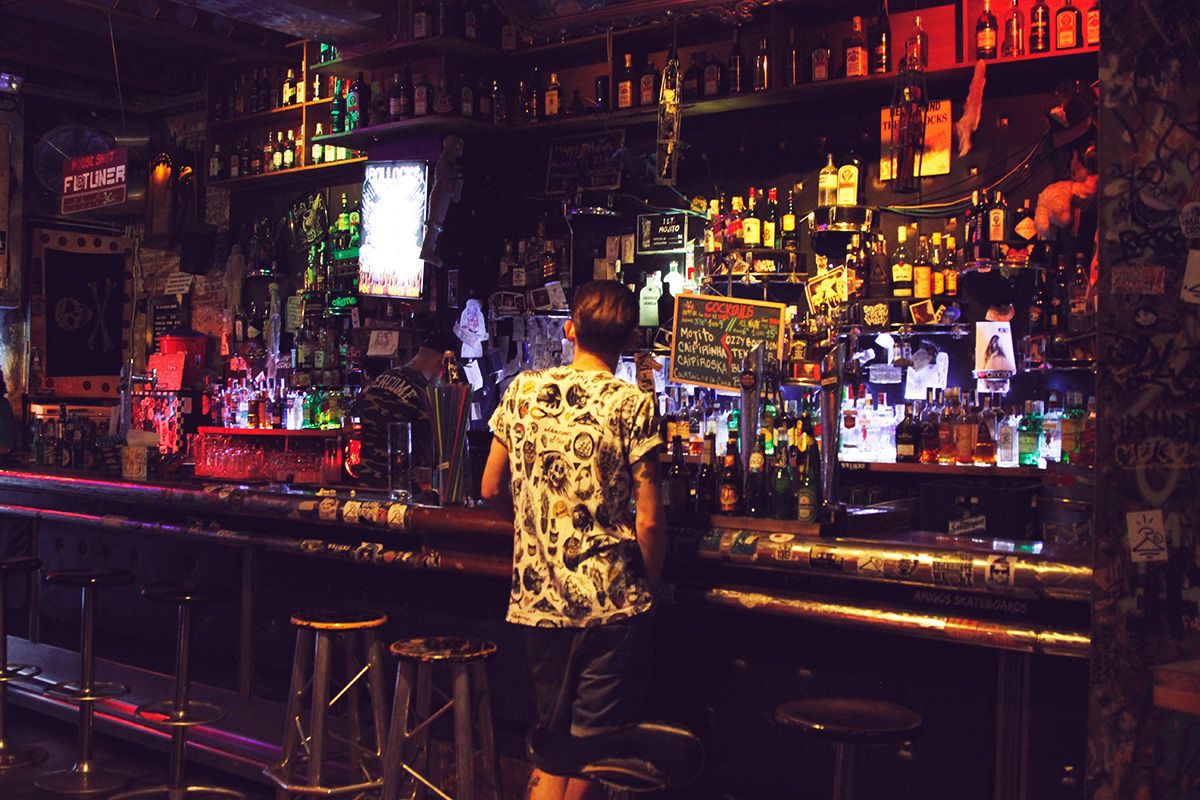 If you're into your burgers, swing by Bollocks bar. Okay i'm sorry, we mostly picked this one based on the strength of it's name. Hilarious. George and I are so into our dive bars, we're happiest in a grungey sweaty rock box so to find Bollocks in Barcelona put us at ease on our first night in a new city, especially George. Bollocks is so straightforward it didn't even need to be in English to be understood. Beer and burger for 6 euros. Done deal. The burger is unlike any i've ever had before, the patty so finely ground it melts in your mouth. Full of rich flavours, you might struggle like me to finish it all, but the chunky wedge chips with a side of guac are to die for. Aptly named after different guitar types, give this one a go even if rock music aint your thing, it was an awesome Spanish way to see in a new type of dive bar.
Price: Dead cheap, burger and a beer for 6 euros each
Location: Right in the heart of the Gothic quarter, obviously.
FOR THE BEST TAPAS IN TOWN: BAR LOBO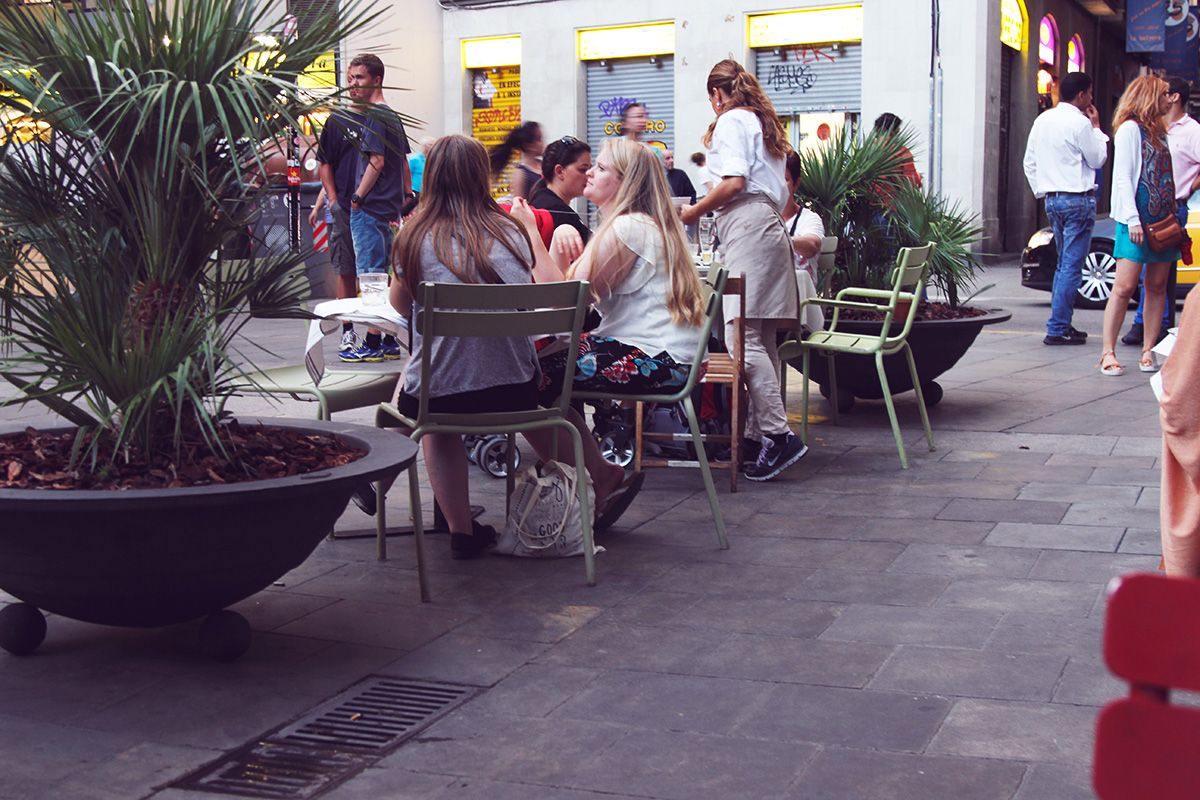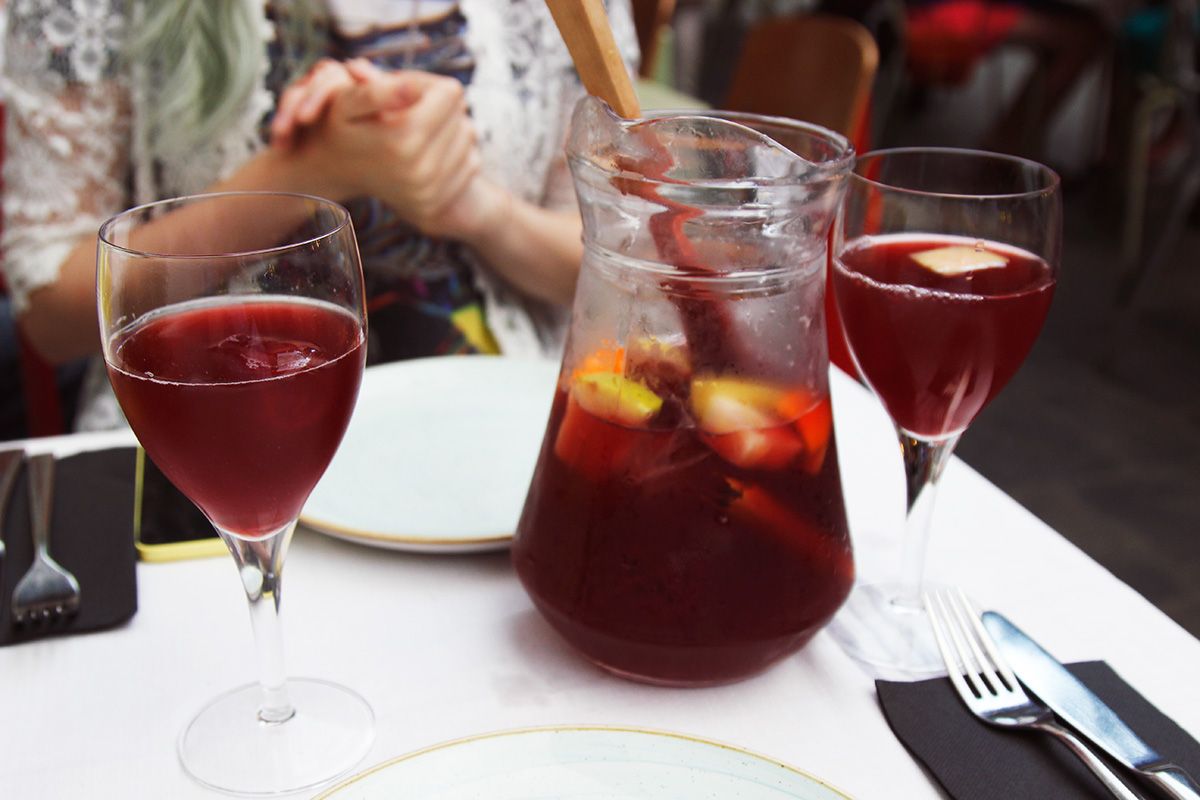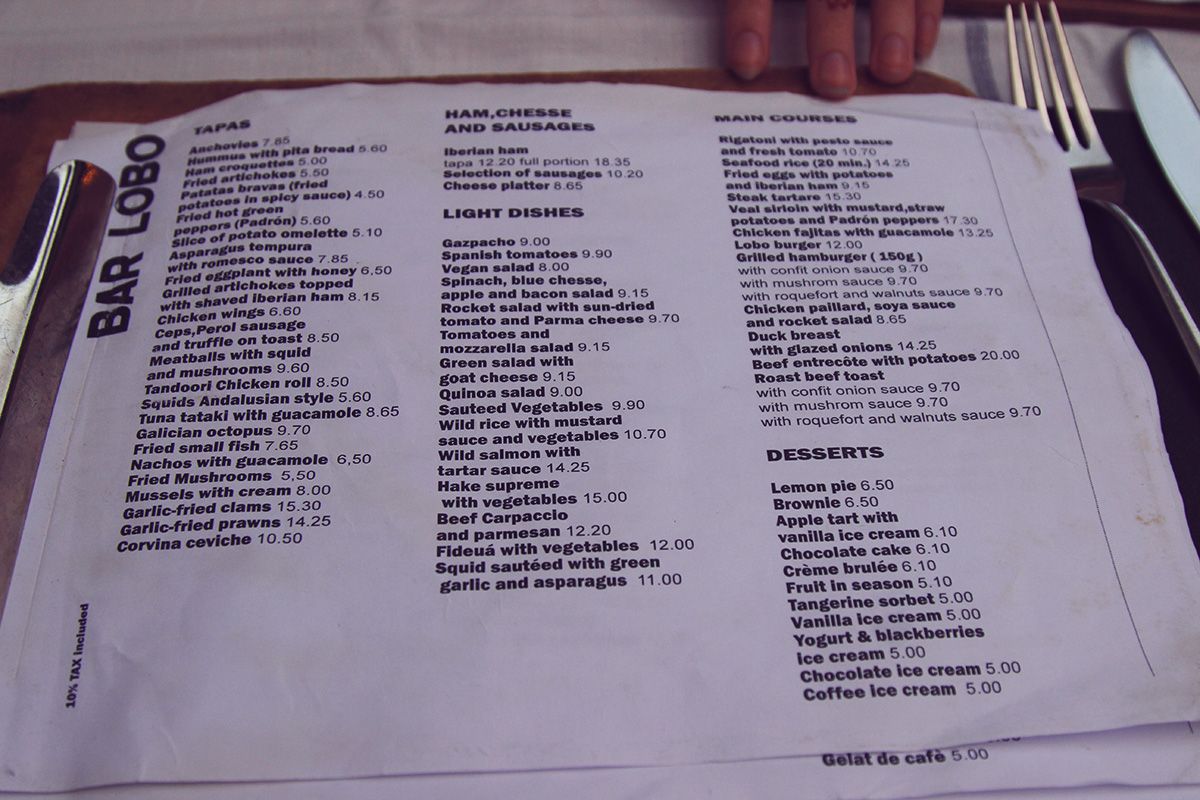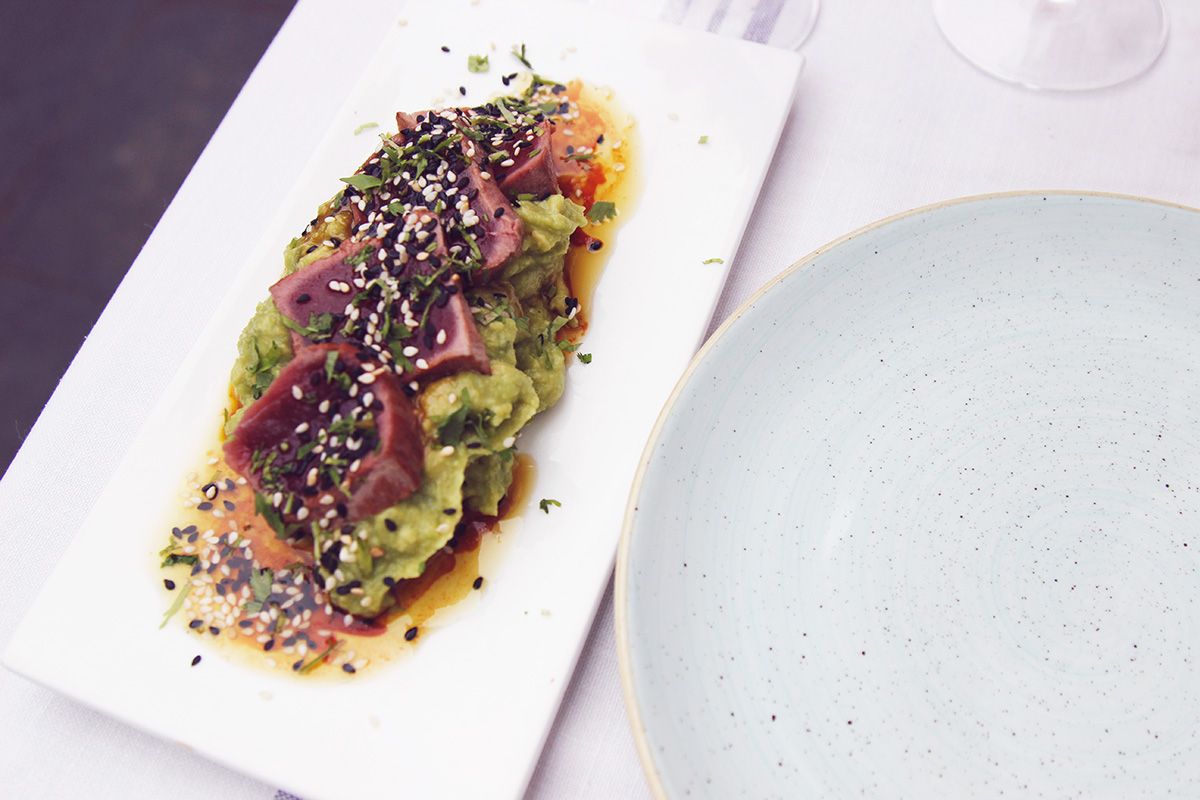 Saving the best til last, of course. For me this is a 'must visit.' Some of the best if not the best tapas i've ever had in my life was eaten in Bar Lobo, and it's a hit with the locals. That's how you know it's a good joint. Bar Lobo was so busy we had to cram on a small table for two by the main entrance, but that didn't matter. The weather was beautiful outside and the food was most certainly worth squeezing onto a tiny table! Get a jug of sangria for authenticity and try as many of the tapas dishes as you can eat. The seared tuna on a bed of guacamole was beyond beautiful, and the bowl of chorizo and calamari caused a fight between me and George as to who was going to finish it. Delicately presented but perfectly seasoned, you're gonna want to blow the budget out for this.
Price: Pretty expensive, each tapas dish about 7 euros
Location: Just off La Rambla
So there you go, there's the lowdown on my picks of where to eat in Barcelona. I did do a fair bit of research before we went on some of the best places to go but of course I am yet to try every restaurant so for all I know there's more hidden gems out there to be found! I guess i'll just have to go back…
Wheres your favourite place to eat in BCN? Has this inspired you to visit?