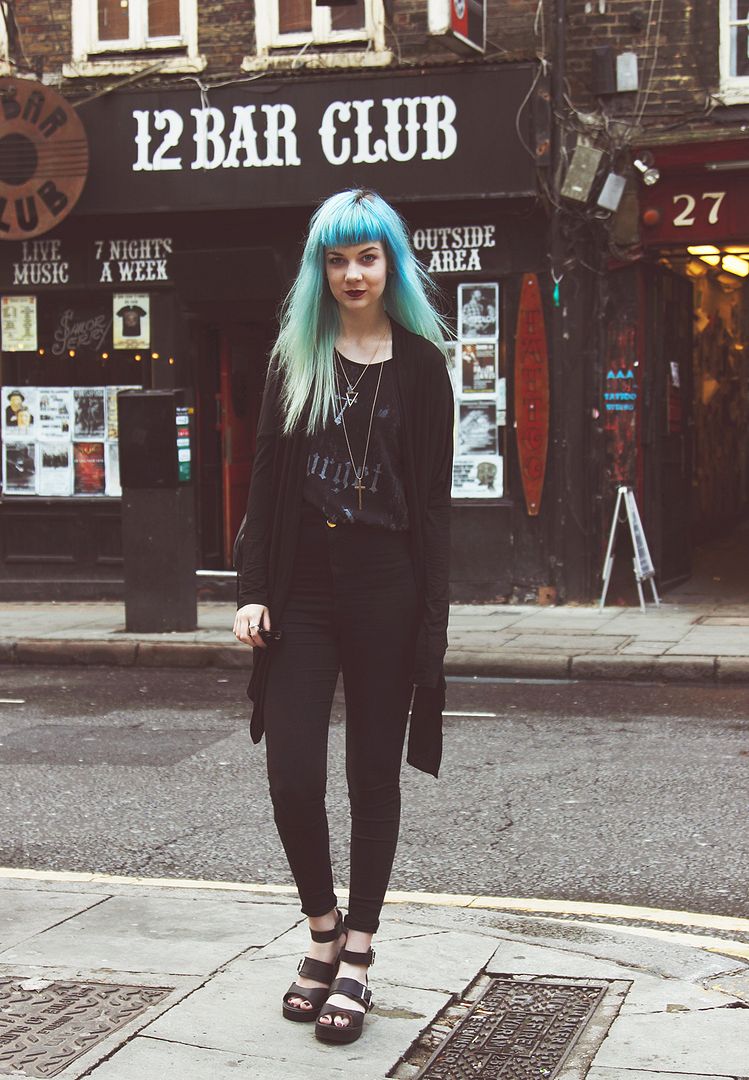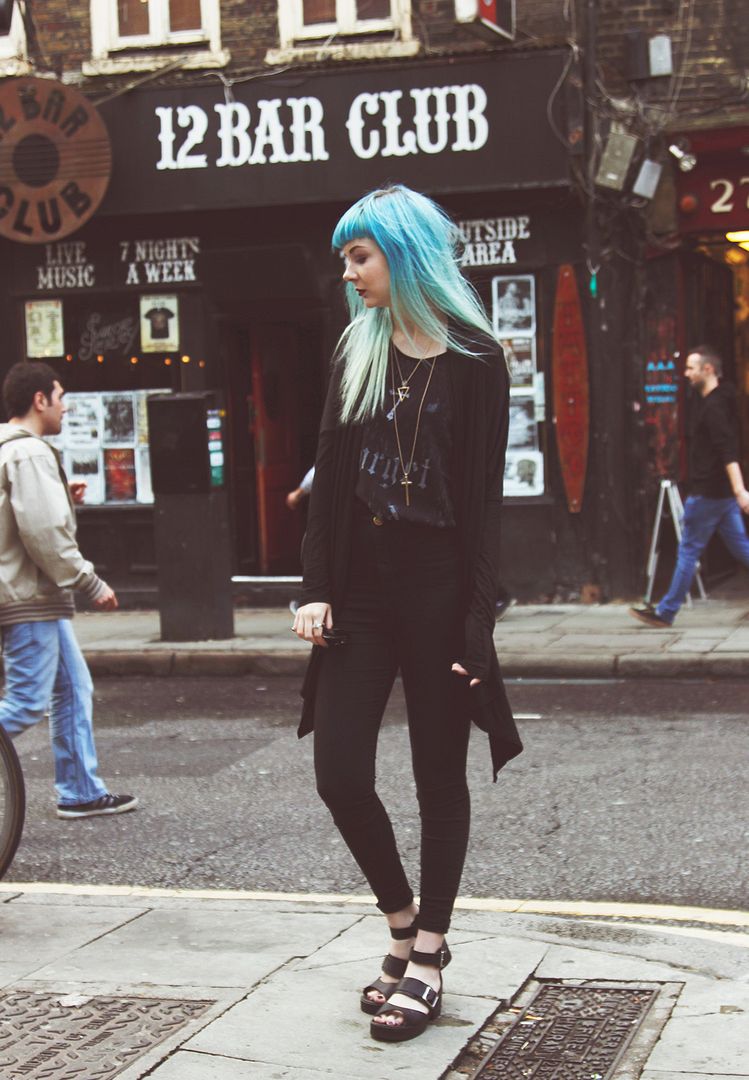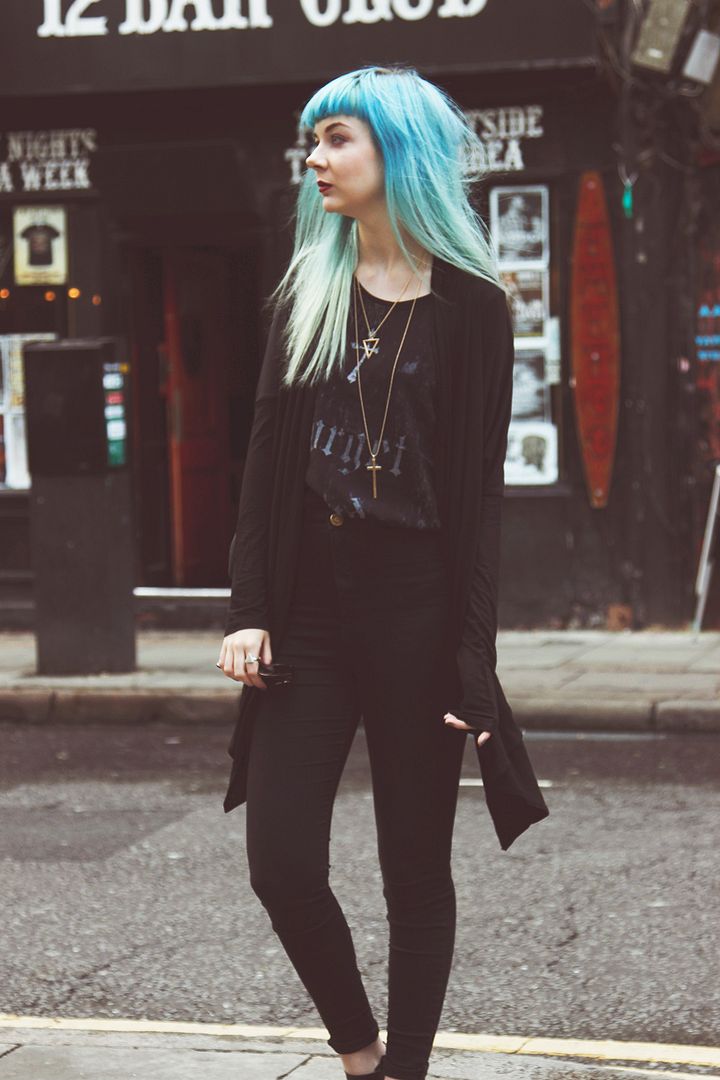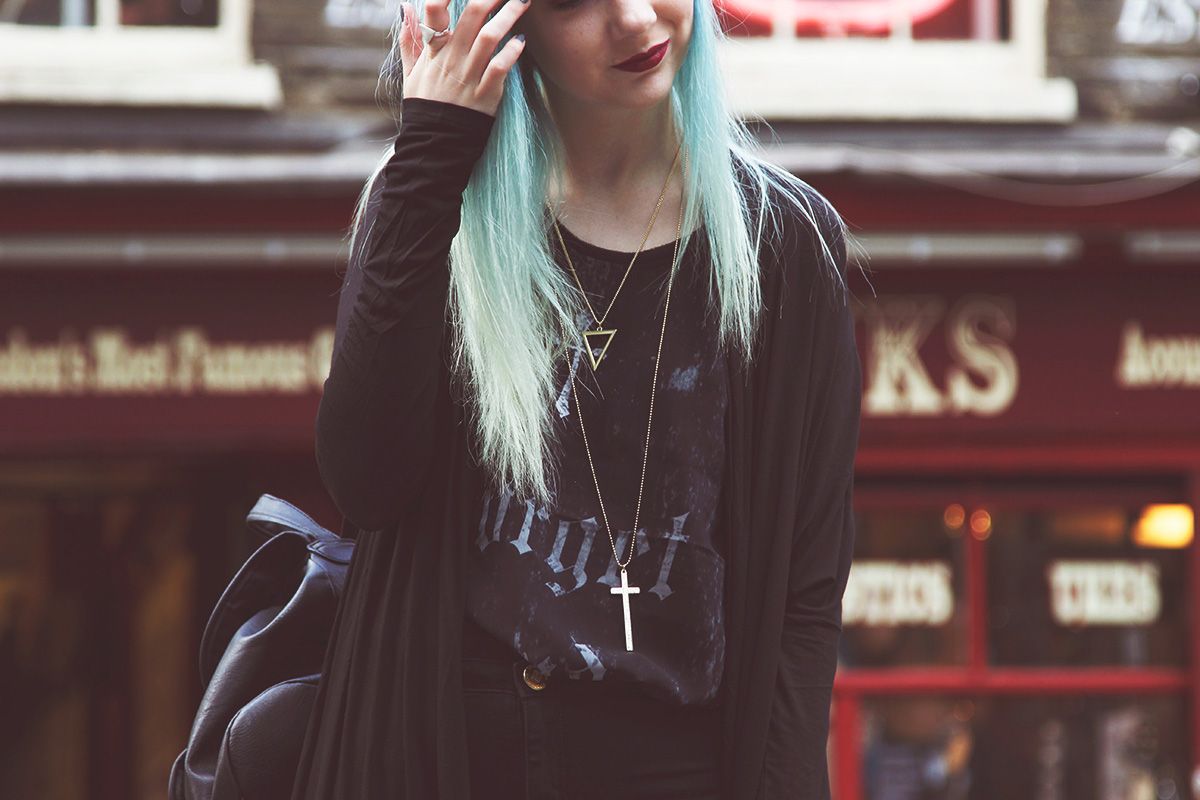 PHOTOS: GEORGE ROCKETT
EDIT & WORDS: ZOE LONDON
*THIS IS A SPONSORED POST ORIGINALLY CREATED FOR THE H&M TUMBLR*


FEATURING:


TOP: H&M*
JEANS: RIVER ISLAND*
CARDIGAN: H&M*
SHOES: NEW LOOK
NECKLACES: H&M*
RINGS: H&M*
The grey girl collection from H&M has got to be one of my favourites yet. It's relaxed and textured fabrics approach lean entirely within the black, grey and purple spectrum, making this a punk's paradise. When I was first told about the Grey Girl range, Brody Dalle, Kathleen Hanna and Courtney Love sprung to mind, and that's the way I went with my styling on this. We're talking old school, attitude girl punks, the ones that paved the way for this trend to continue into the future, the riot grrls and the innovators of that music genre. Relaxed clothes that almost slide off the shoulders, messed up hair and smudged dark makeup.
You can't go anywhere in the Tottenham Court Road end of Soho without walking into several guitar shops and old venues – those of which are the last of their kind, yet to be bulldozed by the Crossrail. 12 Bar Club is one of the oldest. Back in the day, The Libertines used to play pretty regularly here, making their mark on Central London in the only way they knew how – in grubby, old damp venues like the 12 Bar. But it's not without it's charm. Some of my favourite places in London are the ones that are almost falling down they're so old. Many nights spent in the Crobar around the corner, drinking whiskey until the early hours, crammed in with a load of sweaty rockers.
Now i'm not saying the age of Brody and her peers has gone, but it's rarer these days that a high profile punk girl comes out as raucously raw as they did, back in the day. A lot of rock and roll's most hedonistic ways are slowly dying out in shape of corporate 'pop punk bands', and even girl fronted Paramore aren't the rock and roll punk babes we so wish they could be. Of course, the punk girls are there somewhere: Alice Glass and even closer to home: Becca Macintyre from Marmozets both smash shit up on the daily, but I do long for some more punk rock grey girls in popular culture. For Patti Smith and Pat Benetar newbies to come and show the boys where it's at. There's room for new grey girls yet, and god knows we need them in our lives, smashing tables at the NME Awards. Turn off Taylor Swift for a bit and try Bikini Kill, there's a grey girl in you yet.
Read my original post on the H&M Tumblr here.
This is part of a four part sponsored series in collaboration with H&M as a H&M Ambassador.