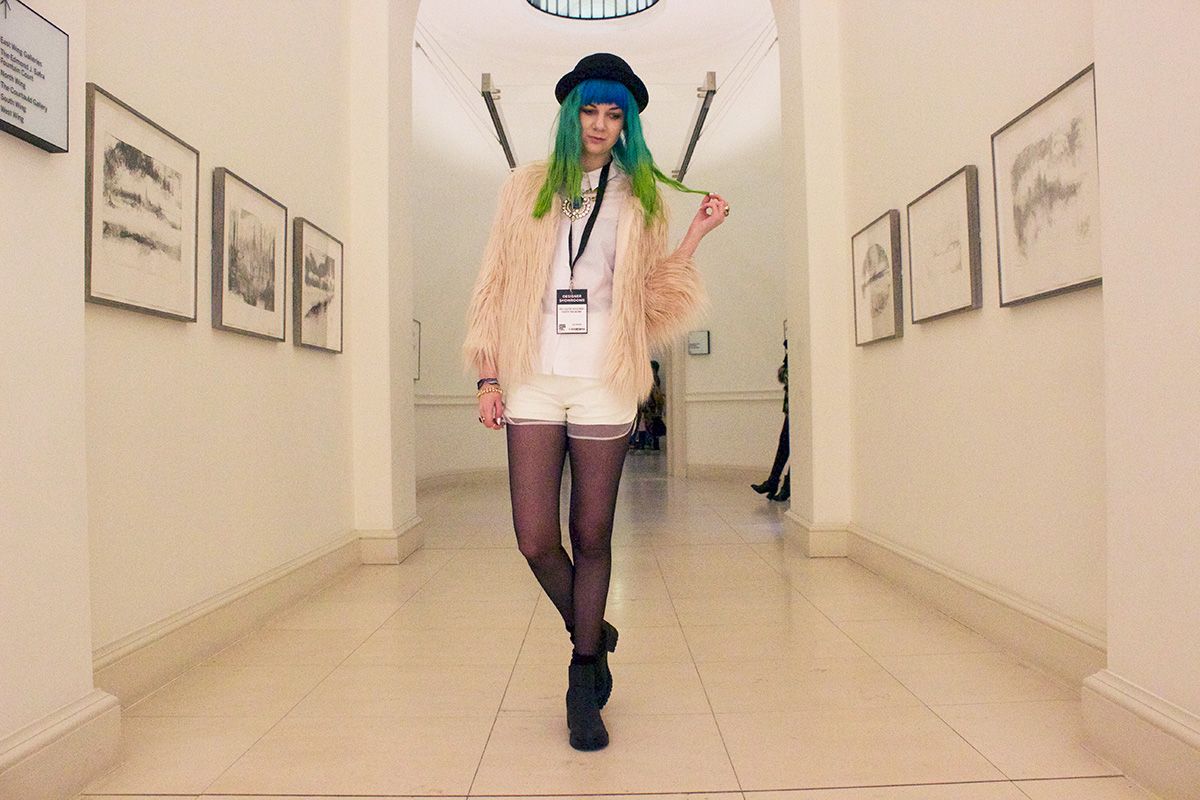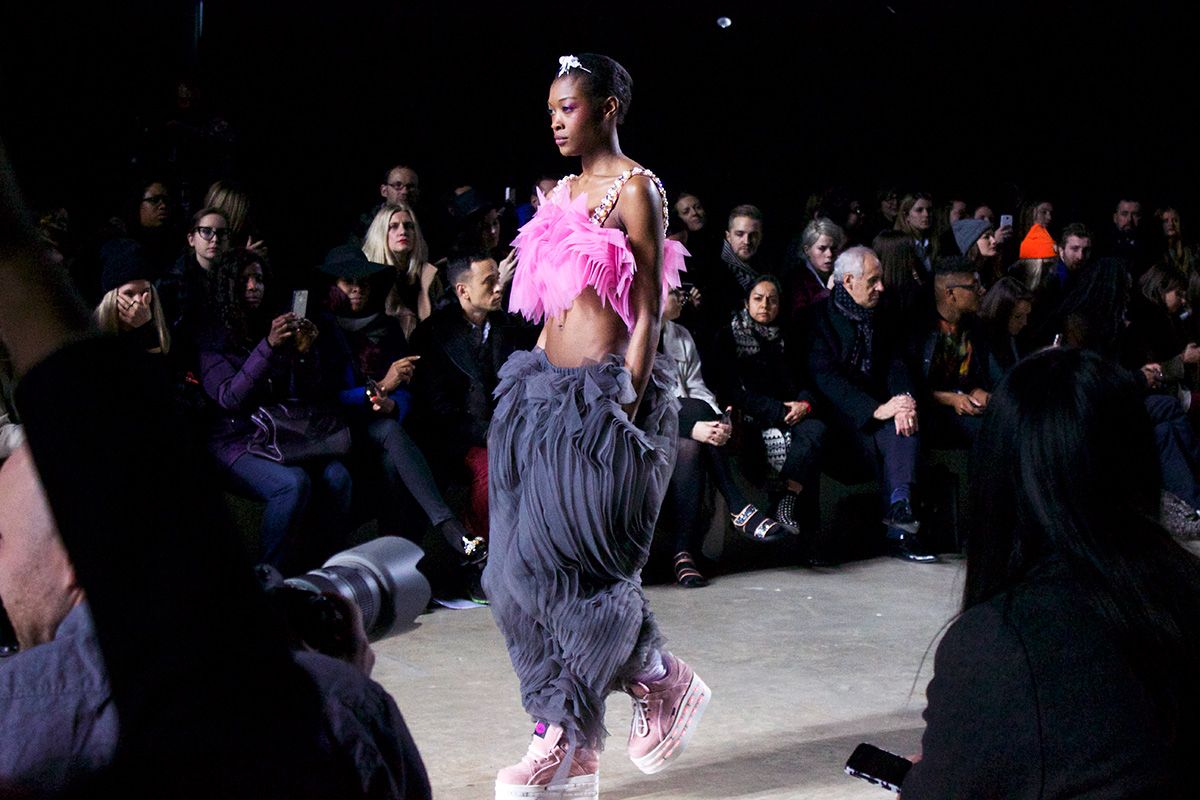 PHOTOS & WORDS: ZOE LONDON
YEAR AFTER YEAR PEOPLE ASK ME: "HOW DO YOU GET TO GO TO LONDON FASHION WEEK?" HERE'S A BIT OF ADVICE AND SOME REAL TALK ON GETTING IN TO FASHION WEEK AND SOAKING UP THE EVENT.
One of the hottest tickets in town around February and September each year is to London Fashion Week. I'm going into my sixth or seventh (? I think) season covering LFW and I think it's probably about time I imparted a little bit of advice to those of you looking to go. At Fashion Week time, I write for the incredible Fiasco Magazine about what I see and feel during my time there, and for me that is my real outlet to express my thoughts on the fashion on show. I love being able to write about fashion with a critical and analytical eye, after now finally becoming familiar with the designers' tricks and signature styles, Fiasco for me is the perfect balance of absorbing fashion week madness and creativity. I do cover some stuff on my blog here too though – mostly backstage beauty and tips and tricks, and that's how it'll play out this season so if you want to keep an eye on me, those are the best ways to! Anyway, on to the tips!
FIRST AND FOREMOST, LFW IS AN INDUSTRY EVENT
I think the one main thing a lot of aspiring attendees forget is that London Fashion Week is a full on industry working event. It took me a couple of seasons to find my place in this myself, it's not a free-for all event, it is invite only for the working members of the fashion industry. That means if you have a backstage pass, you will be pushed out of the way, and you really need to wear flat/stable shoes. You'll have an early morning wake up call, and you'll have a late night end – which then means heading in to write up your show reports about 1am ready for the next day. It's been both praised and criticised famously by press for being a bit of a peacocking event for fashion bloggers, and whatever side of the fence you sit on regarding that, if you are a blogger, you need to remember how to conduct yourself. It's a professional event, and absolutely everyone who is anyone will be there. So of course, you can network as much or as little as you want. The best thing to note is to be prepared for this, so if you have been granted a blogger pass, you must go in with a professional head. It's very different to your standard blogging event. Very.
WITH THAT IN MIND, HERE'S HOW TO APPLY
So you've thought long and hard about whether you want to go to Fashion Week or not, and whether you're ready for the work and you're confident you know it's a working industry event. So, bearing all that in mind, you're ready to apply. What you need to have is a bunch of stuff that proves you're keen on fashion – they usually ask for print outs of two or three articles written about the fashion industry. And that means real indepth analytical articles, not just outfit posts of stuff you bought or hauls. Additionally to that, they look for proof of your stats and hits, as well as social channels. Of course with anything there is a limit and if your stats are quite low unfortunately this season may not be for you. But don't get dejected! There's always time in the future, and for now there is plenty of other stuff you can do to still get involved with Fashion Week. Here's the link to apply.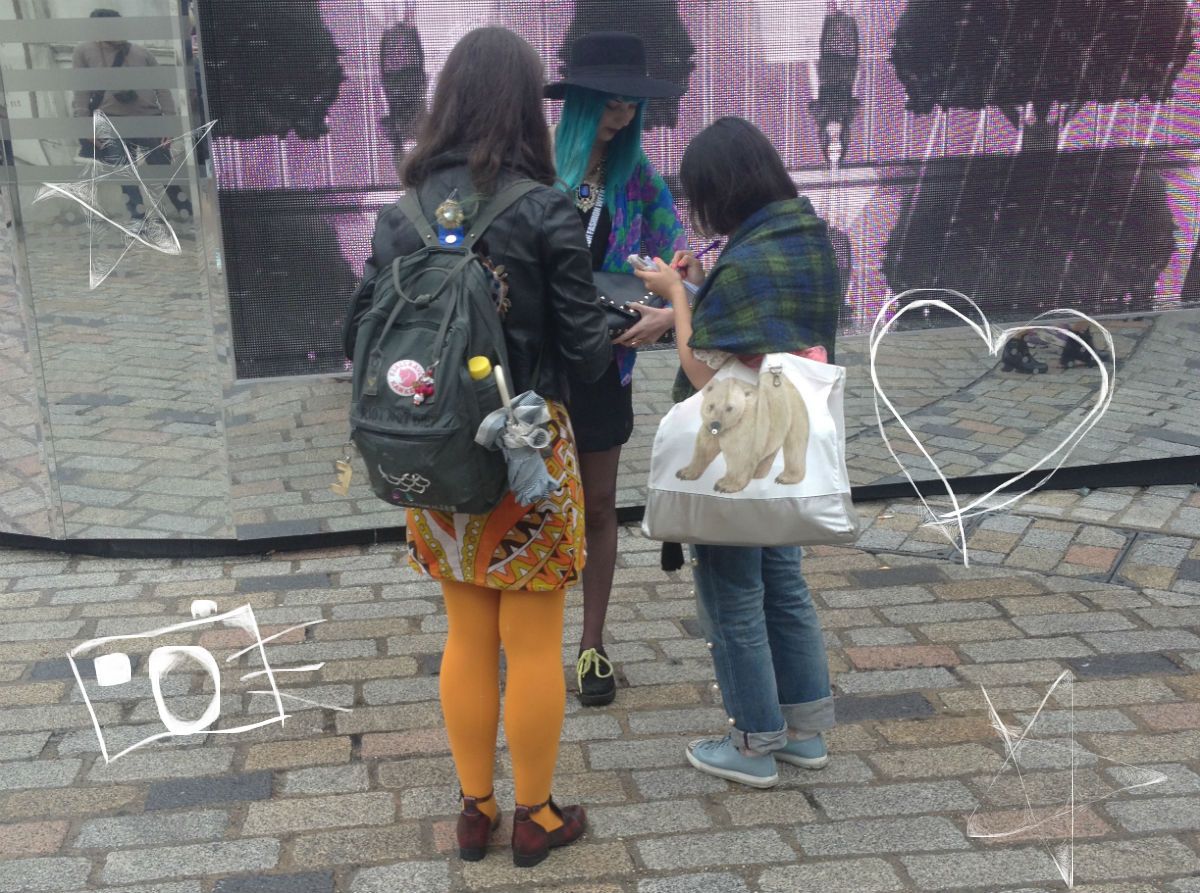 THEY CLAMP DOWN ON BLOGGER ACCESS, WHY NOT TRY AND INTERN AT A COMPANY OR WRITE FOR A MAGAZINE?
If you have been super lucky to get a blogger pass – those of which they are massively cracking down on these days – make the most of it. I have been accredited by BFC for a few seasons as a blogger before switching to being a journalist for Fiasco, and I know that they look for those that work for it. I always made the most of my pass, heading in to as many shows as possible, tweeting useful information and keeping London on the pulse. They grant blogger passes to those actively interested in supporting the fashion industry in our country. If you've a keen eye for style, and will work until sunrise on Fashion Week, apply to be a blogger. If you want to go to soak up the atmosphere and have your photo taken outside in the courtyard, you don't need to apply for a pass. If you really want to go but have quite a small blog, take initiative and try and intern at a company working the event – hundreds of designers need hundreds of interns to help make the show happen, what a better way to see the event than to work for team Mark Fast or Henry Holland? All of which are available to do, so get involved and intern. Or, if you find you have a real passion for writing like me, turn your focus to a magazine and get work as a journalist.
OF COURSE, SOMERSET HOUSE IS FREE TO VISIT
Somerset House is open to the public during Fashion Week and there's a number of wonderful cafes and seating areas you can enjoy during LFW to soak up a bit of the fash pack and do a bit of celeb spotting, and why not? I see tons of people do it from fashion enthusiasts to amateur photographers and even just the odd couple on a day in London having a little look in! Anyone can do this and even if you haven't got any show tickets it's a great place to be to network and meet people. You might bump into your favourite fashion blogger who you can grab for a five minute interview – a great feature for your blog – or you can sit and watch the shows on the screens outside, take notes and still cover the shows for your blog too! Loads of people do this from aspiring bloggers to just fashion nerds and you will see some real sights, a lot of people dress for the occasion. If you're gonna go, Friday is the best day to do this, as all the major fashion magazines head down there to take street style photos for their websites and print magazines. I've found myself ending up printed in Vogue in other countries, published on Cosmo Company and Elle and even on the Topshop tumblr page!
You too can bring your camera and come down and photograph it all to make some lovely posts on your blog, without even having to go to any of the shows! This shows you're proactive and keen, and will also be interesting to read for those all over the world who want to know a bit more about fashion week.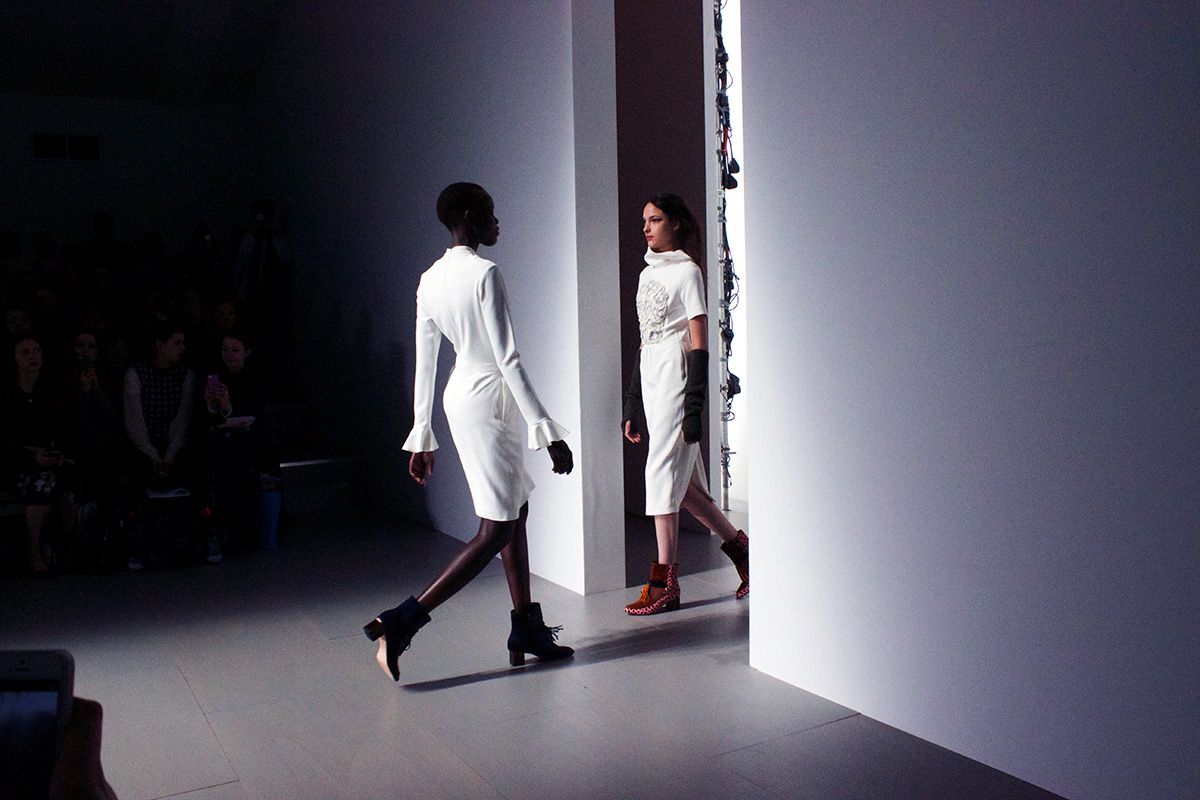 WATCH THE LIVESTREAMS AT HOME OR IN THE COURTYARD
Elaborating on my previous point, if you're really keen on covering the shows, why not tune in to the livestreams from home? You can watch every single show from the comfort of your bed, and you can still write up amazing personal show reports on your feelings watching the show live on your blog. You could draw illustrations to go along with it, or then go out and shoot an outfit post in the style of the show you've just seen! These are all the kinds of things that BFC see as proactive blogging, that will help you get yourself a pass granted in the future!
HEAD TO ONE OF THE MANY LONDON FASHION WEEK STORE PARTIES OR EVENTS
There's so much going on during Fashion Week that it's worth making a visit to the city. Topshop Oxford Street do loads of instore events and parties that you can attend, and you can go pretty much anywhere down Oxford/Regent Street during LFW and you'll find some sort of event to do with the landmark fashion event going on! Perhaps you're a beauty blogger and you don't really have a massive interest in fashion week but still want to get involved, well keep an eye on that inbox because usually brands throw bashes related to the shenanigans going on – you may well find a nice invite or two waiting for you anyway, irregardless of whether you have a catwalk ticket or not.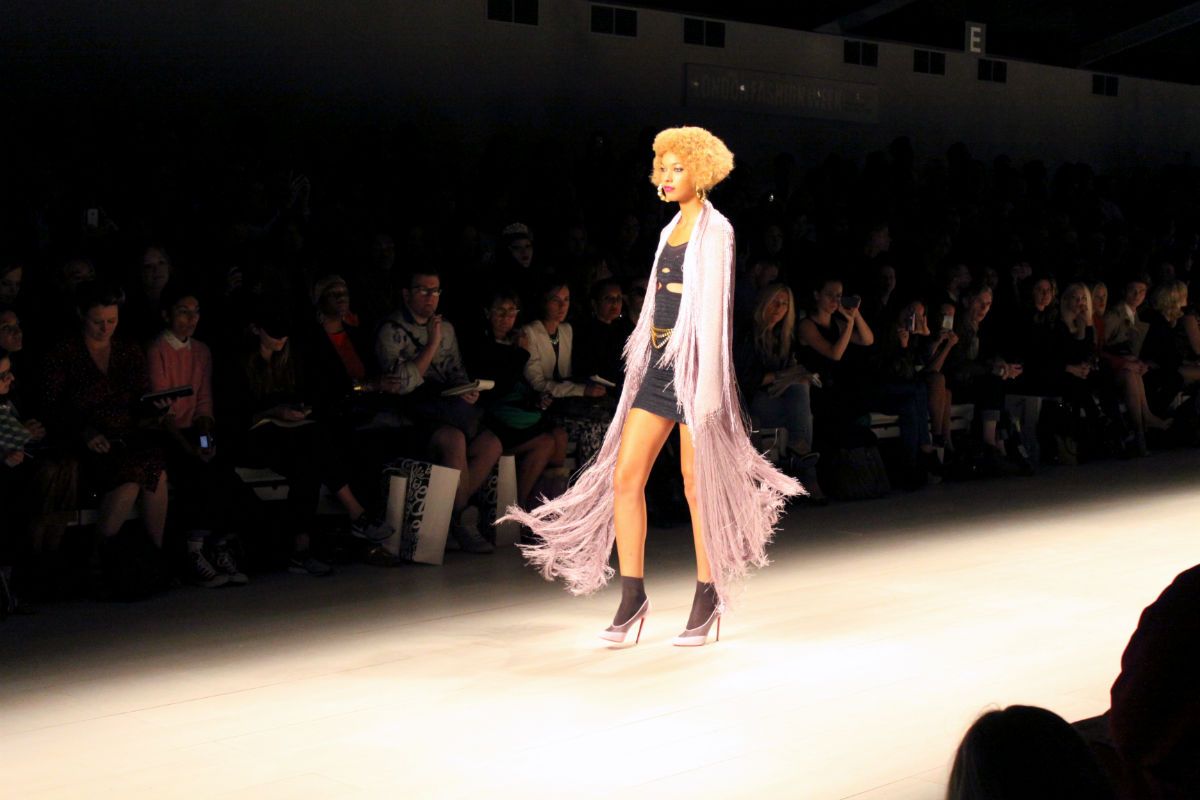 EXHIBITIONS ARE A-PLENTY DURING LFW
The International Fashion Showcase usually happens every year at the same time as London Fashion Week, and it's a lot easier to get a ticket to that if you're keen on watching some live catwalk shows. You can also head down to many of the big museums and galleries for Fashion related exhbitions and shows, as they pop up by the bucketload during Fashion Week. Keep an eye on the BFC events calendar for an idea as to what's going on in town!
Well writing all this has got me very excited for Fashion Week! Additionally to those tips above, here's a lighthearted look at some of the silly things we get up to during fashion week:
– Stumbling around on cobbles in heels we can't walk in – why do we do that?
– Drinking a ton of whatever the free drink in the press area is, bring back vitamin water!!
– Sobbing about how long it takes to get a taxi outside Somerset House to the next show
– Squealing over seeing our favourite fashion blogger, hai Susie Bubble 😮
– Gawping at some of the more extrovert outfits
– Wishing we had a more stylish umbrella when it no doubt starts raining
– Finishing every sentence with 'dahhhrling'
– Forgetting how to coat and doing the shoulder jacket thing
– Wearing sunglasses everywhere. Everywhere. If Anna Wintour can…
– Wondering why we have to move seats for some Made in Chelsea reject
– Feeling tired by Sunday and ready to give in
– Forgetting how stressful it is and looking forward to it immensely before it comes around again
Happy Fashion Week however you choose to do it, you can find my critical eye over at Fiasco Magazine, my outfits and my backstage looks on this blog here and everything in between probably including a post fashion week existential meltdown on my twitter page. See you on the cobbles! Leave your top tips and hilarious fashion week stories in the comments if you can add to either of my lists above!