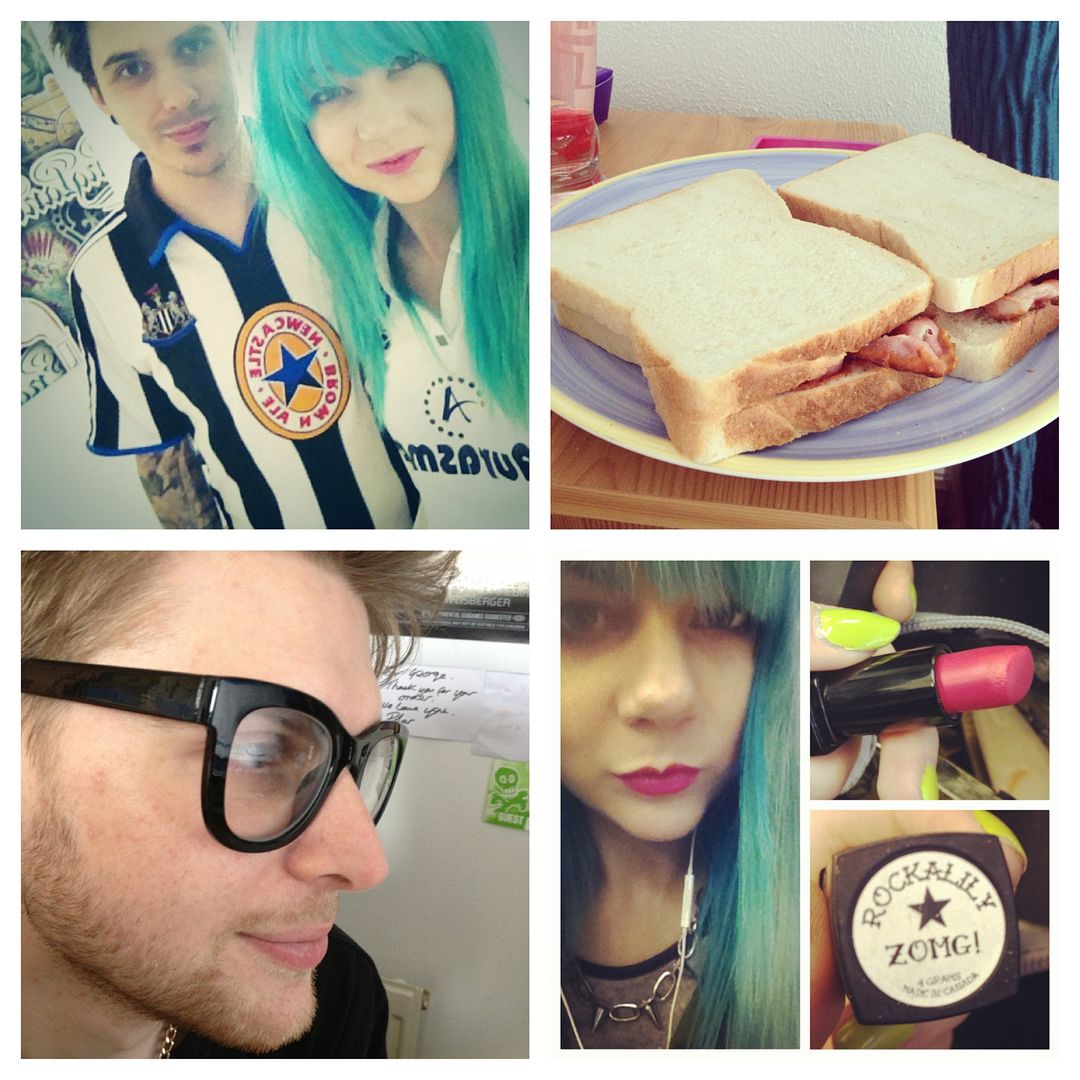 | rich and i on super soccer sunday | bacon for breakfast | geeky glasses | my lipstick |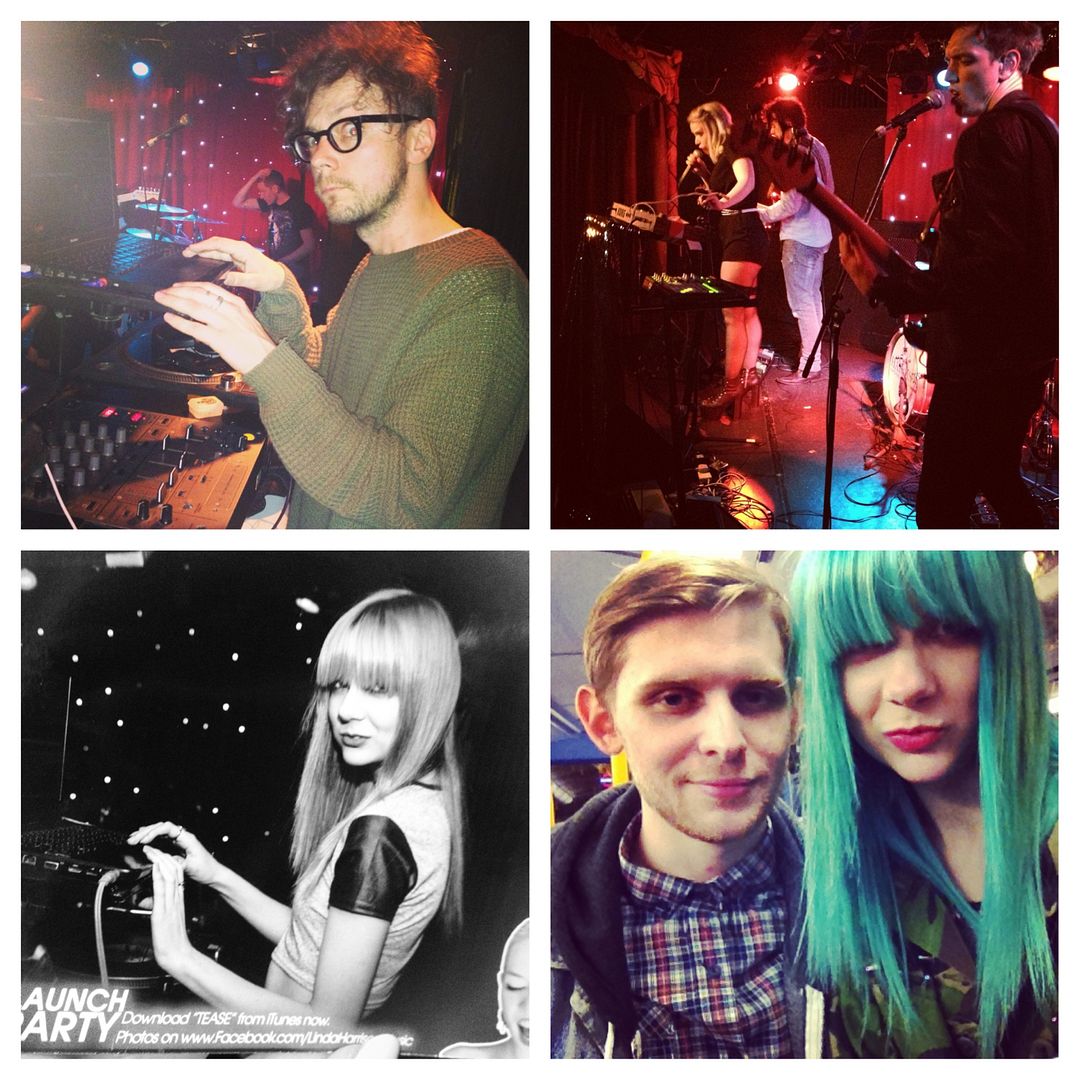 | superstar dj paul mullen | linda harrison | djing into the night at madame jojos | george and i |
| being burlesque star pussy la rae | visiting illamasqua hq | picked this milka up in paris | wearing black lipstick |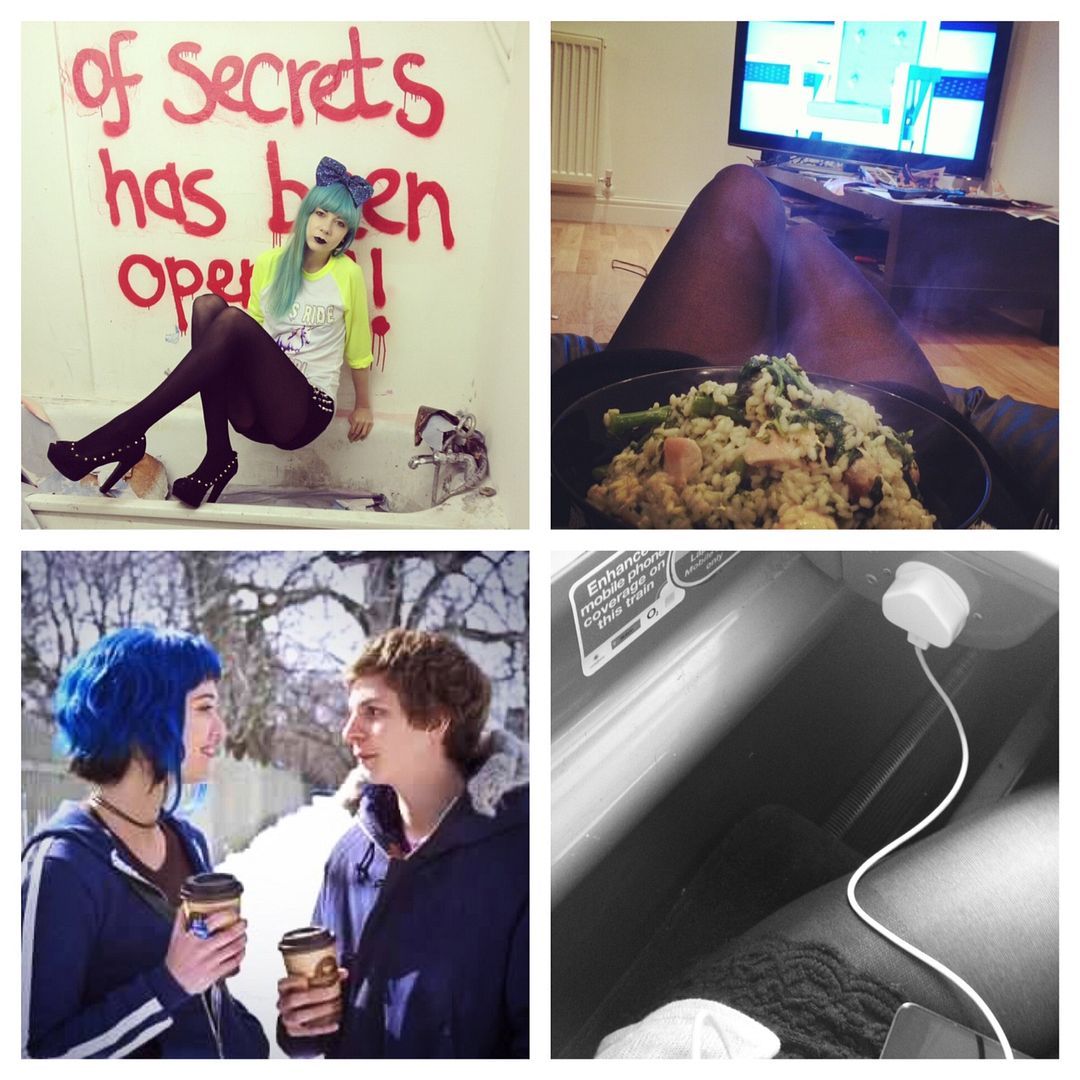 | loving my pretty junk tee | homemade risotto on my bean bag | life at the moment | charging my phone on virgin trains |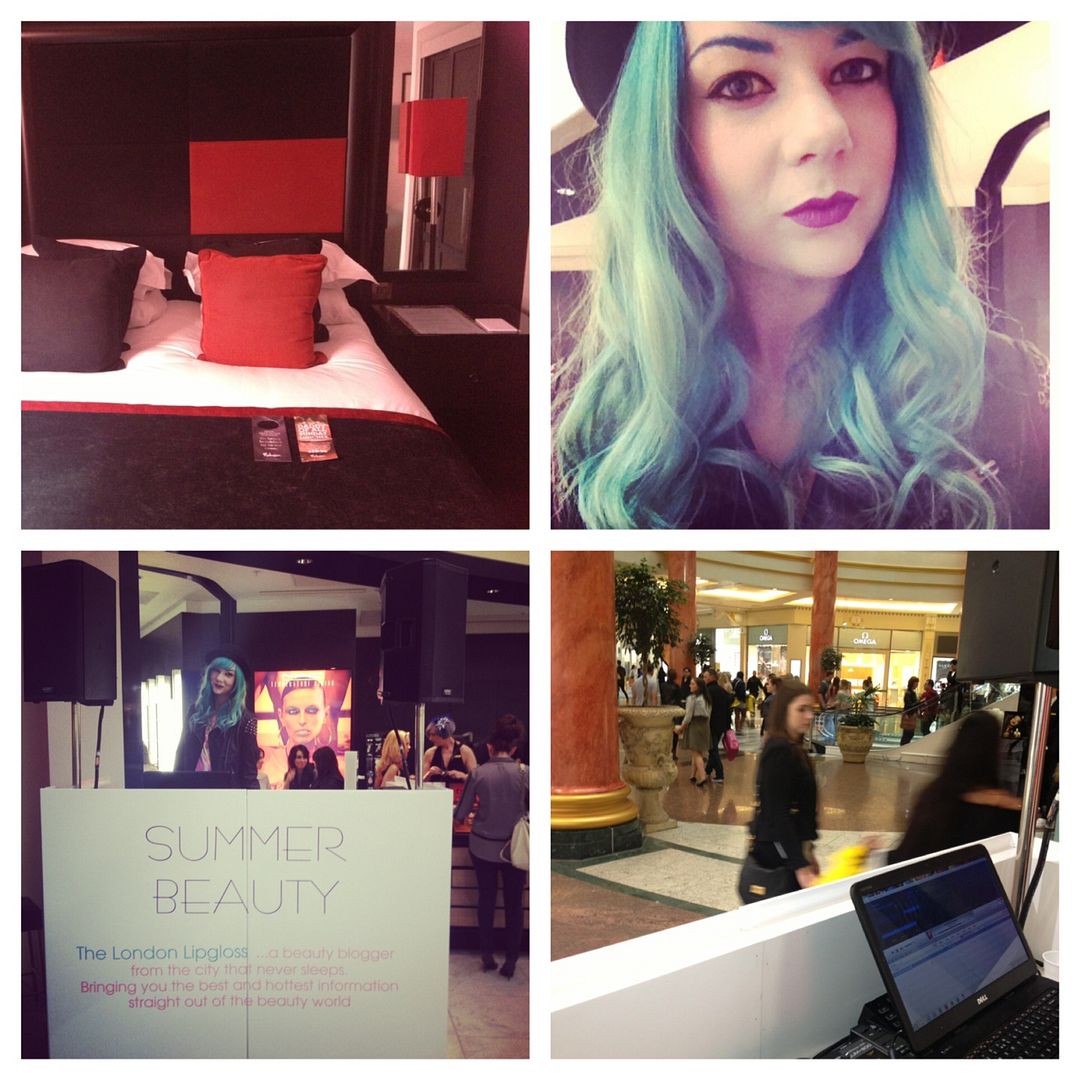 | malmaison hotel manchester | my makeup by illamasqua | djing manchester trafford selfridges | blasting through the shopping center |
| g-a-y with selfridges PR luis | my gurl lily being happy | my #daretobare veet kit | introduced george to meat market |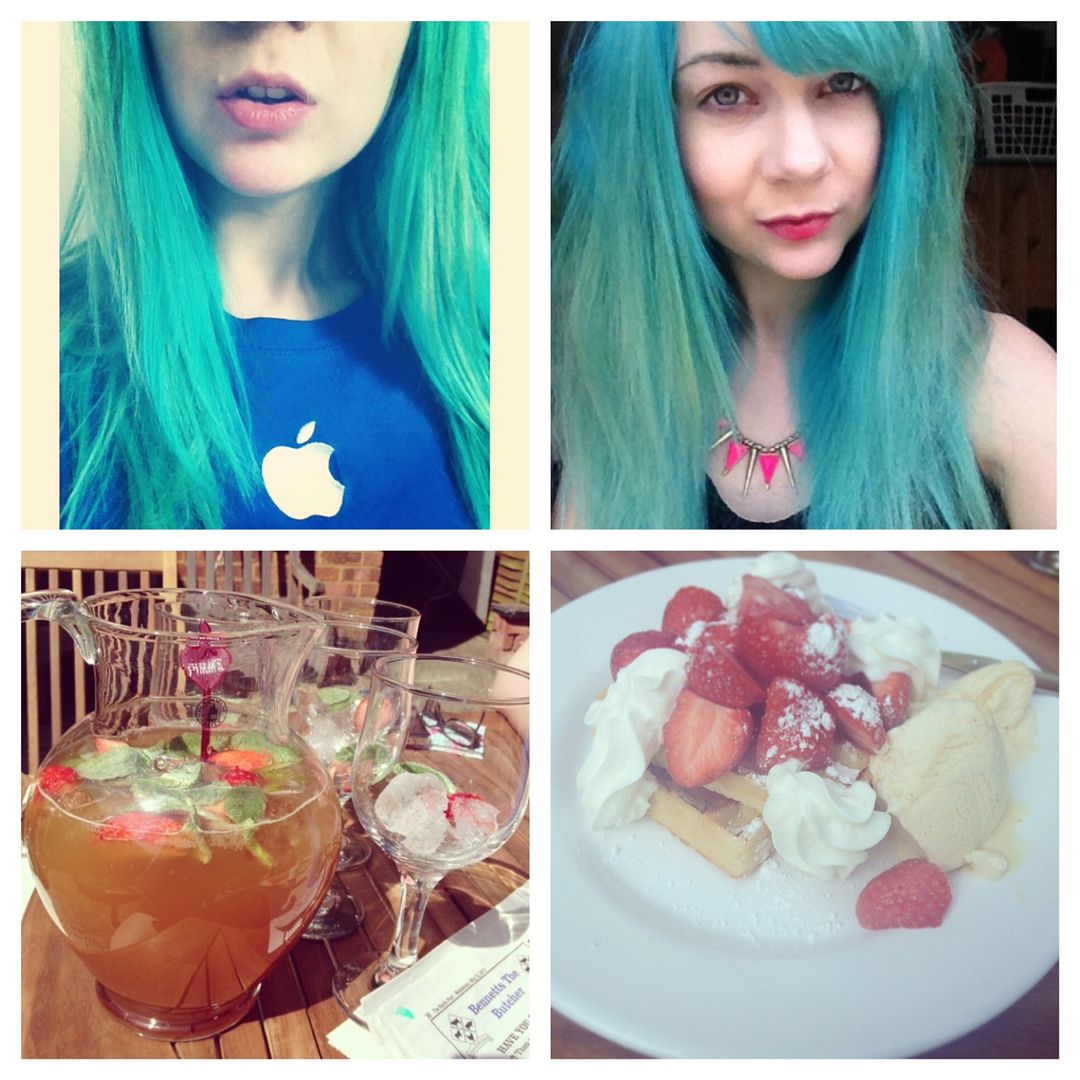 | pretending i work at the apple store | voluminous hair | pimms at home in cambridge | epic waffle dessert by my sister |
So this week has been a bit chilled. I say chilled and what I mean by that is that I haven't blogged or worked very hard and i'm really sorry for this. I am guilty of putting my life before this blog quite a lot and some pretty major life developments have happened this week and i've been so involved in that that this blog took a little bit of a backseat. I'll be up and on it again this week, don't you worry!
I went up to Manchester again to do the very last of my little instore Selfridges DJ run and it was in Manchester Trafford. I had the best time and Manchester gave me the best send off, it also helped that Luis who handles PR for Selfridges HQ took me out on the town to G-A-Y and it all got rather blurry indeed. We had the best night, I want to come back to Manc asap!
I had the pleasure of DJing my friend Linda Harrison's EP launch party which took place at Madame Jojos. I was alongside long-term friend of mine ex-The Automatic Paul Mullen and we had a right good time playing tunes into the wee hours to celebrate HARRISONS amazing EP which you should check out here – Linda is not only beautiful but so amazing and her songs are fab.
I spent some time at Illamasqua HQ learning about the new Paranormal collection, and there's a whole bunch of stuff coming up soon about that. Loving the UV Nail Varnishes! I also revisited the lipstick I designed for Rockalily called ZOMG and remembered why I fell in love with the shade and sent it to market with ReeRee to begin with. I also played around with black lipstick in this post here, and I encourage you to do the same.
The biggest thing thats happened to me this week is that without divulging too much into my personal life – i'm in a very happy and content place. I seem to have fallen into my place where I wanted to be for so long and i've found someone that cares about me and we're a pretty amazing team. I've not been so happy in a good five or so years as I have been this last fortnight and it's pretty much all down to that one person so it's feeling pretty incredible to be how I feel right now. I'm currently at home in Cambridge with my family to return to London tomorrow and i'm just really looking forward to starting this brand new and exciting chapter in my life.
See you next Sunday!