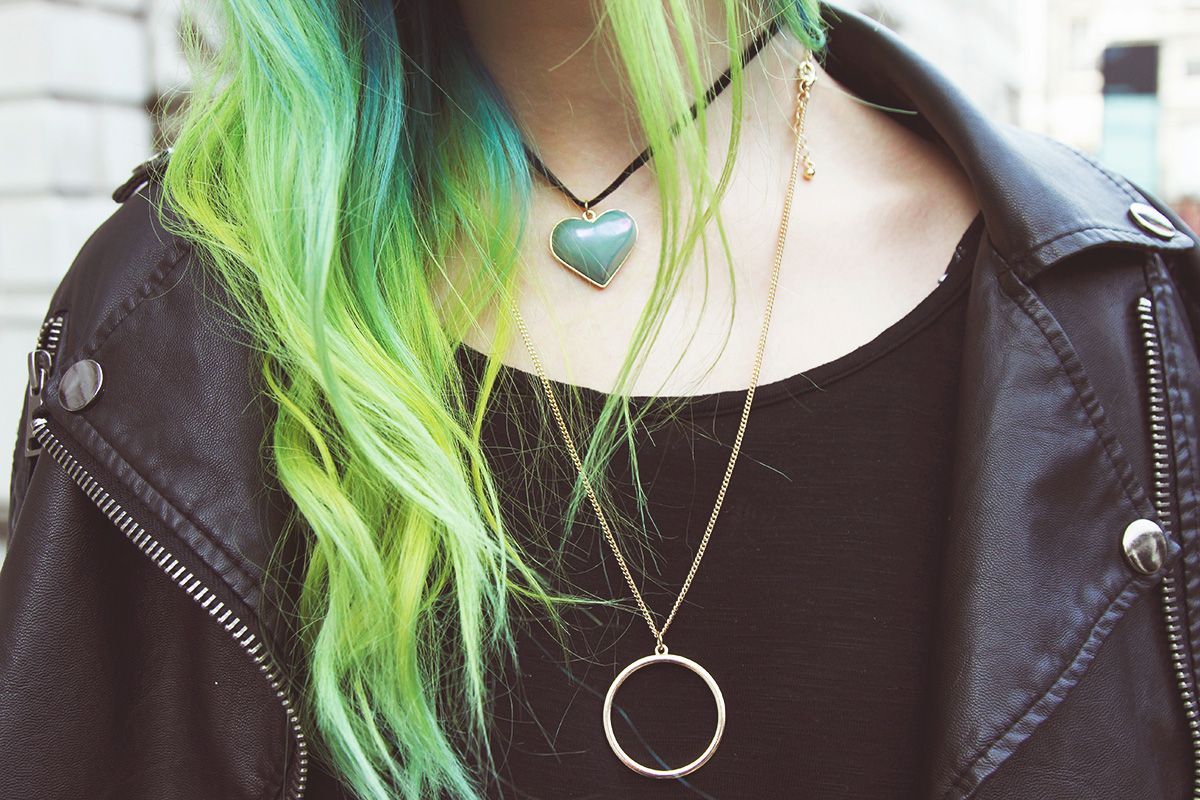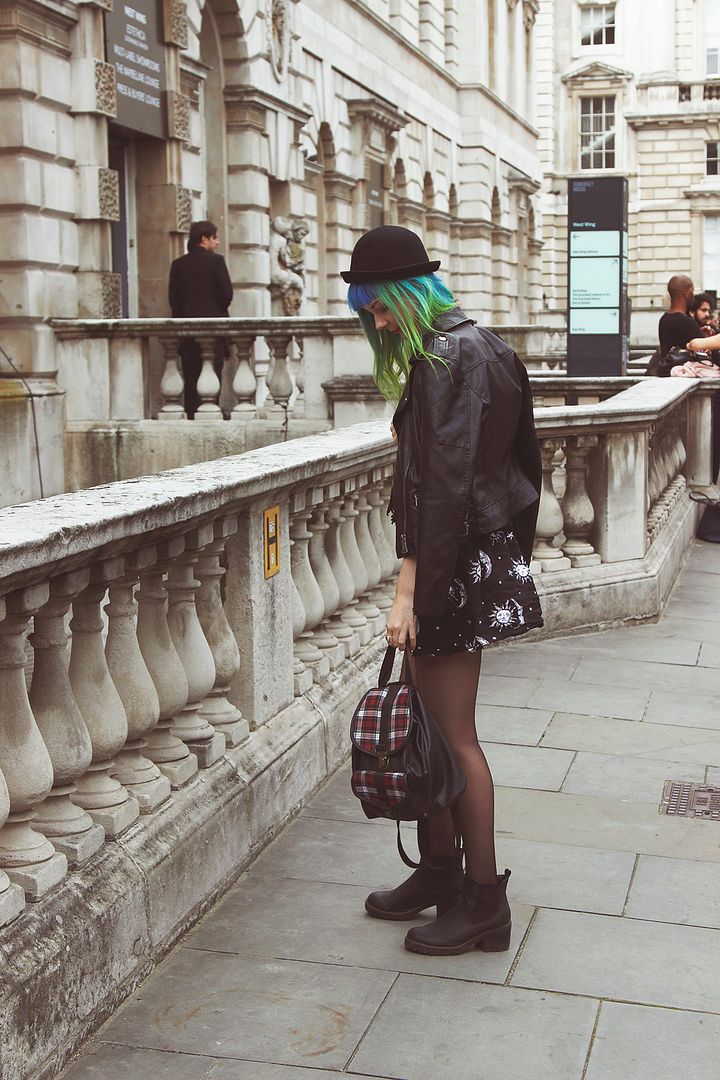 PHOTOS: VICTORIA MAGRATH
EDIT & WORDS: ZOE LONDON


FEATURING:


DRESS: MOTEL ROCKS*
TOP: KISS THE SKY
BELT: ASOS
SHOES: NEW LOOK
JACKET: BOOHOO.COM*
SUNGLASSES: BOOHOO.COM*
HAT: EBAY
CHOKER: ASOS
BACKPACK: NEW LOOK
It's about this time into Fashion Week that I realise how high street I am. I am just not a designer doll at all, and after 48 hours of watching designer clad attendees saunter past me, I definitely felt a little plain! However, I was determined to keep my style true to me this fashion week without going too crackers due to how neon my hair is at the minute, and I was also feeling so tired from yesterday. With that in mind, I threw on one of my most comfortable dresses, by Motel. Feeling like it looked a bit too plain on it's own, I layered over my Kiss The Sky long sleeve top, and over that threw on top my Boohoo pleather jacket.
My bag is honestly the most tatty thing ever but I adore it, and it's my little companion – incase you haven't noticed! I'm no good at being a handbag girl, so it's backpacks all the way for me! Although tomorrow I have a few 'smarter' things to go to including brunch at the W and a Jimmy Choo event, so I might have to bust out a handbag to look a bit more 'profesh' fashionista. (That of which, I am not.)
So today was way more chill than yesterday but still enough to keep me on my feet busy. I started the day by heading over to the Antipodium presentation, which was absolutely beautiful, and in every way. The nails were spot on, the hair was perfection, the makeup effortless and the clothes beautiful. I love it when I fall for an entire look! After that was Sibling – which I got my ticket in the post for this morning!! – and it was a playful look, with huge hair bows. I then went for a quick spot of lunch (although a couple of you spotted me sneakily eating a Wagamamas alone! oops) and back in for backstage and front of house for Nazir Mashar, which had to be one of my favourite shows yet. Just you wait for the report on that! It's worth it. After Nazir I headed over for my last show with The Body Shop at Fashion Scout, and it was the chic yet bold Lulu Liu.
I'm definitely feeling a bit tired but i'm ever so happy. Apart from feeling like the most unstylish blogger ever after seeing this year's attendees – is it just me or are the street style stakes at an all time high this season? – this Fashion Week has been the busiest but best yet for me. I've got some killer shows and it's been amazing for the first time to partner up with MAC to bring you their backstage looks. For me that is a complete honour, and it's gotten to the stage now after years and years backstage where I actually legit know everyone's name. I really love that, and it's made it such a wonderful and enjoyable experience.
Even though this is my sixth season at Fashion Week, i'm not at all forgetting how lucky I am to have that backstage access. There's been some shows this season where i've been the only blogger granted access in, and i'll never ever take that for granted. It means the world to me and more. To me, that still absolutely blows my mind – even three years down the line. This season i've also met so so many of you here that I can't even count, and it's made me feel so lucky to have such an amazing readership. Honestly, from the bloggers and instagram babes stopping me on the cobbles to say hey, to the volunteers working in the show telling me they love my blog and the readers outside Somerset House grabbing me for a pic, it's meant the entire world to me and then some. I was even hiding in the third row at a show earlier, but the photographers (and ASOS!) still came up to snap a pic of me. What the hell? I sat there afterwards like, totally totally overwhelmed. I still can't believe that anyone would read my blog about little old me, and it makes me so so happy to get to know you all. There's also absolutely no way of talking about all of that without sounding like a complete douchebag, but if you can't be a douchebag during Fashion Week when can you?! So with that in mind, here's to day three tomorrow! How i'll ever sleep tonight i'll never know…