PHOTOS: FROM ARCHIVE
EDIT & WORDS: ZOE LONDON
IT'S A PRETTY LONG ONE, BUT I THOUGHT I'D FINALLY SHOW YOU MY HAIR HISTORY, AND ALL THE COLOURS IT'S BEEN!
I love playing with my hair colour, that's no new news to most of you i'm sure. What I think might be new news is that it's been a really really long hair journey of experimentation and exploration of styles before getting to where I am now in 2014. I've played with dark colours, much blonde, bright shades and also learned how valuable it is to look after your hair when bleaching! I've spanned over eight ish years of my hair life here, along with some personal stories of memories during that time. Get a cup of tea, this is a long, picture heavy post!
Kept the MySpace angle for authenticity. And the photoshopped eye makeup. I'm pretty convinced those were pink camouflage pyjamas as well. I think we all remember being a teen and wanting the 'in' hairstyle of the time, right? Well for me it was the ultimate MySpace scene queen hair – black, ideally with blonde in (and I did have that after this pic and before the next but I can't find any pics of it, colon open-bracket) and with the blunt fringe. I've actually kept the blunt fringe mostly to be honest… I just realise that now. Anyway here's me in all my 2006 glory. Enjoy that. I wanted black hair but it's actually just a really really dark brown as the hairdresser advised not to. Good advice, that.
AT 18 (2007): BROWN AND CROPPED
I think one day the later after I just had a moment where I just got sick of the really long scene queen hair and asked to have it cut literally so short it just about sat on my jawline. It was a pretty bold move actually but I remember at the time thinking nothing of it, and being so surprised as to why everyone was so shocked that I wanted to cut all my hair off? I mean why not? What else do you do as a teenager?! GOD. LEAVE ME ALONE.
AT 18 (2007): HAYLEY WILLIAMS' ESQUE RED AND BLONDE
Ahh, the Hayley Williams era. I'm not gonna lie I never actually massively liked Paramore all that much, but I used to see Hayley's face plastered all over Kerrang (that i'd then glue to my graphics folder, natch) and decided i'd quite like a bit of that so got my friend Lucy to dye my hair in her house. We used all Schwarzkopf dyes because they were cheap and she did actually such a good job getting the blonde bit under the fringe to stay blonde! I actually loved this hair. I remember coming home on the bus with my hood up and my mum gasping when I took it down… she was shocked at first but she liked it in the end! I think.
The fallout of the Hayley era meant that I either had to maintain the red, or let it just fade to this kinda orangey colour. I kinda warmed to the orange and kept it for a few months during the latter stages of my eighteen-year old self, but it was a fair bit of hard work keeping up the red and I just couldn't be bothered or afford a salon dye. This led eventually to..
AT 19 & 20 (2008-2009): BLONDE (BOTH WITH EXTENSIONS AND WITHOUT)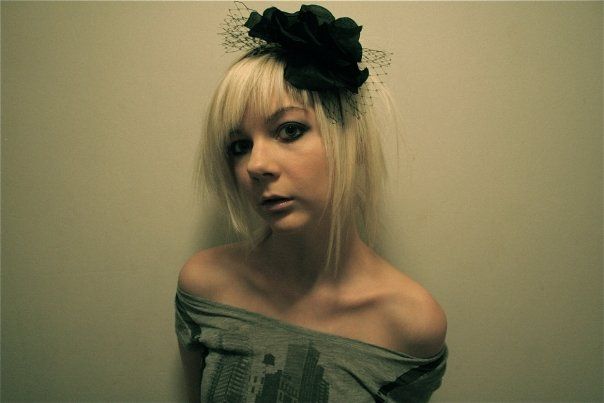 When I first started dying it blonde, I really loved the idea of wearing long extensions. (There's that scene queen again…) and used to wear them most of the time. Pictured here with my friend Nikki in Cambridge dressed up as 'Soulja Boi" for a night out. As I got into the later stage of my nineteen year old life and moved to London, I quickly grew bored of my extensions, and so the second photo shows a picture in my first year of University just starting out in London, and ready for a change in profile pic/university card/general avatar. I was quite proud of that moody one. I went to art university… it explains a lot.


AT 20 (2009-10): BACK TO BROWN

Fairly quickly after my move to London I realised my blonde hair looked stupid and so in a fit of rage I dyed over it with another box dye. I actually made a proper error and bought just a standard ashy brown – which led to grey hair! Cue actual disaster and my then boyfriend at the time running to the shop for me to pick up a really rich red brown which made it into this mahogany shade, which I kept for a while, I think through most of my 20-21year old years, until I started playing with bright colours again. The second photo here I think is my first ever outdoor outfit photo for my then blog – The London Lipgloss.co.uk. Good times. Totally had the poses down…right?
AT 21 (2010): BLUE FRINGE
Now I know exactly where this came from. I'd just been to see Scott Pilgrim vs The World at the cinema, and had instantly fallen for Ramona Flowers. About three weeks after seeing it at the cinema, my mind was set. I went into New Look actually and picked up a Stargazer dye, which after pre-lightening with a Manic Panic bleach, popped on my fringe. I loved it! It didn't last long though before I wanted to be a real Ramona…
AT 22 (2011): PINK, GREEN AND PURPLE FRINGE
I had a really fun time at this age constantly just swapping the dye I had on my fringe. It took it's toll though, and as you can see in the last photo, my hair had become a frizz ball. It was quite fun at first to just keep changing it up how I felt, but it really was wearing my poor hair down. As I was dying the top, it wasn't giving the root of the hair time to grow, just zapping it with bleach as soon as it was exposed to the world. This really made my hair just so awful in the end and I had to not dye it at all for quite a while. So when I was in the later part of my 22nd year on Earth, I was back to…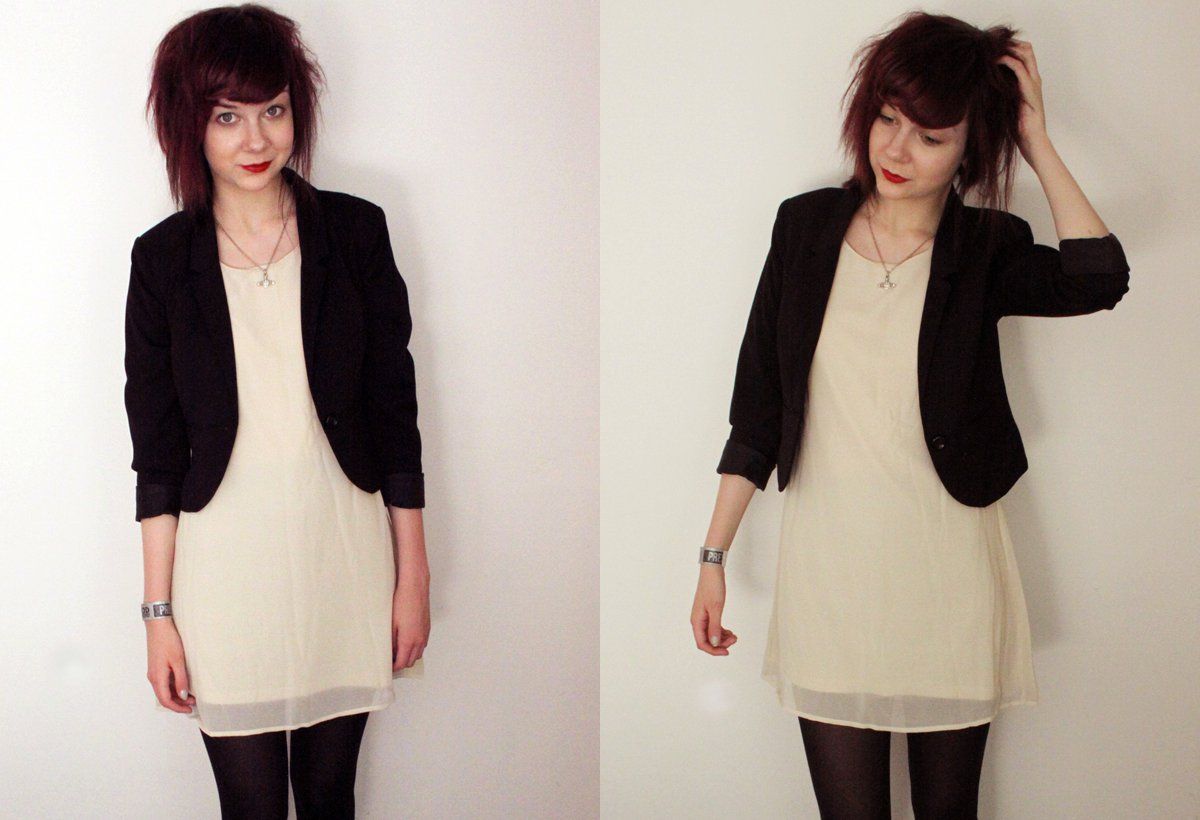 Totally my own fault, should have looked after my hair in the previous stage! Check out these old school outfit posts! I was working professionally in a beauty PR company here so a lot of my wardrobe reflected that, it was pretty neutral and I guess a bit boring… but I still have that dress at the top, at the time it was the 'blogger' dress that every fashion blogger had. I think me, Lily and Emma all had it! Good ol' Topshop. Actually I think I was with Lily when I bought it… anyway.
AT 23 (2012): PINK AND PURPLE DIP DYE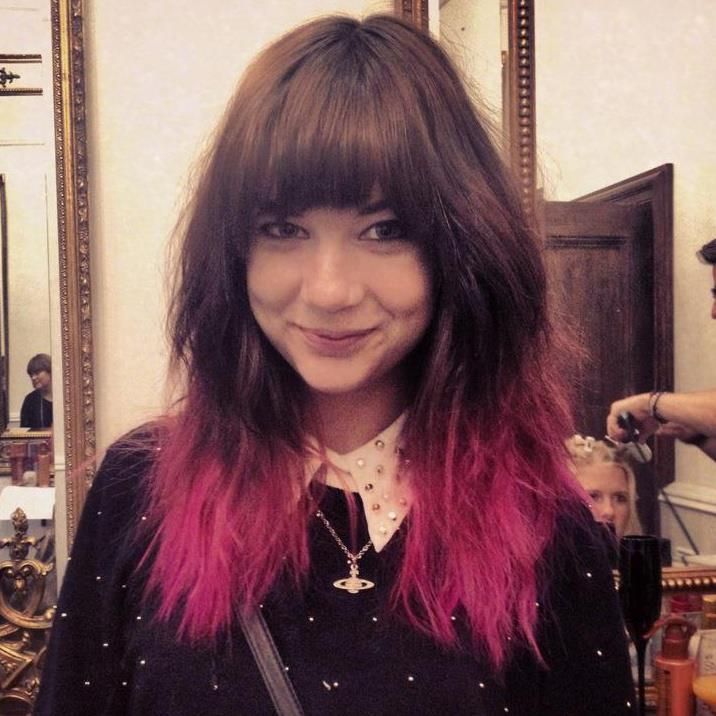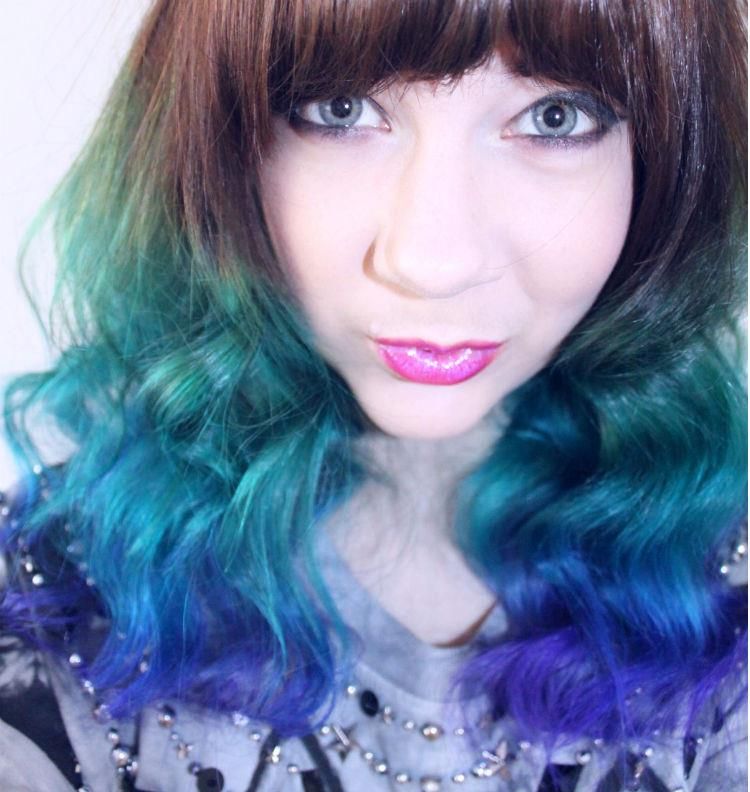 The start of my 23rd year on Earth was like the worst ever time of my life. I lost my old job, my boyfriend cheated on me and I had to move out of my London flat and back in with my parents. It felt like utter defeat. I spent ages just sobbing with my brown hair that i hated the way I looked and who I was, and it wasn't long before I started playing with colour again. The ombre was a massive trend in 2012, and I never felt like it suited me, but I wanted to try the alternate to the ombre, which was the dip dye. First it started with pink tips, which I loved but were a lot of hard work… then it moved to this kinda purple dip dye, which I also adored. I used Crazy Colour for these looks mostly and a bit of Manic Panic.
AT 23 (2012): GREEN CAME INTO MY LIFE…!!

My first brush with green came around October 2012 when I decided the blue/purple fade I had before was nice but not quite me.. and I decided on a turquoise dip dye. Shortly after this I landed my job at VICE and it became my signature look. I remember taking this photo really well, me and the VICE PR/Marketing team had gone out for lunch at Pizza East and we were laughing at our actually mostly true ridiculous hipster stereotypes, so I became one for the day with these lens-free glasses. I think I nailed the nonchalant hipster pout.. don't you think?
AT 23-24 (2013): THE FIRST PLUNGE INTO ALL OVER BRIGHT COLOUR AGAIN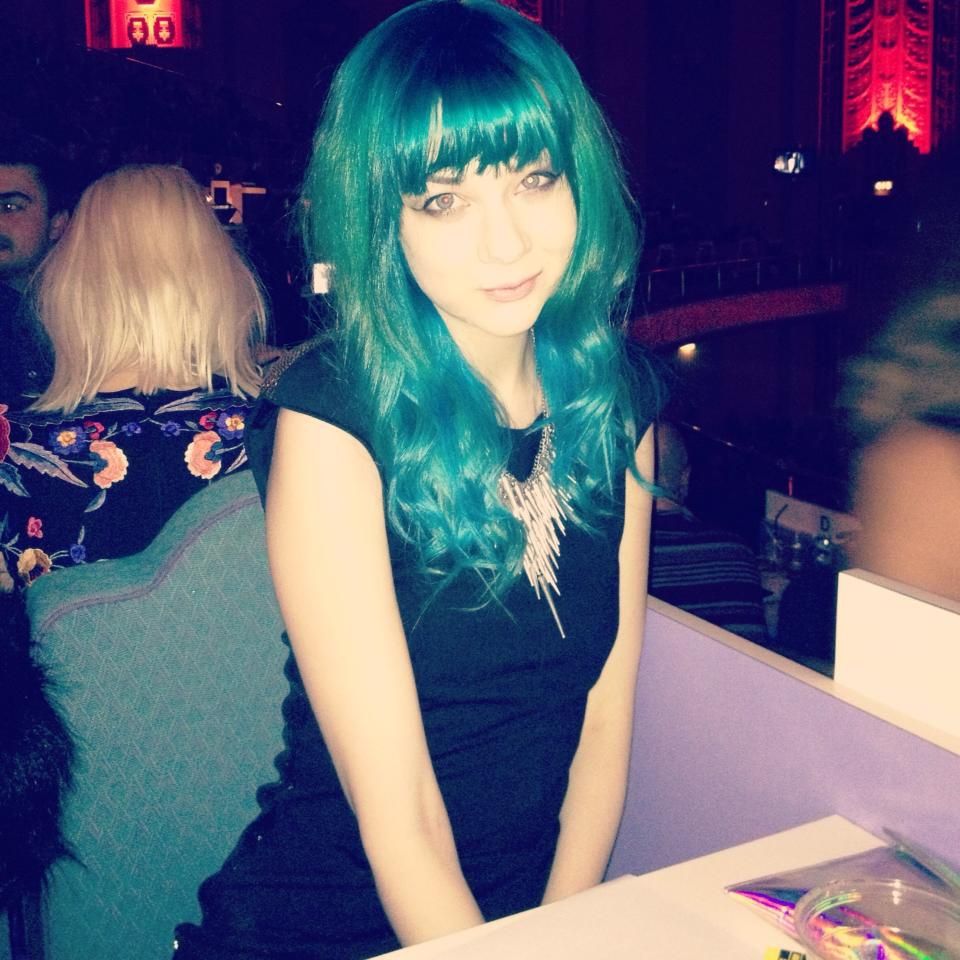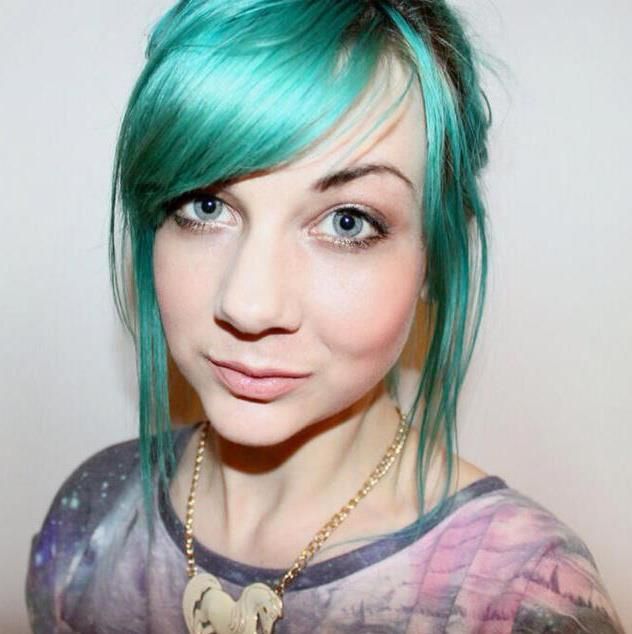 The first photo above was taken when I was invited to the NME Awards, and it was only a matter of weeks after i'd home-dyed my whole head turquoise myself, so it looks quite fresh! At the time I used Stargazer dye in Turquoise to get the look, and I kept that up for a while before switching to some different dyes later on. It was also later in this year that I met George, and my turquoise locks seemed set in stone. I finally felt confident, happy and truly like myself. I kept my hair turquoise entirely through to the start of 2014, when I then had a go playing with…
AT 24 (2014): PLAYING WITH PINK HAIR CHALK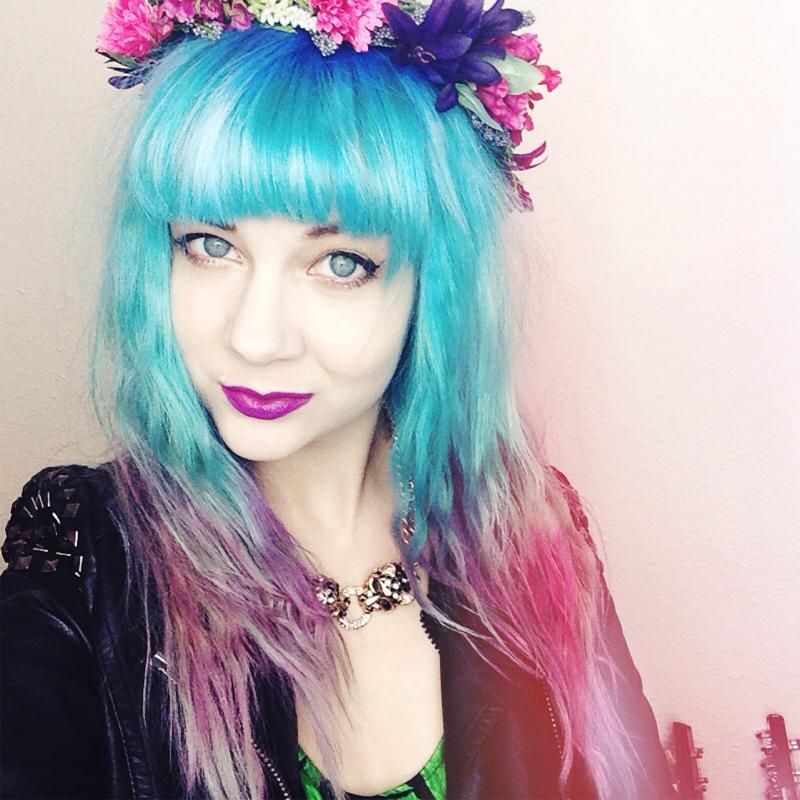 At the start of 2014 I signed my ambassador deal with Fudge Urban after discovering their Paintbox dyes, and them deciding I was the right fit for the brand (honoured) I also had some fun playing with hair chalk from Fudge too. I toyed with the idea of some purpley/pink tips and did keep this chalked look up for a while, especially on a night out, but it was the first time Fudge did my hair when I discovered multi-tonal green colours, which led me to:
AT 25 (2014): TRIPLE DIP


The amazing Tracy at Fudge created this amazing triple threat dip dye look entirely using the Paintbox dyes, and I really fell in love with the acid green tips. I kept it up a lot myself at home including this photo above which I had done the blend myself in my bedroom – and I was really pleased with the results.
AT 25 (2014): ACID GREEN FOR READING FESTIVAL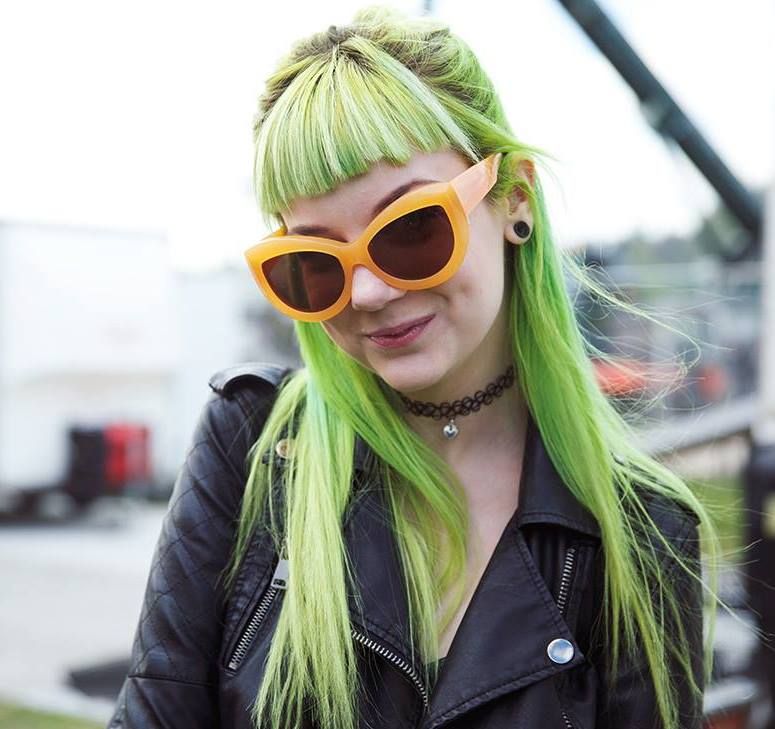 I very briefly played with a bit of acid green all over after finding out I was going to the Reading Festival, and I really liked it for a fun change. I only did this because my previous colour was so so faded it was almost blonde, so when I put the yellow Fudge dye over the top, it mixed with the little bit of green left over and made this insanely bright acid green look. It was good fun, but it was only ever a temporary bit of dye!
PRESENT DAY: ACID GREEN MEETS BLUE

Again pretty similar to the look above but this time the team at Fudge took my acid green tips higher up my head, and put the rich blue all round my skull, so it was more of a gradual fade all through. I really, really love this and think i'll keep it as my hair style until the end of the year. It's actually pretty faded right now and when it fades it just goes to a soft blue all over with paler tips, but this is how I really love it.
I hope you enjoyed looking at my extensive hair history! I'm absolutely exhausted after trying to find all those photographs! It's been a pretty long journey to get to where we are now, but I wouldn't change anything at all. Not even the dodgy stages in between – because they taught me all about colour mixing and hair dying, and were totally valuable to the knowledge I have of hair dying now.
What do you think of my hair history! Did you enjoy this post?
(sorry for the formatting of some of this post, blogger really struggled with the 2007-10′ camera era resolution and hated formatting them!)