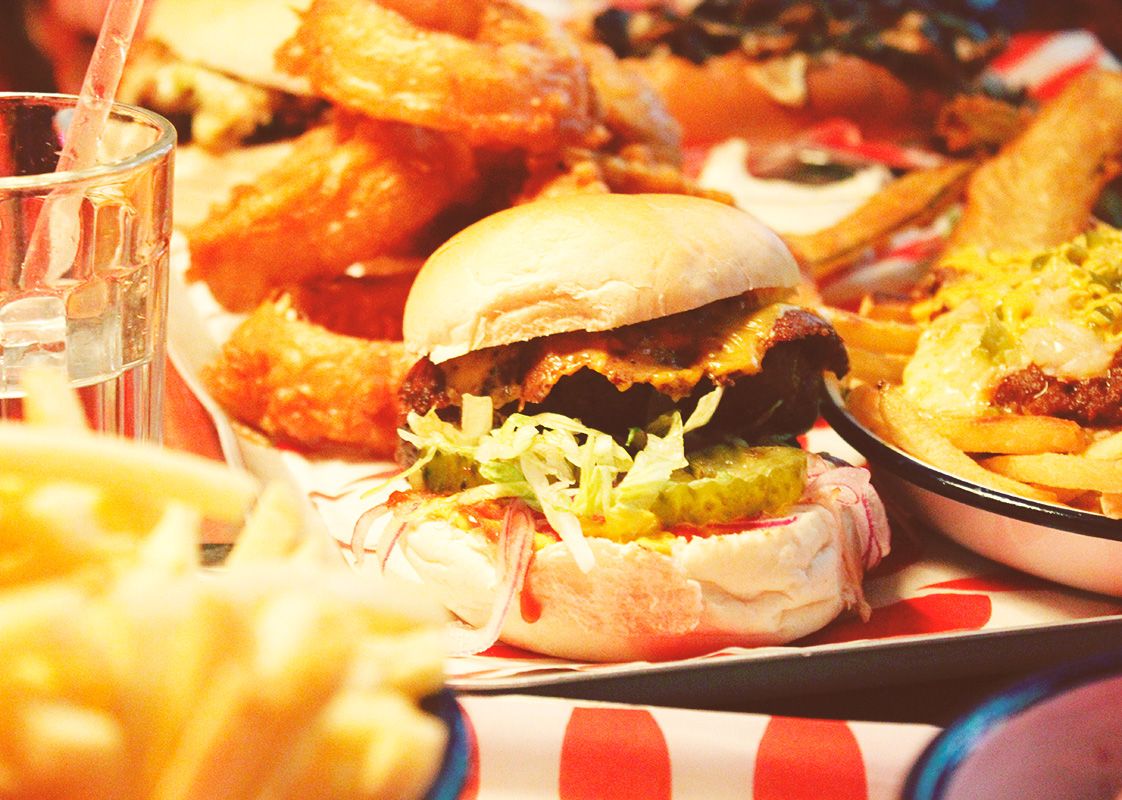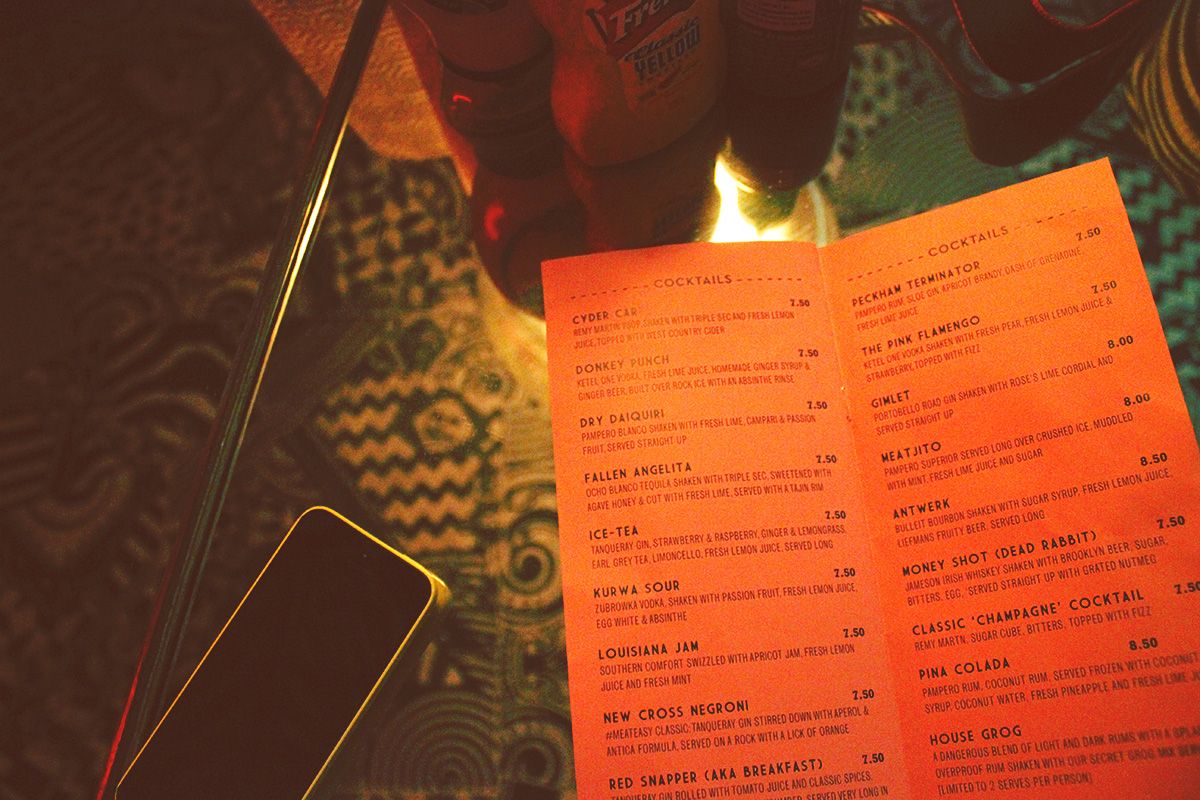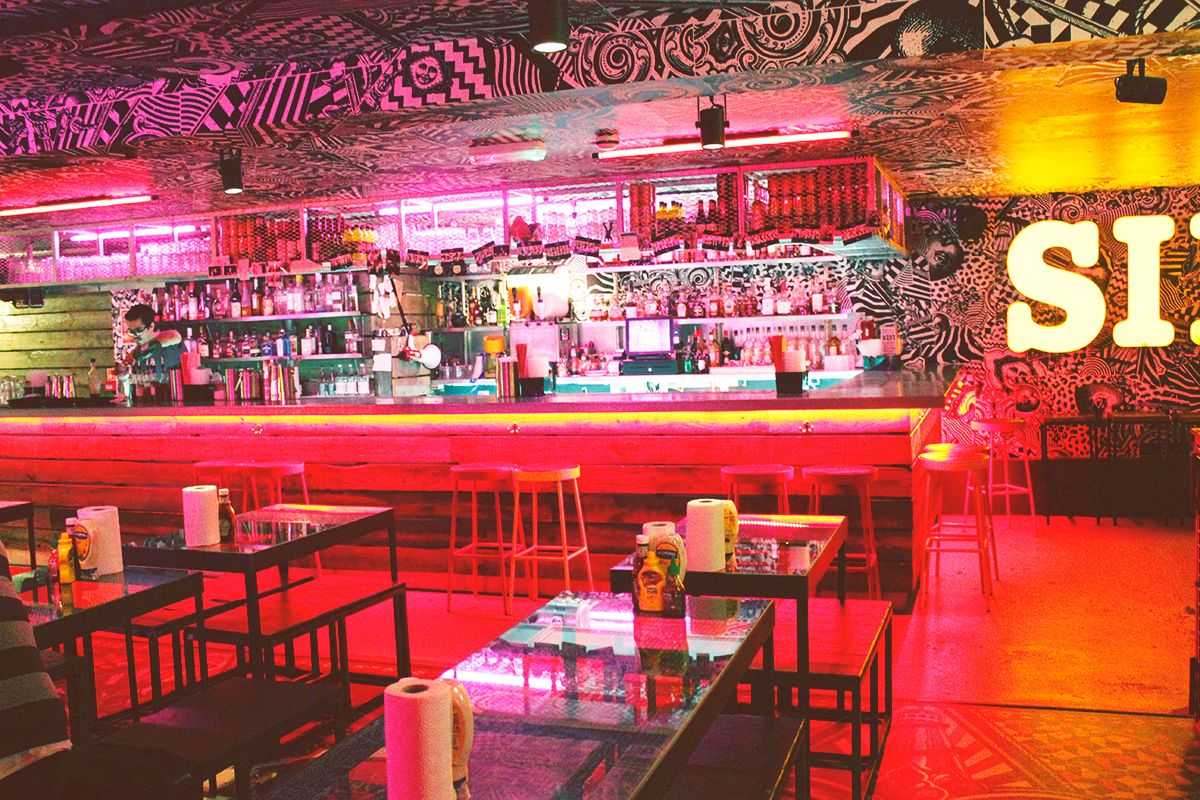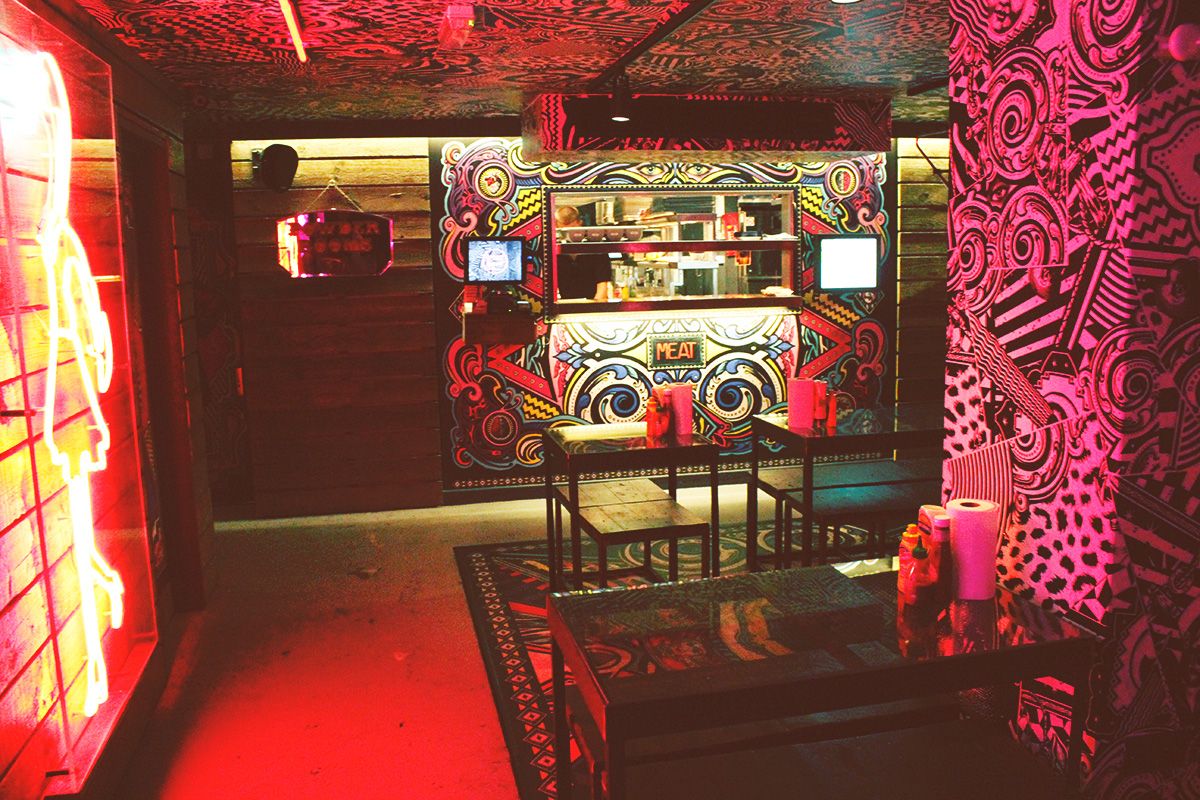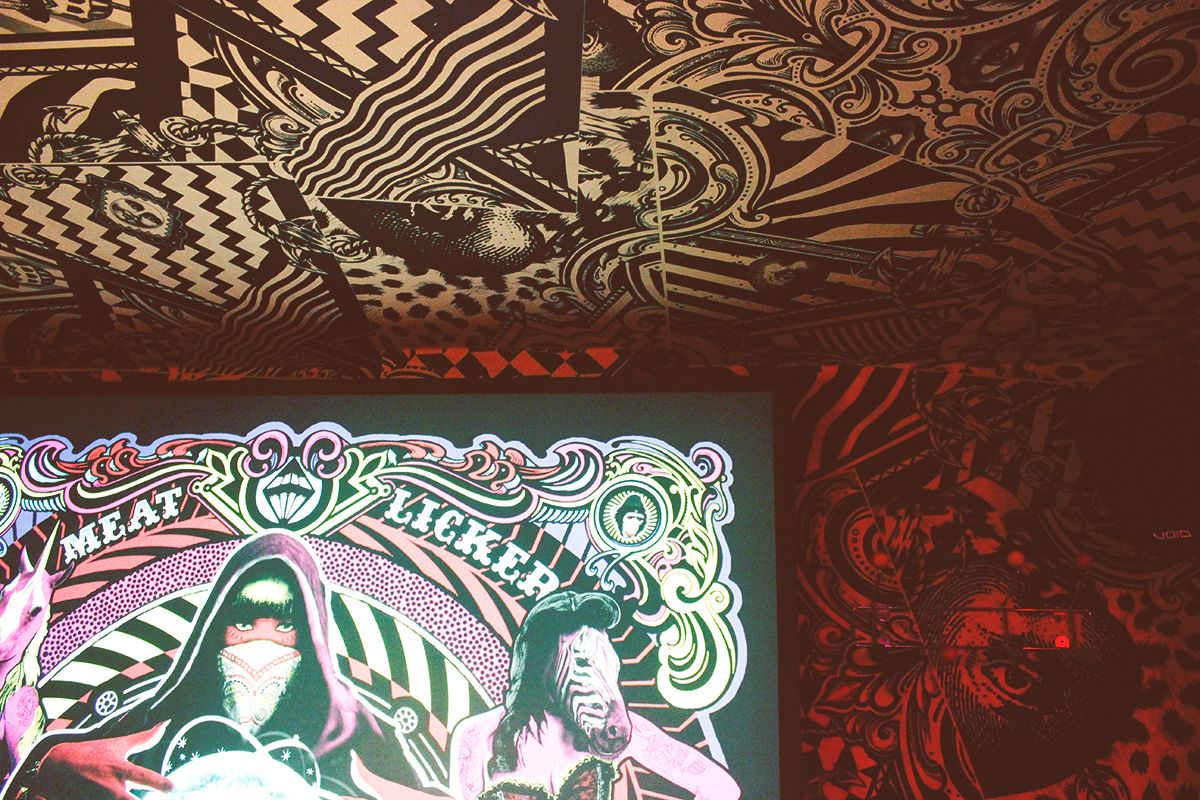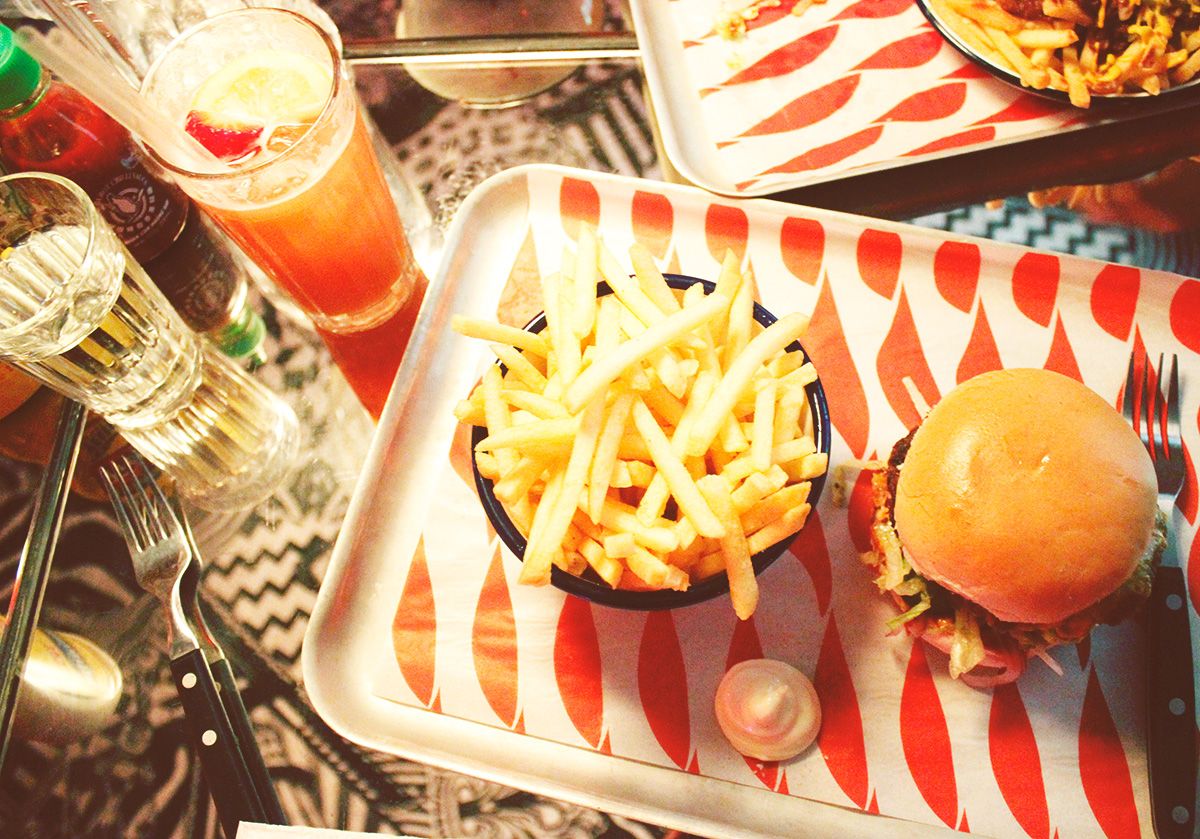 PHOTOS: ZOE LONDON
WORDS: ZOE LONDON
MEAT LIQUOR IN BRIGHTON IS A LITTLE BURGER HEAVEN – IT STARTED ON A WAGON IN LONDON, THOUGH


So back in the early 2010's (what do we even call that decade these days? the teens?) Yianni Papoutsis and Scott Collins set up the MEATwagon, which they used to sell burgers from in Peckham, before spreading it to the MEATeasy after the contents of their wagon were stolen (who would do that!?). The MEATeasy began life as a pop up restaurant in South East London, before they decided to spread their wings and bring their perfect dirty American diner grub to it's now permanent home in MEATliquor, just hidden in an old car park behind Oxford Street. Finding it is good fun, so I wont spoil the exact location. At MEATliquor you can expect to queue at busy times, loud rock n roll music and an interior to rival even the coolest dive bars.
After spreading out to two more locations in London in MEATmarket (Covent Garden) and MEATmission (Hoxton) they've just opened up Brighton's very first MEATliquor and well, seeing as we're such big fans of the original, Lily, Dal and I popped there this weekend to give it a try.
First up, the decor in Brighton is beautiful. It's more.. clean than the original in London, and feels more curated and more art based rather than the kind of signature dive feel of MEATliquor. In London there are absolutely no reservations and you need to wait, but in Brighton you can book a reservation in advance and on a Sunday evening it was quiet in there. I guess the word hasn't spread just yet about it's excellence.. also, it's positioning just next to firm Brighton favourite Grubbs Burgers may have something to do with that.
However, if you are a Brighton local, do not dismiss one of our finest London exports to come to you. I am currently on a burger mission trying to eat my way around London, and at the minute for me MEATliquor comes in first place. Slightly beating the others (I will blog about them all don't worry!) on quality of meat, and it's special "Dead Hippie" burger sauce, MEATliquor's burgers are unreal, and your first visit will leave you wanting more.
I have an American friend, who complained on her first arrival to London a few years ago that our burgers weren't real burgers, and I agreed with her. In a lot of restaurants in the UK, burgers are substandard, and not made with the best meat there is. They're thrown together without the love they need, and i'm constantly reminded of this when watching Man VS Food – the difference in quality is mega. That is why in my opinion, the way MEATliquor changed our burger scene here in London is completely for the best, and for it to spread its wings further to Brighton is awesome. These burgers really aren't substandard, and come very close to the Man VS Food experience.
In my opinion, MEATliquor is the one of the closest you will get in London and Brighton to that real American diner experience, and for the prices it comes in at it's a moderately priced eat. For your basic cheeseburger you're looking at £6.75, with the fries coming in at £3.00. For their most expensive burger, it's still only £8.50. The burgers will fill you up massively, i'd recommend sharing some sides!
Get your butt down to MEATliquor, Brighton, and if you're in London, I highly recommend one of the three London joints for an all out American experience in the heart of our capital. Put it this way, the more I think about it, the more I crave that burger. You'll thank me later.