PHOTOS: GEORGE ROCKETT
EDIT & WORDS: ZOE LONDON
I KNEW GOING TO NEW YORK IN MY MID-TWENTIES WOULD BE LIFE CHANGING. HOW MUCH, WELL THAT I WASN'T PREPARED FOR.
I live in arguably one of the greatest cities in the world, in London. It's not without it's charm, the quant little buildings, the fact everything is low enough to view from ground level, and the city that never sleeps, and buzzes with creative pop ups and new ideas. However, London isn't the same as America, it's not New York New York, concrete jungle where dreams are made of. It's just, London is kinda like the condensed, hip big sister of NYC. In a lot of ways, I much prefer London, but I definitely opened my eyes and left a little piece of my wandering heart behind somewhere in Brooklyn.
After daydreaming of what the street bagels smelled of, wondering just how big the stores in Times Square are, and just how long the Brooklyn Bridge is – I finally got to see it all with my own eyes. I'd spent months anticipating that first burger mouthful, that first swipe of the Metrocard in the Subway, and the linear street formations au contraire to London, with it's unique lives and different businesses on each corner.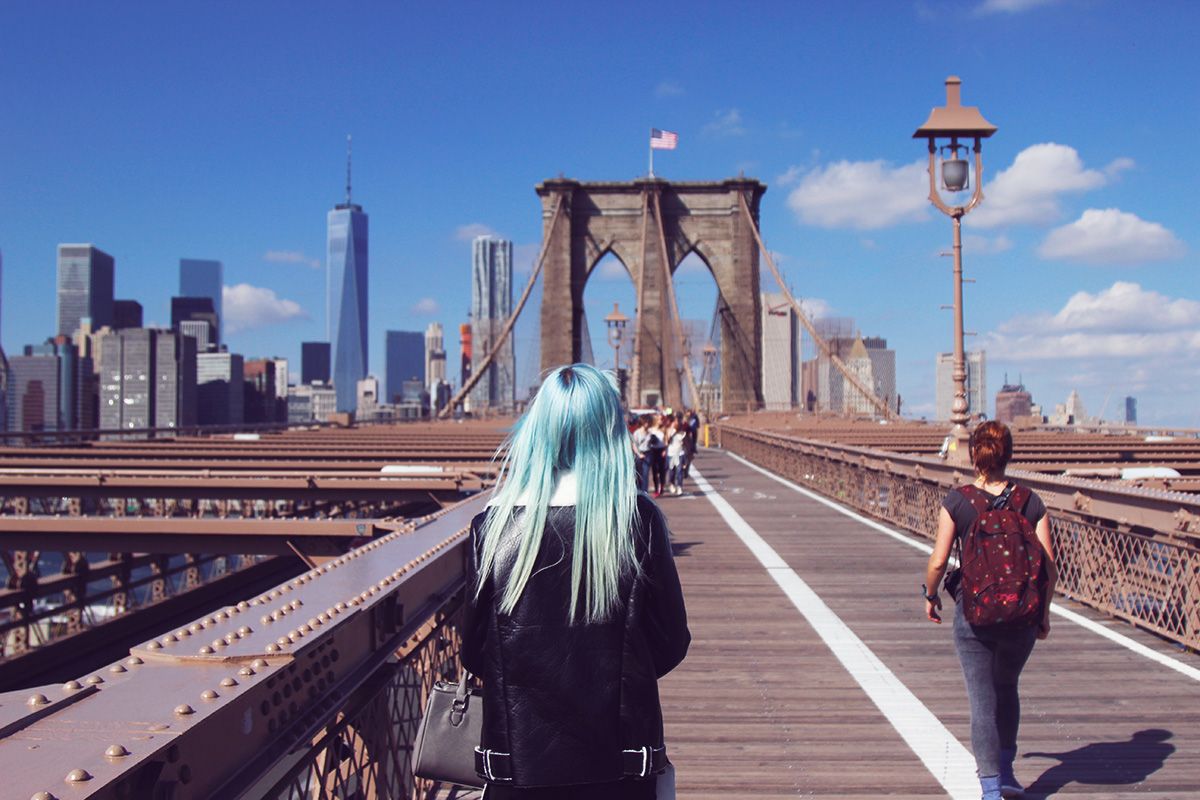 We walked so much we covered miles of New York, yet still at night my eyes struggled to feel heavy. I could hear the people down below us, the buzz of the street, and the city that comes alive when darkness falls. I slept in fear of waking up, and not in the same worry filled way that taunts me in the UK, no. In the way that if I slept, i'd be one day closer to having to come home.
The problem? I only visited for a week. Some might say this isn't a problem at all, knowing full well that my modest London flat was at home waiting for me, to settle and continue living the dream in the capital of my country. For me this was only a hinderance. I hadn't enough time wandering the Manhattan skyline, letting my eclectic iTunes library filter through my ears as a soundtrack to my wandering mind as the streets I oddly knew so well wove one into the other.
I know that should I move to New York it'll become just like London did to me nearly eight years ago. At first, a scary, unfamiliar, uncomfortable place I didn't know well at all. The people were different from the safeguarded nature of my home of Cambridge, and all of a sudden there I was, alone in the Big City. I'm under no assumptions that i'll probably end up hating loads about New York should I move. Sick of those greasy burgers, dreading swiping my Metrocard through the filthy Subway, the linear street with it's cat-calling and endless walking stressing me out and upsetting me more than I thought. I'm under no assumptions of that, believe me.
But is it the unfamiliarity of uncomfortableness what makes our feet want to wander the world? Is it the addictive nature of starting our lives somewhere only to pick it up and move it for a new culture and a new way of life a few years later?
Of course I have reservations in moving my entire life somewhere new, and they're often outweighed by the wanderlust to experience a new way of life clouding my mind. But is it the same reservations that become addictive in a way that has led my friends to live as far away as Australia?
Part of me longs to walk the rainy Upper West Side streets tomorrow, to clutch onto my Chai tea as I watch the American daily life unfold in front of me. But part of me also thinks that the next couple of years of my life should be spent exploring as many little corners of the world as possible, becoming travelled, culture aware and broadening my mind further than just yet another Western country, just like ours. I often think of it like browsing a store. I'm not that kind of girl who steps in, and picks up the glitzy first item in front of the door to march it straight to the till. I've very much always been the girl who will walk around the entire store for half an hour checking there's not other things I love just that little bit more before paying for the glitzy item.
I'm approaching this part of my life with the same caution. Plus, I feel the same way about San Francisco after visiting once before, and my heart still longs for the West Coast.
Maybe i'll always feel like I could move again wherever I settle. Maybe that's actually just the most normal thing ever.