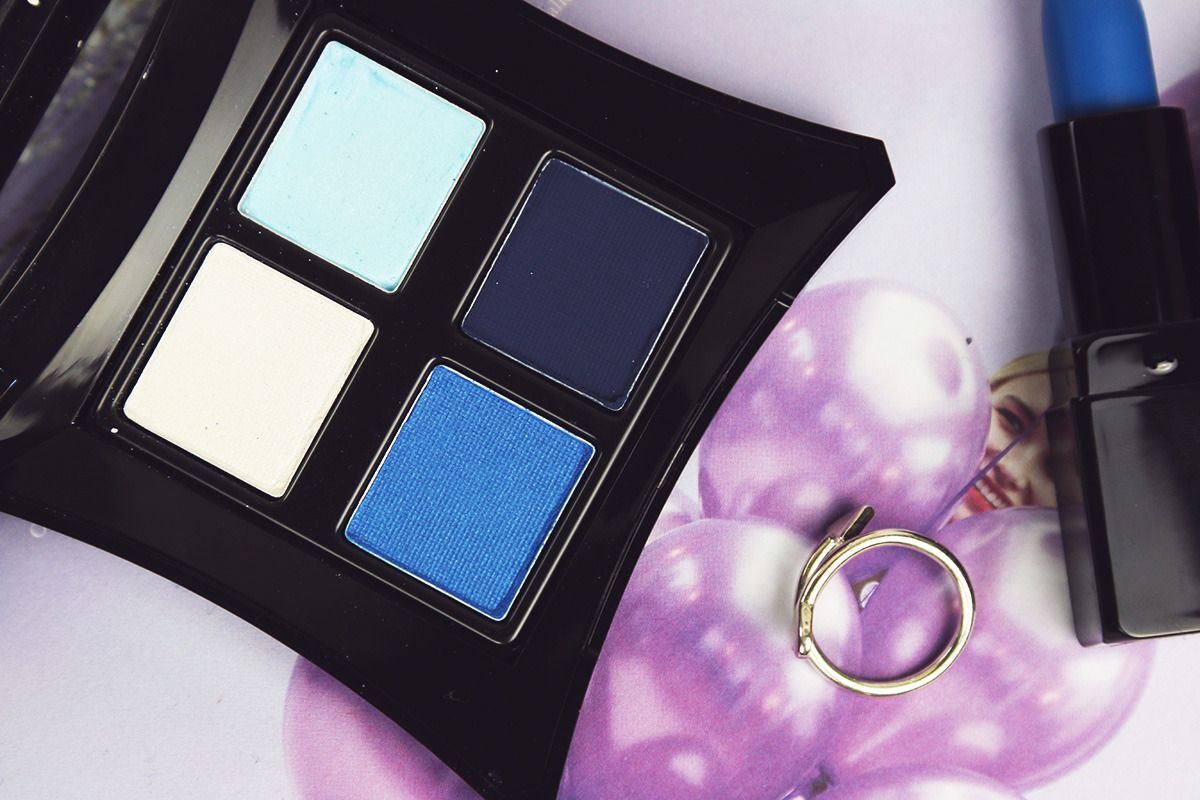 +–+–+
PHOTOS & WORDS: ZOE LONDON
ILLAMASQUA TAKE THINGS TO THE NEXT DIMENSION WITH A BLUE THEMED COLLECTION FOR A MAY RELEASE. DO YOU DARE TO WEAR BLUE?
FEATURING:
ILLAMASQUA PALETTE IN SPIRIT*
ILLAMASQUA GLAMORE LIPSTICK IN VENDETTA*
+–+–+
Illamasqua. Let's talk about Illamasqua. In the last year or so, Illamasqua has started to lose it's way, I feel. Previously being the voice for bold, for brave, for unique beauty. Flying the flag for all ages, races, for everyone. Being a range that not only changed makeup views, but changed lives. Changed perception. Broke in to Selfridges Beauty Hall like a beautiful, vibrant individual, and helping shake up a somewhat old fashioned industry by often sticking two fingers up to convention. And then recently? It went really neutral. Really safe. Collections of entirely nude/neutral eyeshadows and lipsticks were born, and probably sold well, but just didn't excite me like their older offerings.
I was really hoping all along that Illamasqua had never lost that little bit of rebellion and from the minute I clapped eyes on the To Be Alive collection, I not only gasped with lust but let out a big sigh of relief. They're back.
To Be Alive is as Alex Box puts it, "a raw state of living, movement, life, feeling, spirit and emotion. It is the freedom to surrender and to be still. A maelstrom and a moment. The forces that move us to be chaotic yet peaceful. We are always in emotion and in motion." She has a way with words that provoke my attention, every single time.
So the collection consists of a new palette, a lipstick, a lipgloss and a nail varnish. All of which are hued either obviously, or subtly, in blue. The subtle choices are the Shine Lip Gloss in Iridesce,
shown here beautifully on Leanne from Do Not Refreeze
. It looks like a sheer, sparkly multi-tonal glitter affair with that kind of soft blue glitter that makes my heart race. It'll really pop over a fuchsia lipstick. The same style is applied to the Nail Varnish in Prismatic, which is a bit like their previous launch Once, but a far more softer, mermaid, almost Disney glitter blue.
My personal favourite is the eyeshadow palette in Spirit, which, same as all Illamasqua eyeshadow palettes, has one cream shade and three powders. This makes them insanely ideal for travelling, as it's dead compact and all the colours are complimentary and designed to be worn together. Spirit has this insanely beautiful pearl shade called Awaken that when applied over the cream – Cascade – just makes this sparkly, pearly, blue glitter. That of which I have nothing similar in my makeup stash. It's beyond stunning. The other two shades, Inspire and Refine, a royal bright blue and deep navy blue respectively, are both beautiful, and have a lot of strong pigment to them, as you'd expect from Illamasqua.
But then there's the stand out, the real talking point of the piece and as I saw it I just applauded, finally, I said out loud – a bright blue lipstick. This is called Vendetta and i'm so so pleased it's one of their new formula lipsticks, the Glamore. This is dead soft, moisturising and applies like a dream to the lips. As you'd expect from any blue, the pigment needs a few layers to build it up, but once you have it's thick, creamy and really beautifully pigmented. It's the best blue lipstick i've tried bar the OCC Lip Tars, but this are no where near as thick or as sticky as those, which makes it far more ideal for every day wear.
All in all, i'm just beyond smitten that Illamasqua have finally launched a collection that's once again back to their roots, brave and unique. I love everything about To Be Alive and i'm going to be wearing that lipstick so much over the Summer, I can't wait!! I really hope you can see the beauty in it and find parts that you feel can work for you. I'm wearing it on my skin quite extremely, all the shades at once, but if you just put one of the softer eyeshadow shades in with your usual mix, I think you'd be surprised how much you like it – even if neutral is your thing.
What do you think of Illamasqua's To Be Alive capsule collection? It launches 1st May. Let me know in the comments whether you'd give a bit of blue a go. I encourage all of you! It looks even better with blonde/brunette hair, trust me.
+–+–+