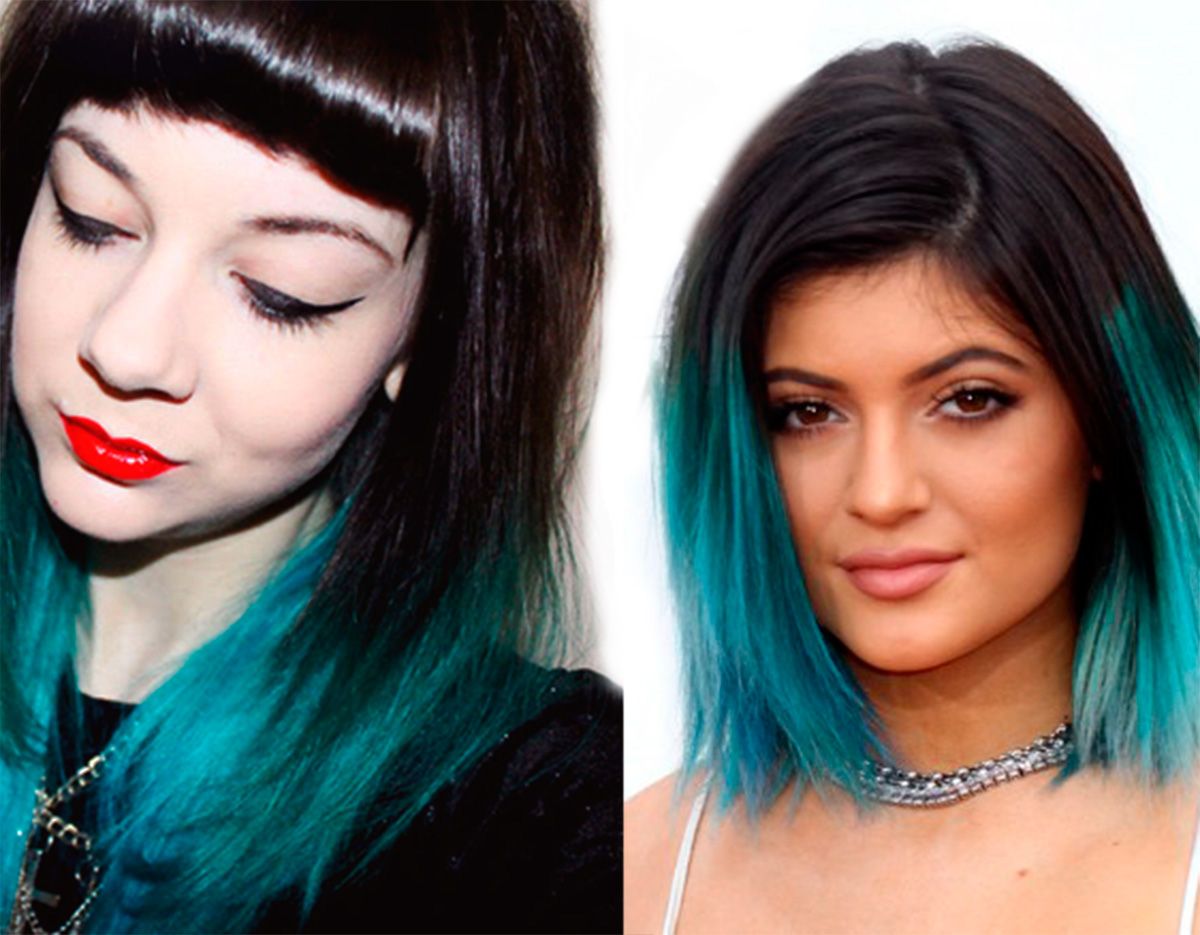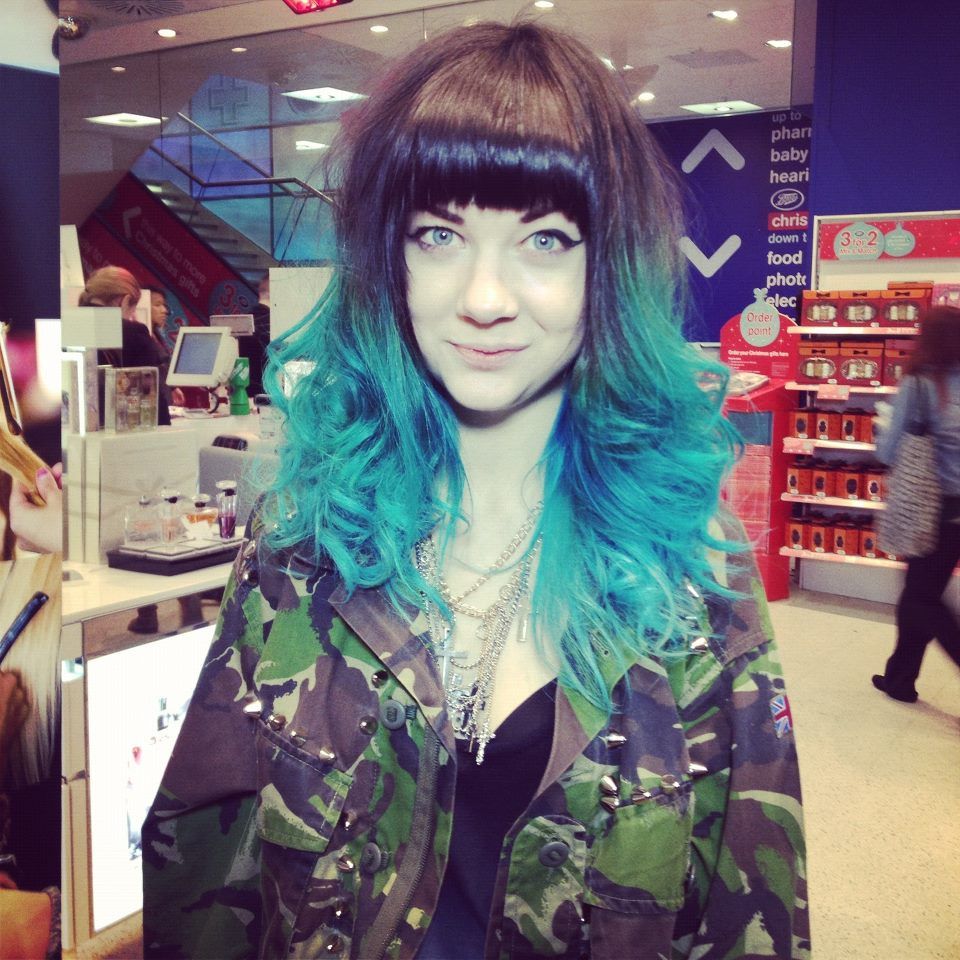 PHOTOS: FROM ARCHIVE
WORDS: ZOE LONDON
KYLIE JENNER IS CURRENTLY SPORTING A TURQUOISE DIP DYE, SO HERE'S HOW I DID MINE A FEW YEARS AGO
So I have to put my hands up and say until last week when Kylie Jenner dyed her hair turquoise, I didn't know who she was. If i'm honest I still have no idea, but a quick google tells me she's a Kardashian and I think that's all I need/want to know. All I know is, this kid is absolutely beautiful, and her new style of dip dye suits her to a t. I know this will spawn a lot of other girlies wanting to dye their hair this same way, so seeing as it's a style I had two years ago before I dyed my whole head blue, I thought i'd run through how I achieved and maintained the look as I mostly did it myself at home!
DON'T SCRIMP ON BLEACH
If you're going to do it yourself at home (which you totally can do!) make sure you get decent bleach if your hair is dark and needs pre-lightening. I always buy salon quality bleach from a Sallys store – the powder and the developer. If you want it quite green, it won't matter if your bleaching goes a little yellow – either due to previous dye lingering on the hair, or due to your hair being too dark – but if you want it really blue you'll need to get it really white. It's just like painting on a canvas. Don't buy the cheapest bleach, this is one of the most important parts. Sally's bleach is about £20 for the two items and they're huge and will last you forever! PLEASE ALSO FOR THE LOVE OF GOD please do a strand test and skin test before using any bleach, it's dangerous at the end of the day and I do not want any incidents!!
BACKCOMB YOUR HAIR FOR THE BEST BLEND
Now this is how i've always done my dip dye. I've decided how far I wanted to take it, Kylie's is quite high up, but I always went for about ear level, and then I got one of those really small little combs and backcombed the hair at the bit where it 'joins'. So for me that was near my ear. When you paint the bleach on, rub it into the backcombed bit gently bit firmly, and this uneven/scrunched up backcombed bit will help make the dip dye look more natural. Always rub from the very bottom of your hair up to the join with your fingers, do not paint from the top downwards! You'll end up with an awful mess!
TAKE IT SLOW, NO RUSHING, AND CONDITION THE HELL OUT OF IT!
You need to make sure that you leave the right amount of time in between not only putting on the bleach and letting it take, as well as in between the bleach and the colour. Ideally, take a day out in the middle to let your hair rest and let all the hair follicles close up again after being ravaged with bleach. Use a good conditioner on it overnight, and when you're ready the next day your hair will really thank you for it!
HERE'S HOW TO PUT ON THE DYE
To actually apply the colour, it always applies best onto wet hair. Ideally you need to shampoo the hair just once, so if you did let the bleach sit over night with conditioner in, make sure you then wash the hair the next day with just shampoo and don't condition. Most dyes that are bright colours are vegan and removed of chemicals, so they condition the hair for you. Also they cling better to just shampooed hair rather than slippery shiny conditioned hair. Cover the hair all over the bleached bit really rubbing it in with your fingers, and if you're bright blonde all over, you need to do the backcomb trick from step one and gently rub the dye into the backcombed area with your fingers. I have done this trick on Lily before as shown here, as she is all over blonde.
THESE ARE THE COLOURED DYES I RECOMMEND
Fudge Paintbox do a Turquoise Blue as well as Lagoon Blue, and these I find are the best on the market. That's why I became a Fudge Urban hair ambassador don't you know! Because I legit swear by and use those dyes. Over my time dying hair i've also used Stargazer, which is good but their Turquoise is very green and not very blue, Crazy Color – who don't have a turquoise shade, and their blues are either baby blue or bright electric blue, and Manic Panic, which can be quite expensive here in the UK and stained my fingers/pillows/life the worst out of all the dyes. For real ease of buying all over the UK, Bleach and Schwarzkopf both sell blue dyes in Boots, and I have also used both of those too. The Bleach dyes are very very pastel and wash out quickly, so if you're after an intense hit you won't get it with that, and the Schwartzkopf one is beautiful, but a very bright blue and not a turquoise.
Don't forget, as with paint, you can get a bowl and a brush and mix up the dyes yourself to get the perfect shade if you can't find the one you want! That's what i've always done with my hair.
REMEMBER: GREEN AND BLUE STAINS. REALLY BADLY.
Green and blue hair dye is not like pink or purple. It stains. Really, really badly. And I really mean that. I would not warn you as heavily if I didn't mean that. If you want to go green, really think about it and make sure it's right for you, because if it's wrong or you hate it, you'll need to have it dyed over black or very dark brown to get rid of it. You won't be able to bleach it out of your hair easily. Trust me, i've tried. It just goes lighter green, then lighter green, then lighter green. I recently had Jason of VeeOneEye over my house to try and get rid of the green in his hair and it took us about four hours of bleaching and toning, and even then he still had little green tips. Make sure you're really up for it and if so, go for it!!

Bonus pic! Me and Mark Hoppus!
LAST FEW TIPS!
When dying, cover your shoulders with a towel. Protect your hair in the rain because green will run out if it's fresh in the rain and will dye any light clothing you're wearing! Look after your dip dye by using hair oil, check out the little shop icon below for my recommendation! Don't be afraid to take a pic of the bright hair into a salon, most salons do bright dye, just don't always advertise it. Toni & Guy are very good at bright dye and are so reasonably priced. Try not to wash your hair every day, and try not to use too much heat on it! Also avoid hairspray as much as possible as this clings to the hair and strips it of the colour when washed out.
Good luck, and I can't wait to see many more blue haired babes out and about thanks to Kylie Jenner! Even though I don't know who this chick is, i'm always for anyone in the public eye supporting bright and unique coloured hair, because it will make for a more accepting world with personal appearances and things like this in years to come, so you go Kylie! Let me know if you're a dip dye queen in the comments below!
S H O P
!function(d,s,id){var e, p = /^http:/.test(d.location) ? 'http' : 'https';if(!d.getElementById(id)) {e = d.createElement(s);e.id = id;e.src = p + '://' + 'd27mzdfpkg2pgg.cloudfront.net' + '/js/shopthepost.js';d.body.appendChild(e);}if(typeof window.__stp === 'object') if(d.readyState === 'complete') {window.__stp.init();}}(document, 'script', 'shopthepost-script');
Turn on your JavaScript to view content