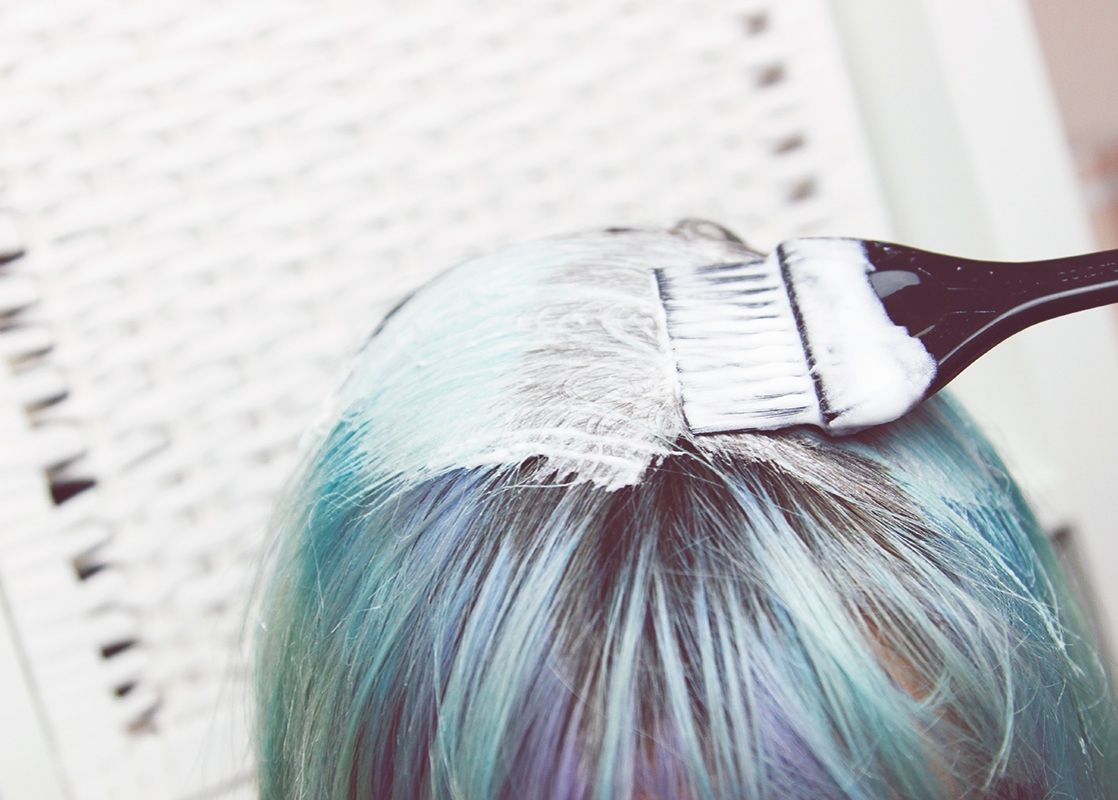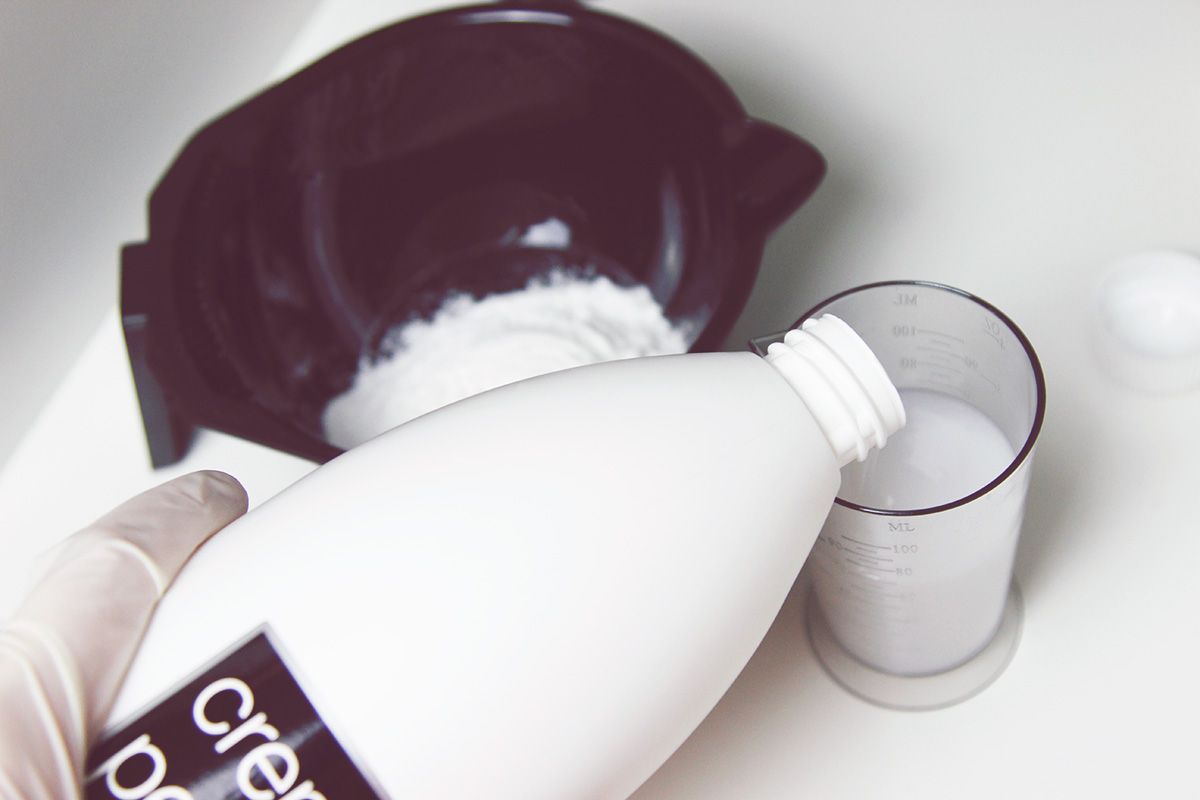 +–+–+
PHOTOS & WORDS: ZOE LONDON
AT HOME BLEACHING CAN SAVE YOU A LOT OF MONEY. HOWEVER, YOU HAVE TO APPROACH WITH CAUTION. HERE'S HOW I DO IT.
+–+–+
You know i'll be starting this with a disclaimer so here comes a strong one. I am not a professional hairdresser nor is my scalp the same as yours. Always do a patch test 48 hours before using any kind of new hair dye or bleach product and obey all instructions. Do not under any circumstance continue with hair bleaching should you feel any kind of abnormal discomfort or severe pain. Read time guidelines carefully and obey all instructions. Be careful! At the end of the day this stuff is bleach, it's a strong chemical – it's not to be messed with.
Going to the salon can result in either results you're not quite happy with, or a hefty bill. I love having my hair done at the salon but it can take hours I don't always have, and can leave me with a pretty sizeable gap in my bank account, when you sometimes think – "I could have done that myself!" Well, you do if you're a bit of a DIY fiend like me, anyway.
Well i've been at-home bleaching for over ten years now and i've got it down. I have to do it myself when my roots need topping up and I don't have time or money for the salon, so it's usually a couple of times a year. Luckily for me I kinda like a little bit of root so i'm happy to leave it for a few months to grow out – but for you bottle blondes it can be a once a fortnight job. Here's the lowdown:
FIRST AND FOREMOST; BUY PROPER BLEACH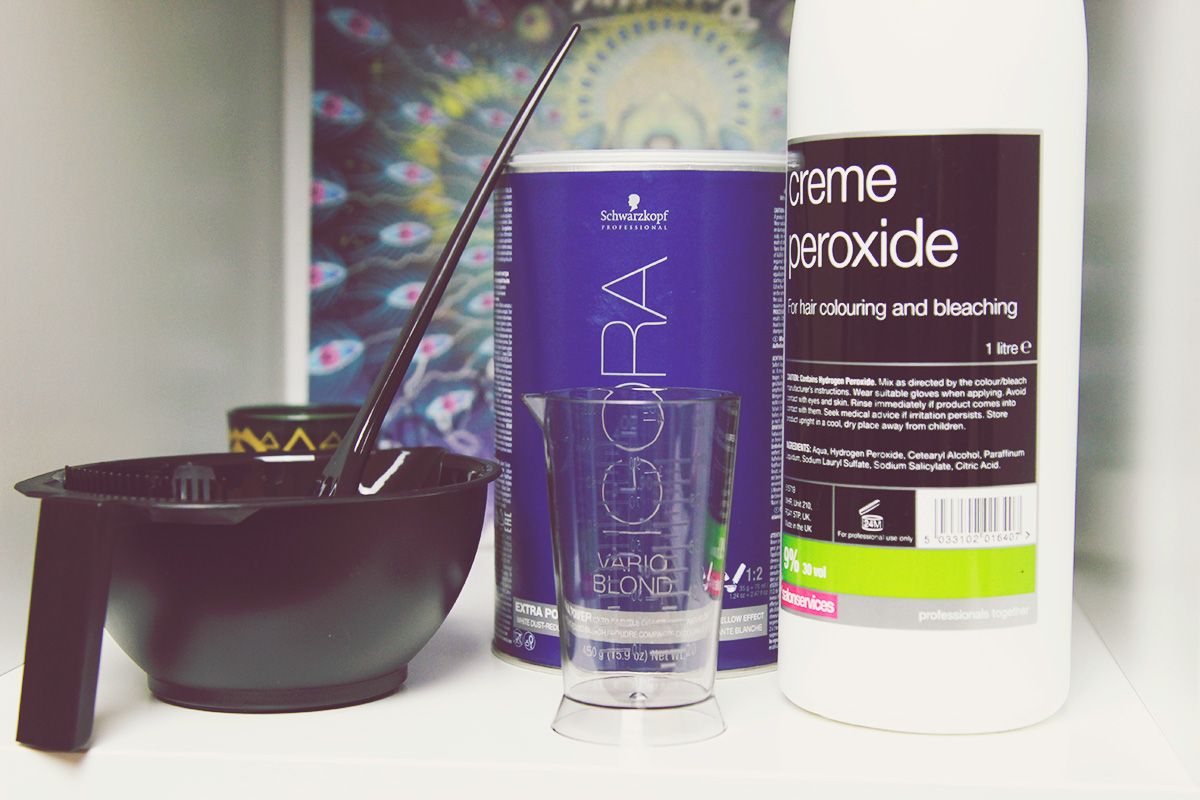 I buy all my bleach from Sallys, and I use a Sally's own brand developer which I use at a 9% vol. This is quite high for developer and it's because my hair is quite dark to lift, but this is also quite dangerous to use especially for a first time. I would say go in at a 3% or 6% vol for your first attempt at home and when you feel more confident (and if you need to, as you may not) move up to one if needed. I only needed to move up to 9% as my hair is so stubbornly dark brown. I usually receive shock responses from hairdressers though saying it's quite a dangerous game playing with 9% at home and to honestly be so careful. I'm experienced in my hair though and know how to use it – but I genuinely would recommend a 3% or 6%.
The powder bleach I use is the Schwarzkopf Igora Vario Blond Extra Power White bleach powder, and again it's a strong product. It can be quite intense and is quite stripping, so I wouldn't 100% definitely not use it on thin or weakened hair at all. My hair is very thick, very resilient and very strong and copes with it fine, but you really must assess your hair first and see what it is you need.
As a guideline:
Developer
1.5% – 3% strength – fine, thin and light hair
6% strength – regular/fairly strong brown hair
9% strength – dark brown and strong thick hair

MAKE SURE YOU HAVE EVERYTHING YOU NEED
You need a good pair of gloves, a plastic mixing bowl and plastic tint brush – do not under any circumstances use metal or any other material – and a measuring cup for both your developer and your powder. If you've bought a box bleach most of this stuff should have been provided in the box. If not you can pick it up from a big supermarket or for me I head to my local Sally's or beauty supplier.
THINGS TO NOTE BEFORE STARTING YOUR BLEACHING
Bleaching hair works far better on hair that has been looked after. In the months leading up to needing to bleach, try not to use excessive heat – straighteners, hair dryer on a hot heat etc – on the hair as it will weaken it. Use strengthening and thickening shampoos and conditioners and generally take real good care of it. When people ask me how i've kept my hair 1. on my head and 2. in good condition it's because I really dedicate a lot of my time to looking after it properly. Hair is like skin, it needs real good TLC or it'll break, fall out or frizz. I learned this the real hard way as a kid and it's not fun. Do not under any circumstance put bleach on damaged or broken hair – it WILL fall out.
WHEN YOU'RE READY, USE A TINT BRUSH TO APPLY THE BLEACH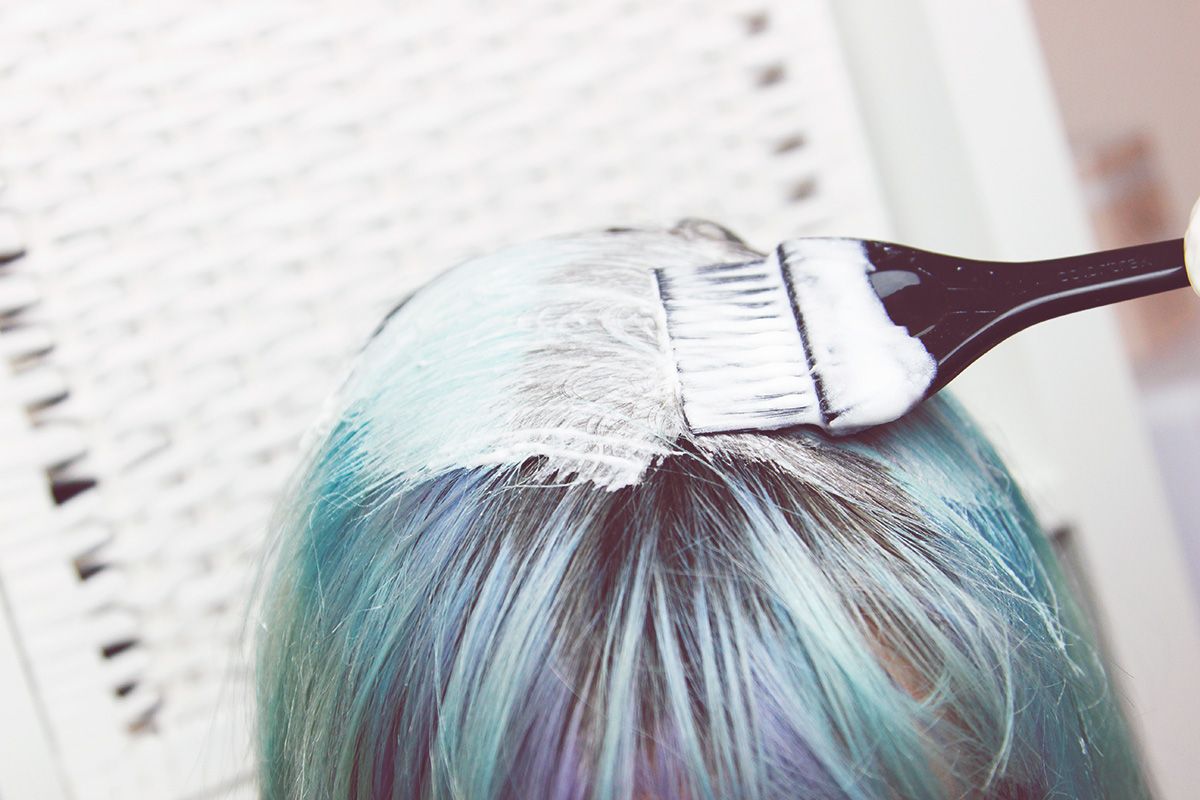 I always use my plastic tint brush to apply my bleach as it means it only goes on areas where I need it to. As you can see, my hair is really dark and quite overgrown, so I had to bleach quite a lot of it this time around, but if your roots are quite small you can get away with not bleaching a lot. If you're going for an all over bleach, make sure you still use a tint brush as you can get a better controlled application instead of just haphazardly throwing it on.
As a side note to this step, you'll want to heavily ventilate the area you're putting the bleach on in as it's a very strong chemical smell and can really overcome a room and make you feel nauseous. Make sure you've got a window open and you'll be fine.
MOVE OVER WITH COMB TO ENSURE YOU COVER ALL DARK AREAS
What I do when root retouching is I grab myself a little comb (or use the other end of the tint brush) and I paint it on the top of the root before folding it over and then painting underneath. I then fold that bit over and paint underneath. Keep going until your whole head is covered. If you do it this way you're far less likely to miss any dark spots and you can keep a good controlled eye on how much bleach is going on. If you prefer to use foils, use foils. If you're doing it all over, get someone to check the back to ensure you haven't missed any of your hair as you don't want it to be patchy.
There will always be guidelines on your bleach instructions for how long to leave the bleach on for and you do not want to go over that. Make sure you keep checking on it, watch how it develops and keep a good eye on it. I usually cover mine with plastic to keep it developing properly inside the plastic but i've taken it off here to show you how it will be looking. If you feel any extreme discomfort (but do obviously note that it does hurt a bit) you must take it off immediately. Again after saying this at the start you want to make sure you have done a patch test before getting this far as you really don't want any nasty sores or pain.
AFTER BLEACHING, TAKE REAL GOOD CARE OF IT AND DO NOT BLEACH AGAIN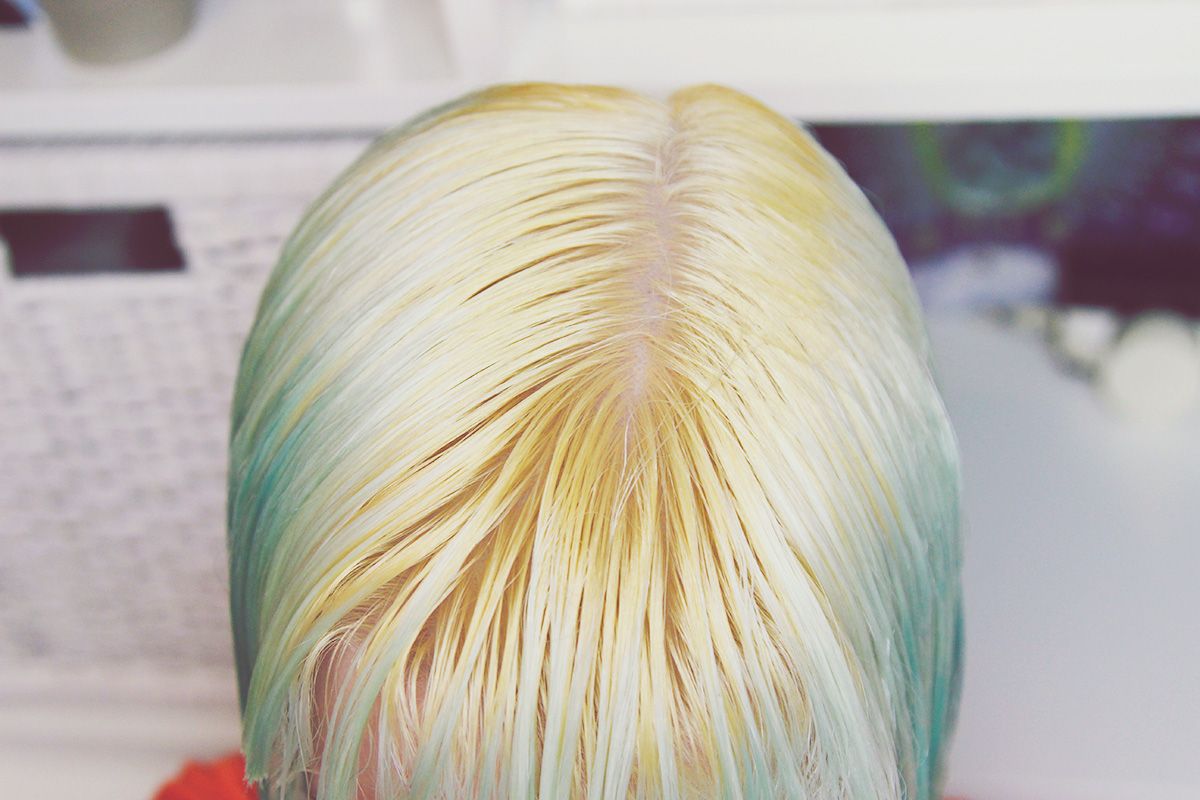 Here's how my hair looked after the bleach was finished and I know it may look a little yellow (blame my studio lighting for enhancing that) it's actually a very light white blonde. Of course all bleach does kinda leave a bit of a yellow-ish tone if you bleach on dark hair, especially very dark hair, so if you're going for blonde as your final look, you need to use a lot of purple based toner and good shampoos in the coming weeks. Also you can mix a red gold corrector creme into your developer and bleach mix earlier on in the process should you want a more platinum blonde result.
For me this base is perfect to put my turquoise/blue on top so from here I continue to the finished result which you can see below, but after bleaching is the most important time for your head to recover.
You must dry it on the cool setting and use lots of great treatment masks and conditioners to keep it healthy and shiny, and really do take good care of it. Hair oil is also your best friend and will help to keep moisture and shine into the locks, too. As I outlined above, for the next few weeks you need to take real good care of it when washing, drying and using heat on it and do always keep this at the forefront of your mind.
I felt really cautious writing this blog as i'd never recommend anyone to put themselves in danger but I am living proof that you can at-home bleach your head for years if you do it properly, make sure you research well and do all the measures outlined above for a safe bleaching environment. Nothing will go wrong if you're aware of the risk and the strength of the product you're using, and if you're confident you can do it, you can.
Good luck and I hope this helped in some way!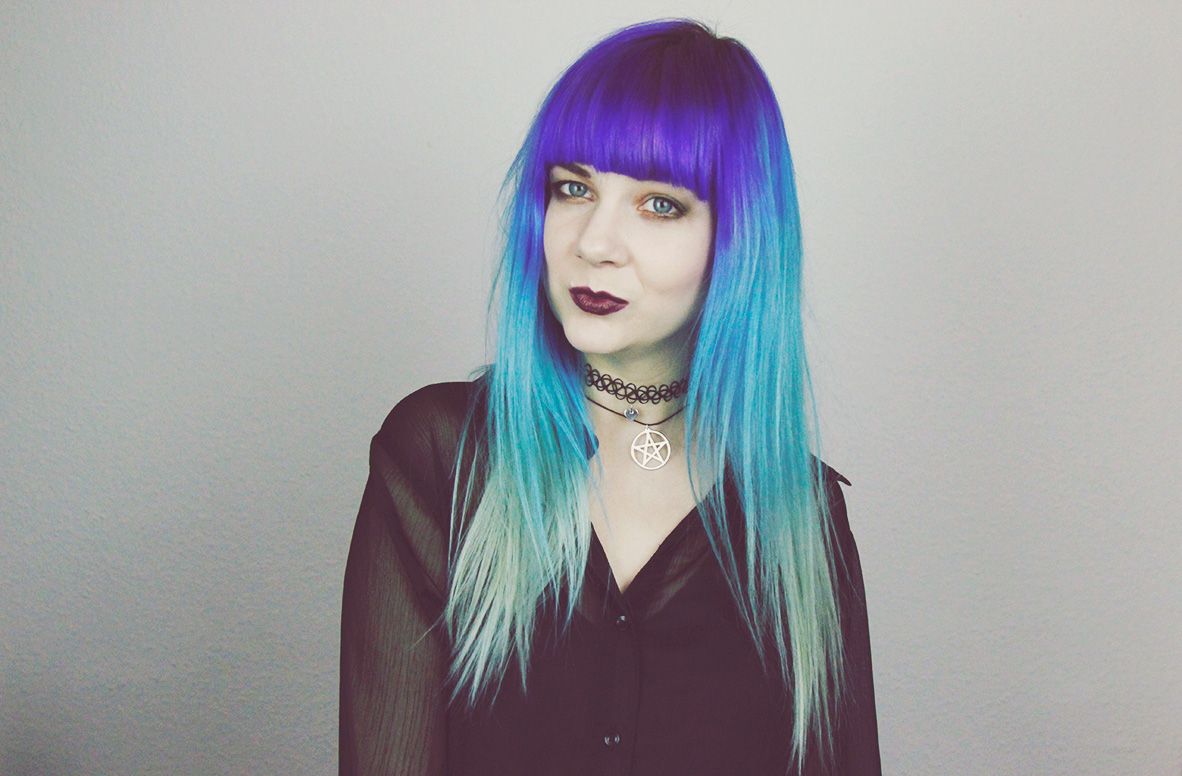 +–+–+