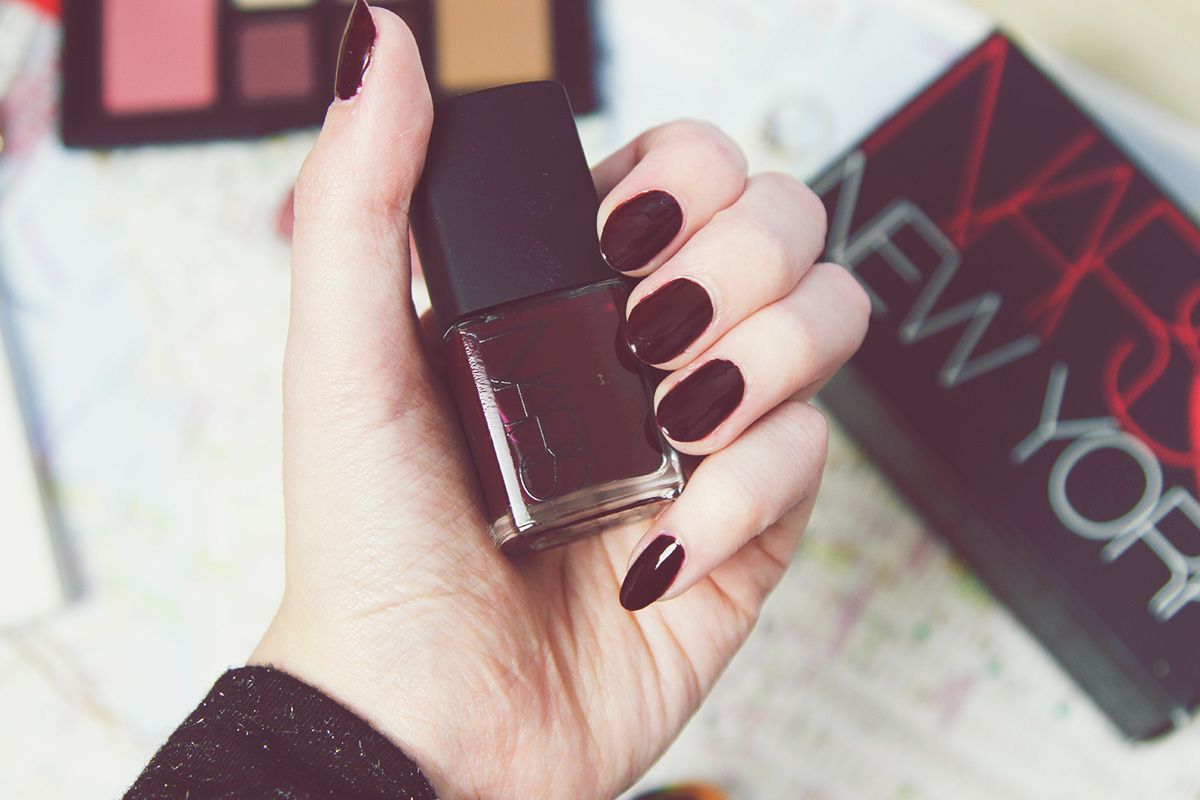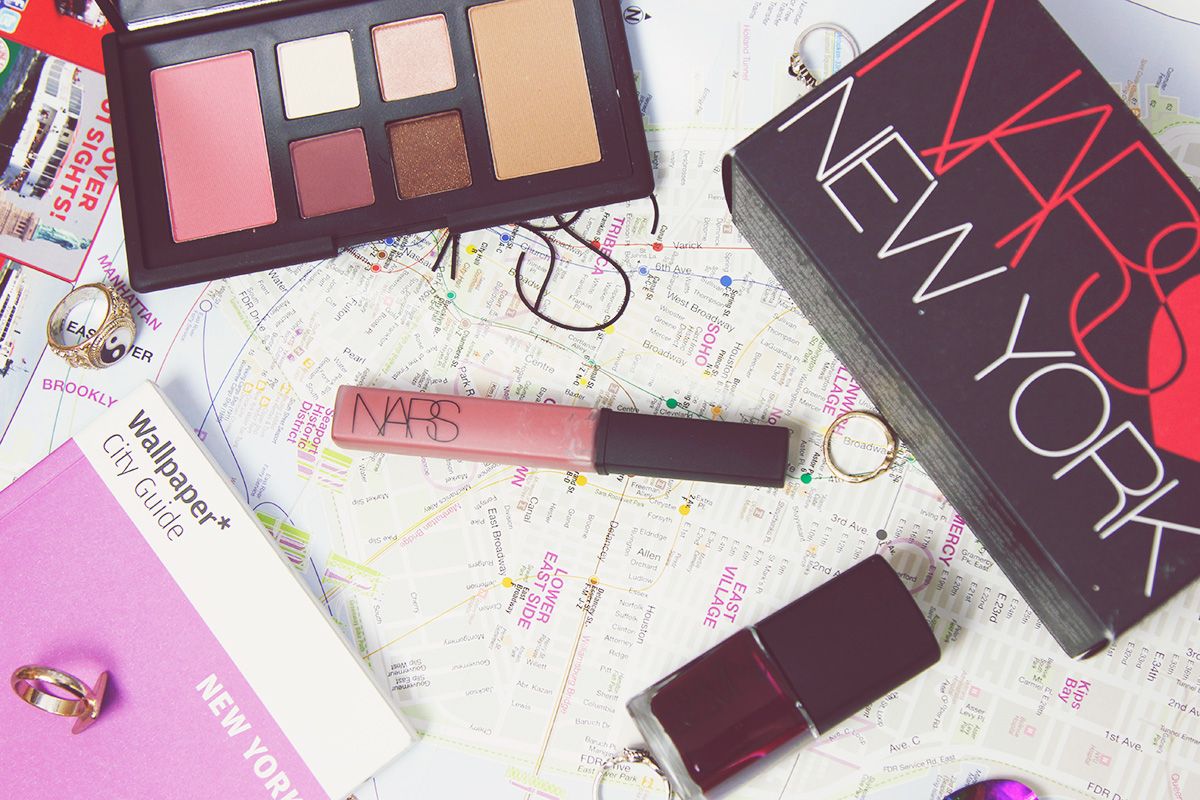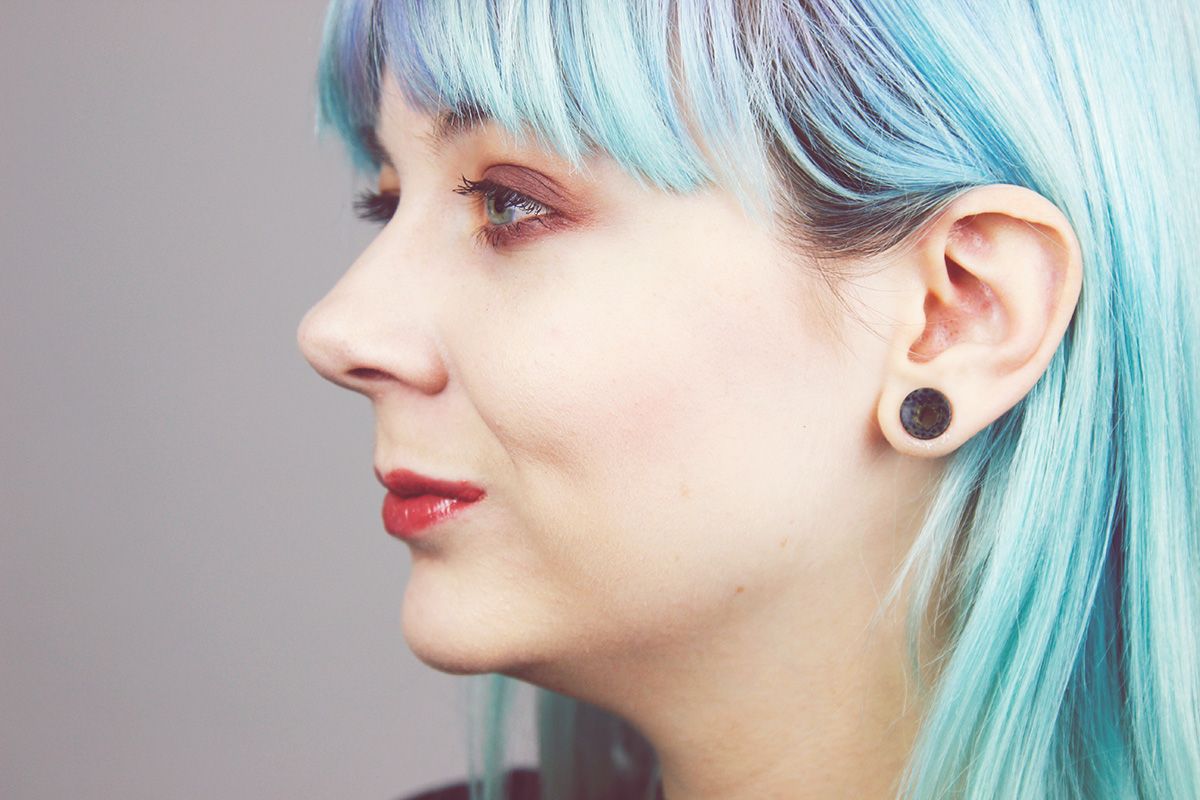 +–+–+
PHOTOS & WORDS: ZOE LONDON
NARS LOVES NEW YORK IS EXCLUSIVE TO HEATHROW TERMINAL TWO, SO IT MAKES THE PERFECT GIFT FOR THE BEAUTY GIRL TRAVELLER.
FEATURING:
NARS HEARTS NEW YORK GIFT SET:
EYE & CHEEK PALETTE*
DOLCE VITA LIPGLOSS*
CHINATOWN NAIL POLISH*
+–+–+
Unless you've been hiding under a rock you would not have failed to miss the fact that last month I went to New York. (I promise i'll stop banging on about it… probably by this time next year.) So the lovely team at World Duty Free had this pop into their Heathrow T2 store and so ridiculously kindly sent one over, complete with a little note that just said "we thought of you x" – which is probably the cutest thing i've ever seen? Needless to say I was honoured at just the thought, but when I opened the box, well all those feels for New York came rushing back.
Now, it originally went on sale last year but right now you can get it exclusively to Terminal 2 at Heathrow in World Duty Free, and it consists of a gorgeous Eye and Cheek Palette, a Nail Polish and a Lip Gloss. I'm not always into the eye palettes by NARS because I think they can be a bit guilty of being a bit boring, but this one ticks all the boxes! Why? Well instead of going for the obvious neutrals and browns, the eyeshadows are a plummy, smokey – definite Brooklyn girl vibe – affair and they are right up my street. The blusher is quite dark but it adds to that vampy look, and can definitely be built up to make that city-girl flush, and the bronzer is gorgeous but unfortunately just that tiny touch too dark for me! I use it with a light hand.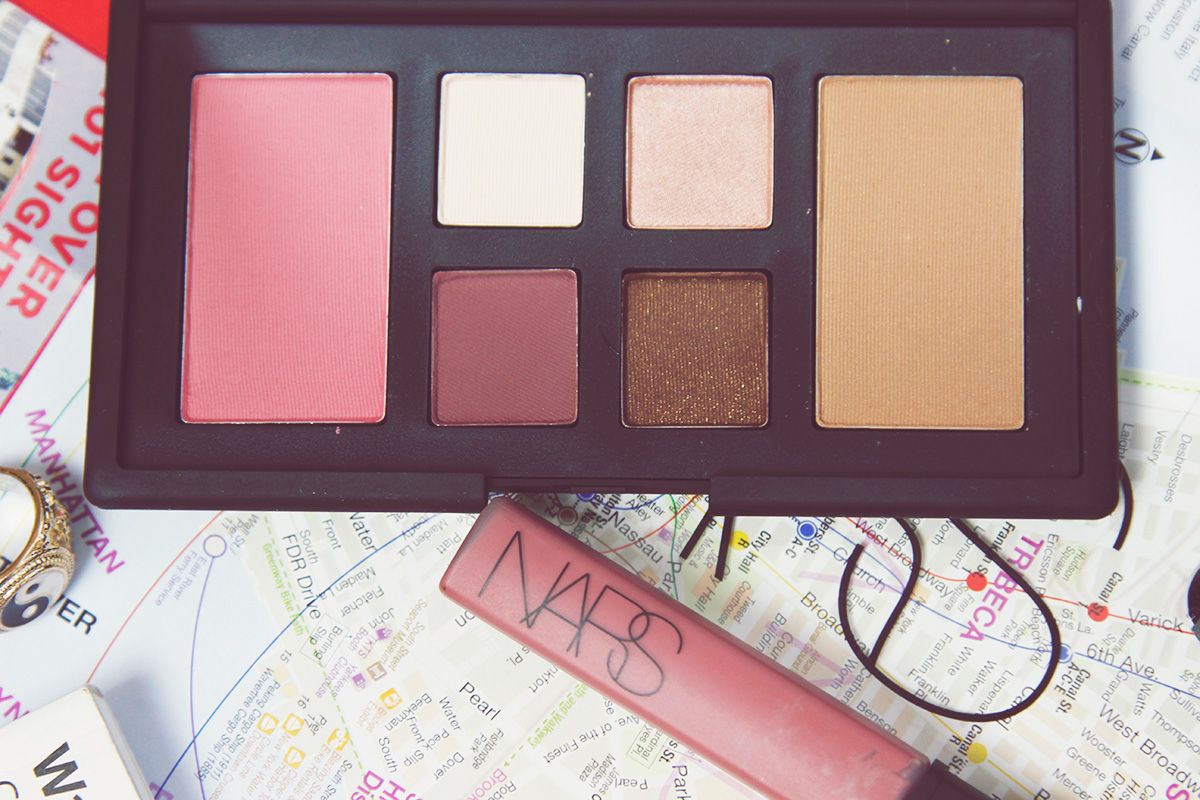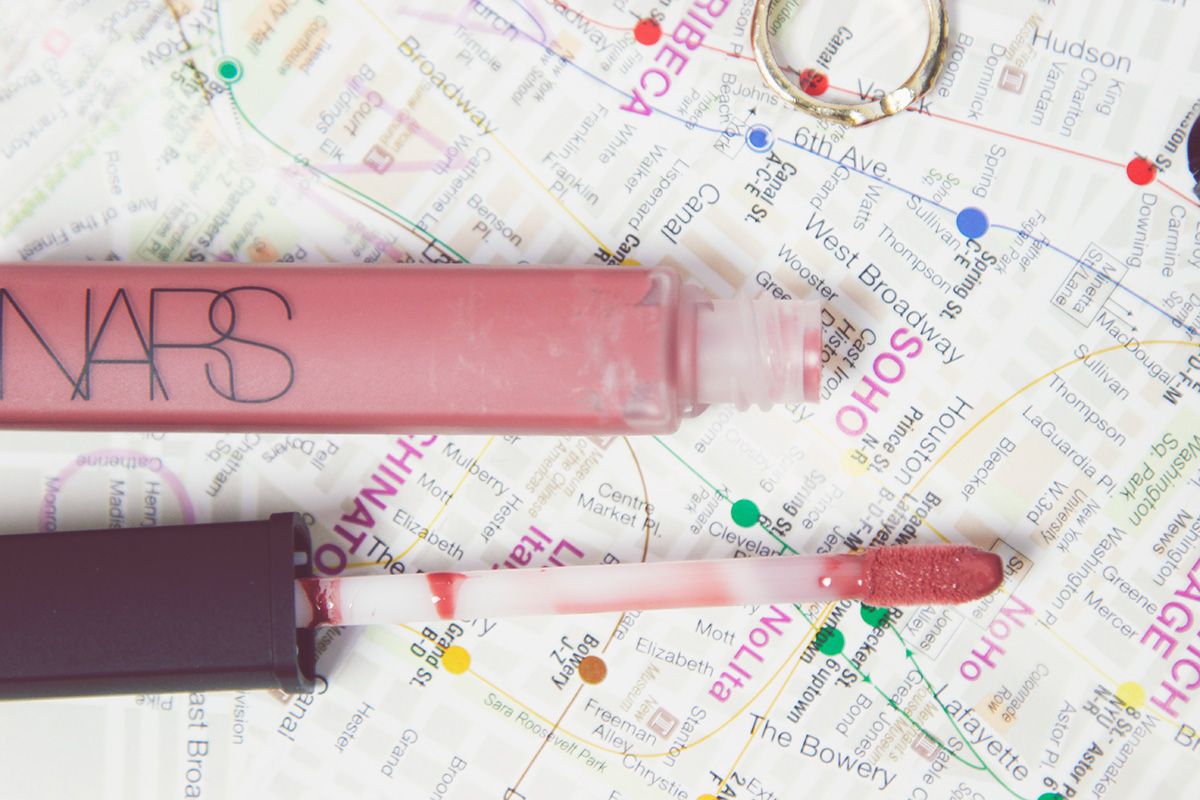 I've only tried maybe one or two NARS Nail Polishes before so to have Chinatown in my collection is beaut, and the sheer, jelly finish makes for that Sex and the City look – you'll see so much of this in New York. It's one of those ones that doesn't spread totally evenly (jelly finish problems) unless you do a ton of coats, but in a way in this shade colour I kinda like it like that. I did find though that with only two coats it chipped badly quite quickly – literally within 24 hours – so i've worn it again this week for the second week running and as photographed here, it now has three coats – which seems to last a lot better.
The Lip Gloss in Dolce Vita is quite similar to my lip tone, so makes an alternative than going for the fleshier nude shade, and is really easy to pop on perhaps when you're in a rush. I don't find it to be sticky, but of course with any lip gloss you are aware it's on your lips.
I totally dig this little set and I think at just £45.80 in World Duty Free it's actually a bit of a steal for NARS – normally the palette alone would be £35-£40 so the other items are a bonus. I think it's perfect for a travel loving girl. As I mentioned above it's only available through World Duty Free at Heathrow Terminal 2, so it's worth swinging by before your flight…! What do you think of this set?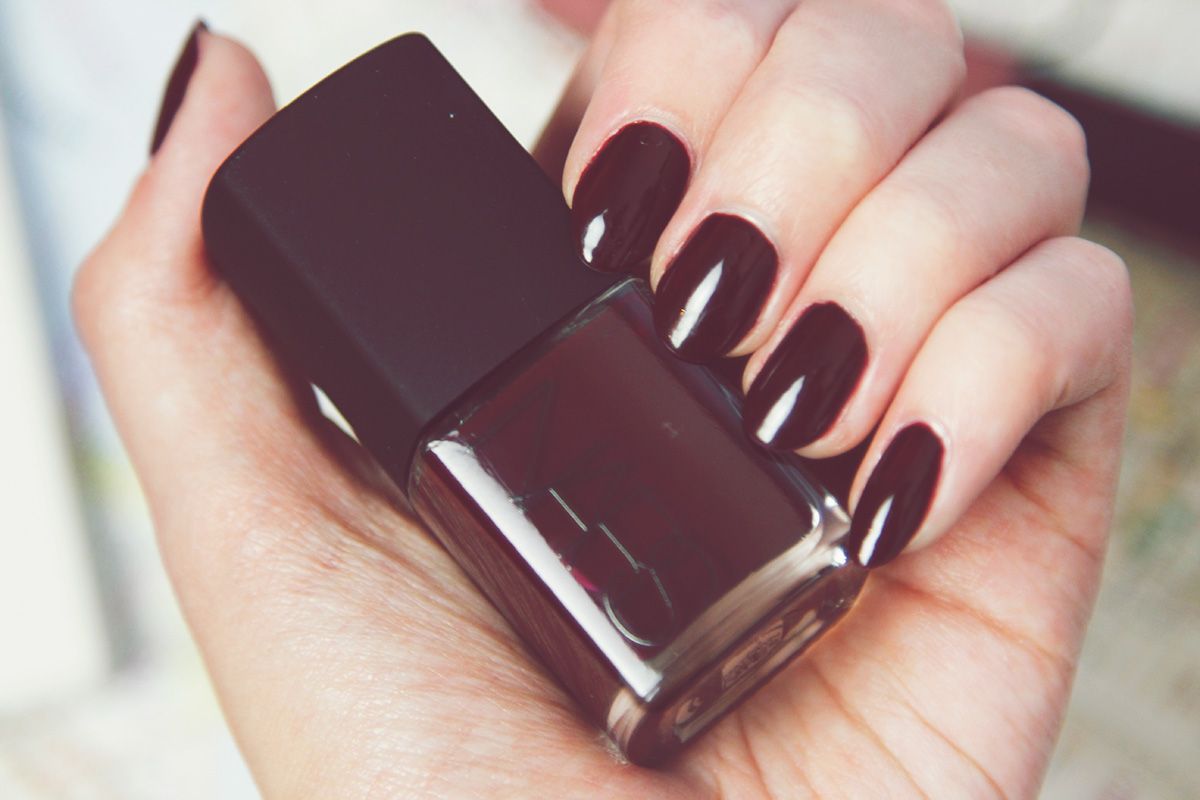 +–+–+