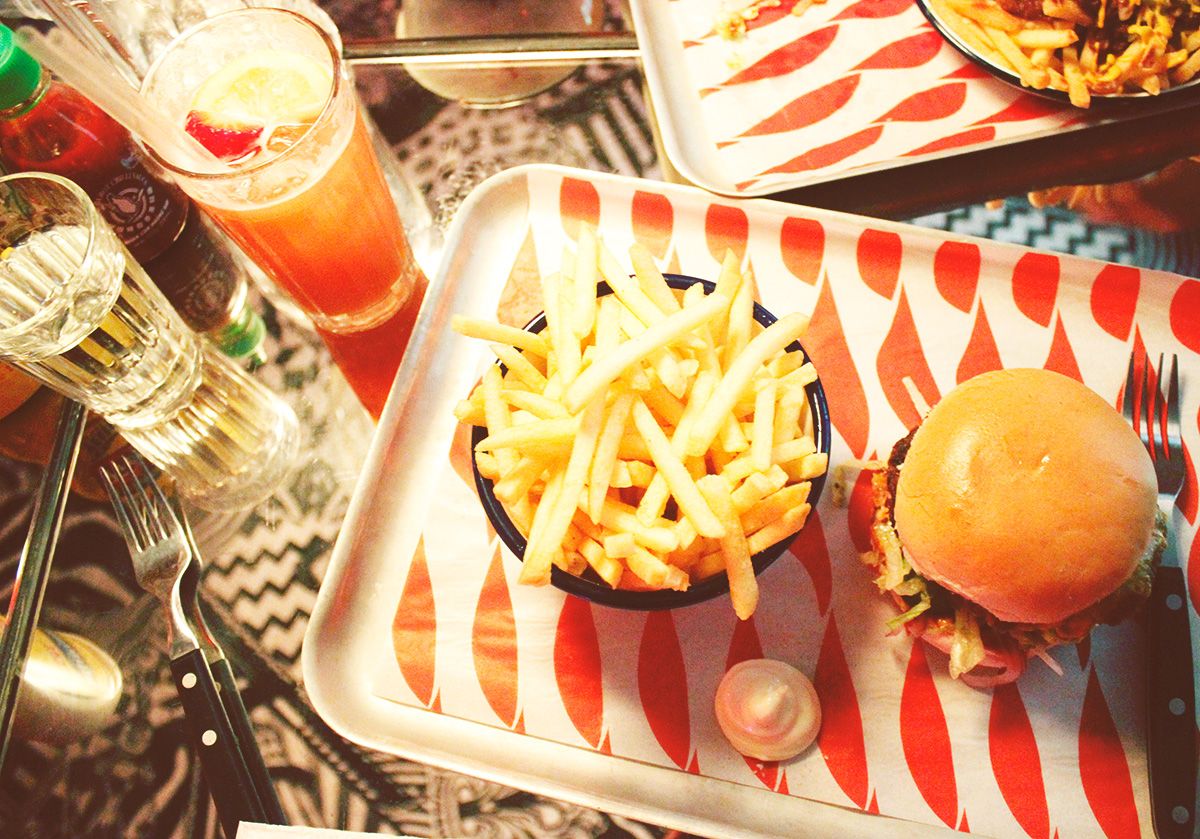 +–+–+
PHOTOS & WORDS: ZOE LONDON (some various sources)
BURGER JOINTS ARE THE HOTTEST MEAL TICKET IN TOWN RIGHT NOW.
HERE'S MY TOP FIVE IN LONDON.
+–+–+
The daily dilemma when visiting London can often be centred around food. Where to eat, what cuisine to have and where to begin looking for the best place in town. Well I spent a lot of time reading American blogs before and during our trip to NYC on the hunt for some of the New Yorker's favourite places, and it made me realise how many places I love here in my hometown, that I need to share with all you lovely visitors whether you're from up the road or across the globe.
Today i'm just focussing on burgers as it's a real popular food choice, and the choice here has really opened up in the last few years. All five of these are either regular hang outs of mine or previous regular hang outs (depending on where I lived in London) and come personally recommended, tried and tested by me! Although salivating over these photos right now is making me want to head out and test a few more…
Let's go!
DIRTY BURGER
I've mentioned Dirty Burger before as being one of my favourite burger joints to hang out at, and it really is a little hidden gem. They actually have four locations in London now, but my local is the Kentish Town eatery so that is where you'll find me! With only three burger varients on the menu – why over complicate things? – the meat and bun here is to die for. I find it one of the least 'soggy' burgers in London, as it seems to hold it's own.
One thing I really like about Dirty Burger is the crinkle cut fries! What a throwback to being a kid? Love. They also have a breakfast burger menu too which looks awesome.
Okay so i'm starting to worry that i'm spending way too much time at The Diner and they're beginning to know my name. There's one really close to George's work in Covent Garden and it's dead handy to meet him after he's finished for a burger or two! The Diner is a little different to the other places on this post as it sticks a bit more to the old school traditional USA style, and serves up burgers open, in a little plastic tray. In fact everything comes in that little plastic tray which you don't get much over here in the UK.
The burgers can be customised and they have a range of options to choose from. George in particular always orders his with pulled pork on the top! Double meat fest. They have some amazing sides here from mac n cheese to sweet potato fries, and they also do milkshakes and coke floats as well as all day breakfasts. Put it simply, I adore it here.
Here's my full review
.
Again Meat Liquor is probably one of my favourite places to eat in London. Having come here a few years ago now and probably pretty much starting the whole burger craze, it's now spread as far as Brighton and Leeds. Meat Liquor has this signature sauce on it's burgers that is just to die for, and I wish I knew how to make it myself! The burgers here are a little sloppier than the others, but still don't make too much of a mess. Just like The Diner they have a huge array of sides to choose from and if you can stomach it, are worth ordering! The portions here are big though, and I find I can never get through it all!
The fries at Meat Liquor are a consistent favourite of mine, probably some of the best fries to choose from. They also do some killer cocktails, and the ambience in the flagship Bond Street store is dark, dingy, and dead cool. The last time I went with Lily, we saw James from (Mc)Busted in there, so, clearly it's a popular hangout.
Here's my full review of the Brighton store
.
PATTY & BUN
I've only been to Patty & Bun twice, but mostly only because I couldn't actually get in the door as the queue was so long! Personally unless you don't mind waiting outside (Summer maybz) i'd head here for a lunchtime burger date. Patty & Bun is the sloppiest burger i've had in London bar Five Guys, which means it does get a bit messy! I think it's because they use a lot of cheese and sauce and it does make the burger a bit soft. The meat at Patty & Bun is absolutely beautiful though and seasoned so well. The fries here again are absolutely beautiful.
The only thing that lets it down for me is the actual restaurant itself. It's way too small and doesn't really have a lot of atmosphere, as it's going for that minimal/primary school kinda vibe with the old school chairs and plain walls kinda thing. Personally I prefer somewhere with a bit more rock n roll buzz, like The Diner or Meat Liquor, but this place is dead close to Selfridges which maybe makes it a slightly 'classier' option!
Photo source
.
RED DOG SALOON
Red Dog Saloon again is another all American style joint. They even have this ridiculous burger challenge eating competition which screams USA to me, which is called The Devastator! I've been in there once when someone's finished it, no joke, and the whole place applauds! Similar vibes to The Diner, Red Dog Saloon has a variety of burger flavours and combinations, and they're all served on wooden sliders. It can get quite busy in here but they have a great downstairs area too.
Again the cocktails here are amazing and quite a lot of my male friends love it as they serve Samuel Adams on tap and apparently that's a big deal. With an awesome ambience and staff that really keep the place vibrant, Red Dog Saloon is definitely one of my favourite places to eat a burger!
Photo source
.
+–+–+
So there we go I hope that's given you a bit of inspiration for where to grab a burger when you're in London, because all those West End 80s/90s chains are definitely not where it's at anymore. The burger scene in London in the last five years or so has exploded and it's one of the hottest cuisines in town, so there's quite a lot of options to choose from! Have any taken your fancy? I need to try a few others myself personally but usually one of these five always manages to lure me back in!
Where's your favourite burger place in London? Do you rate my five choices?