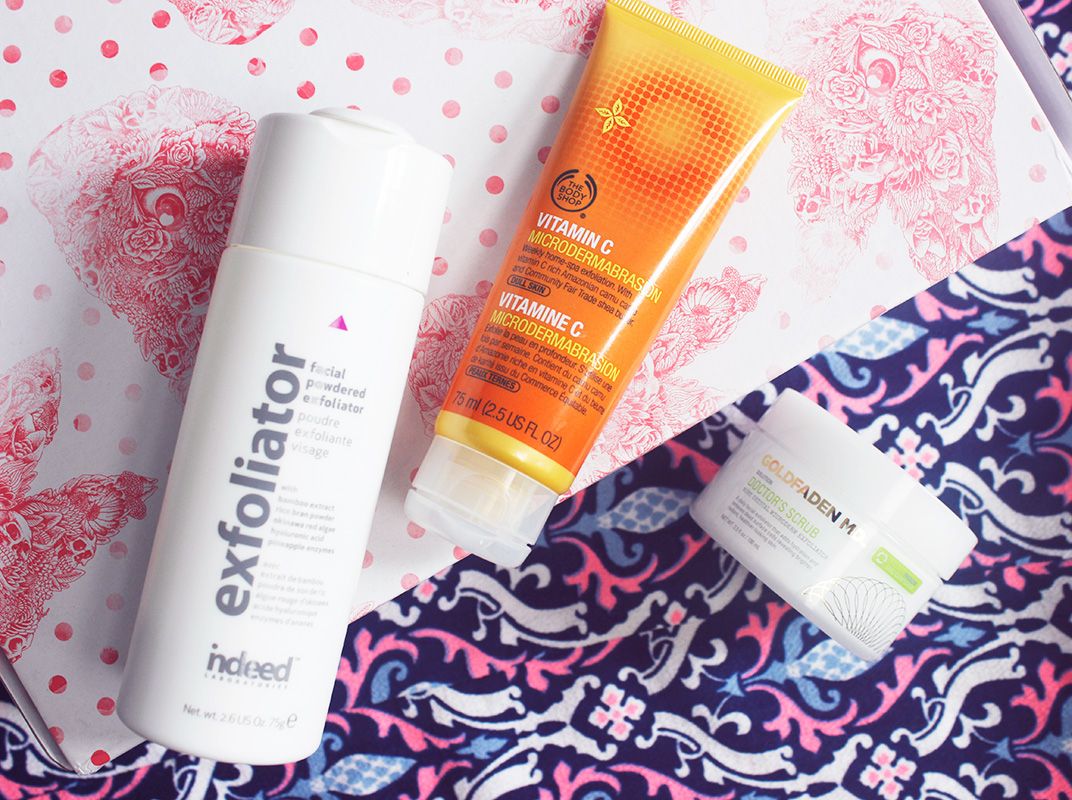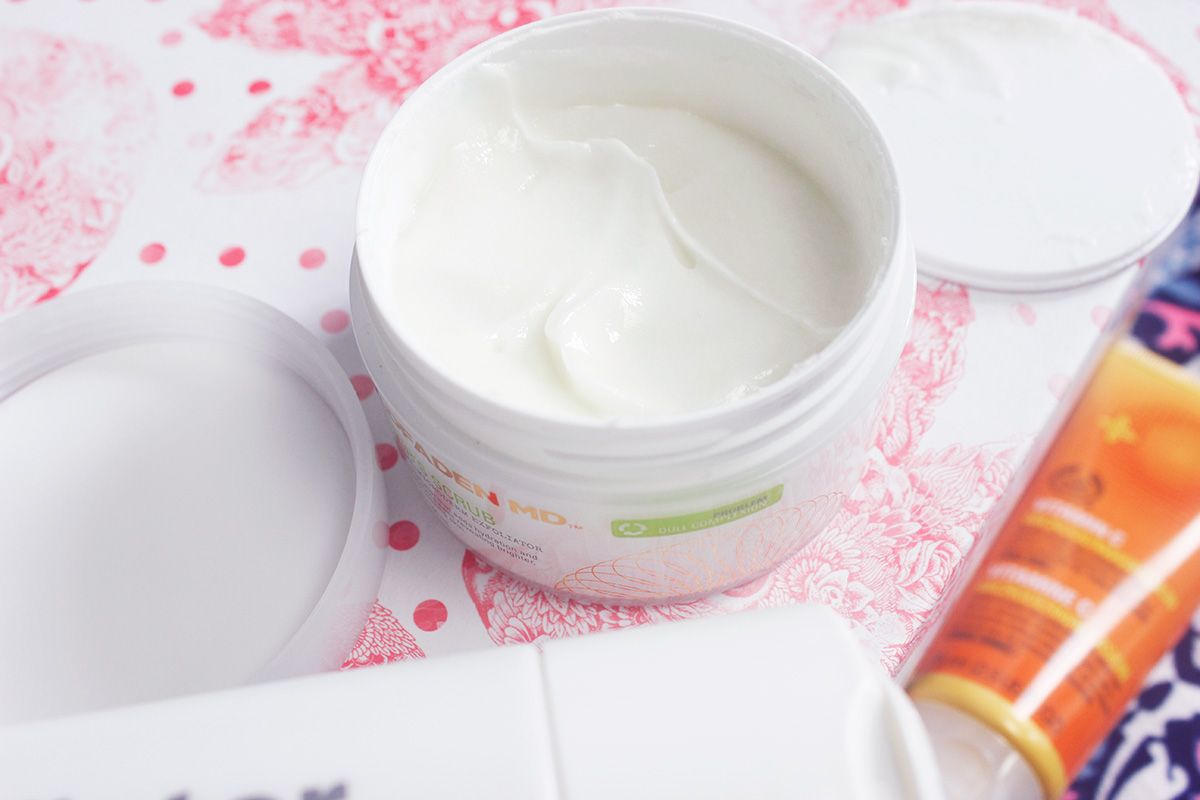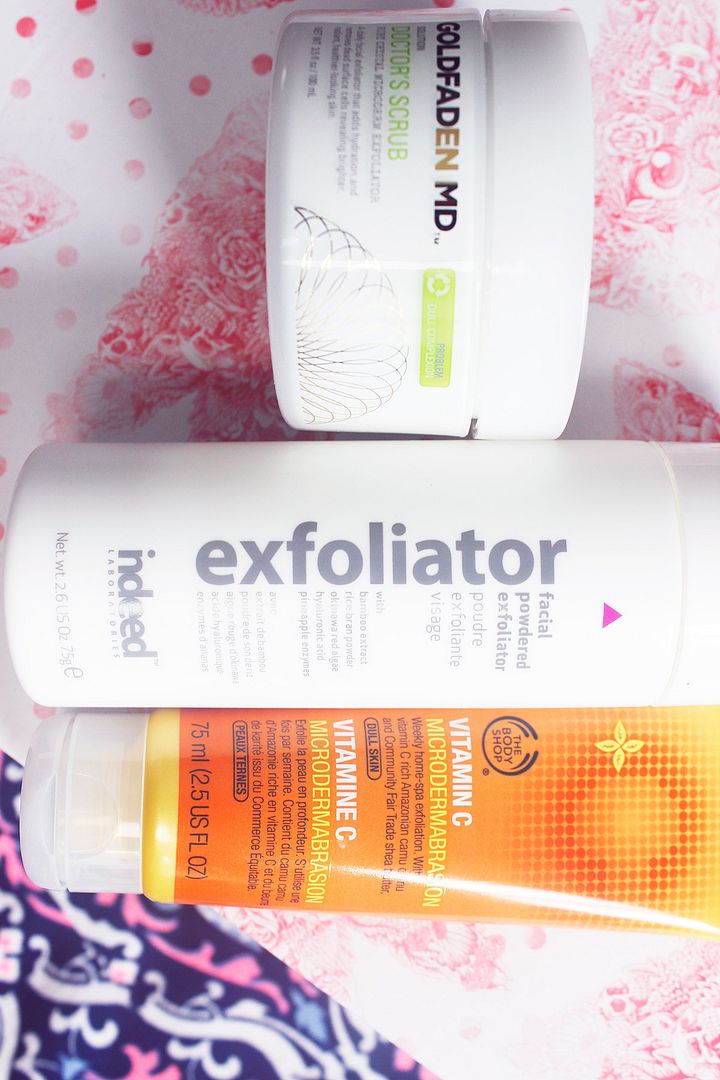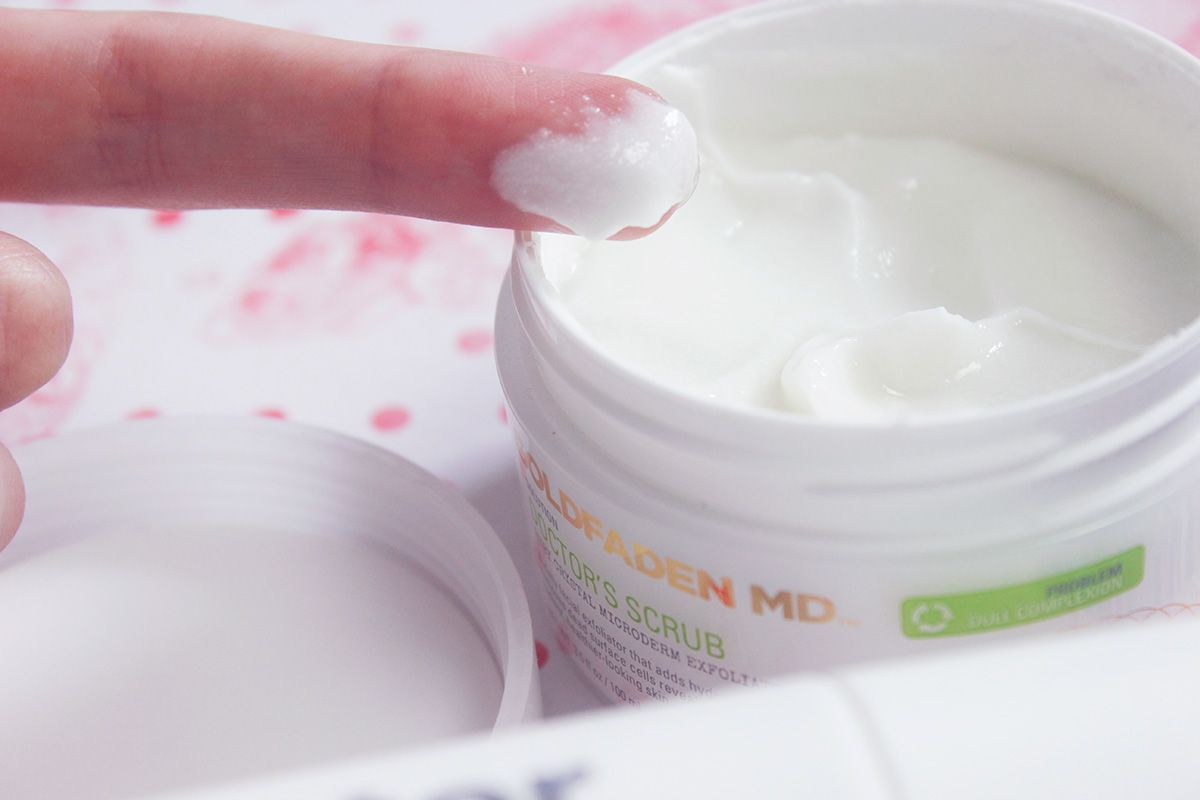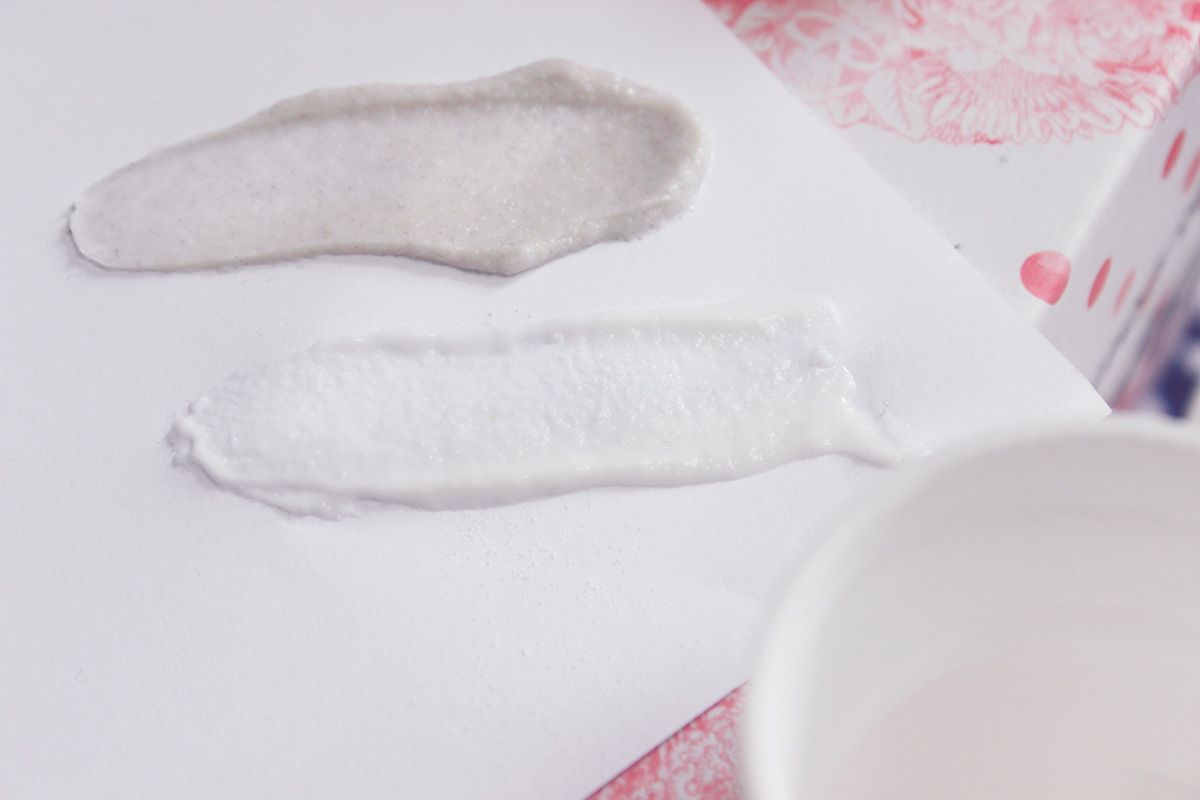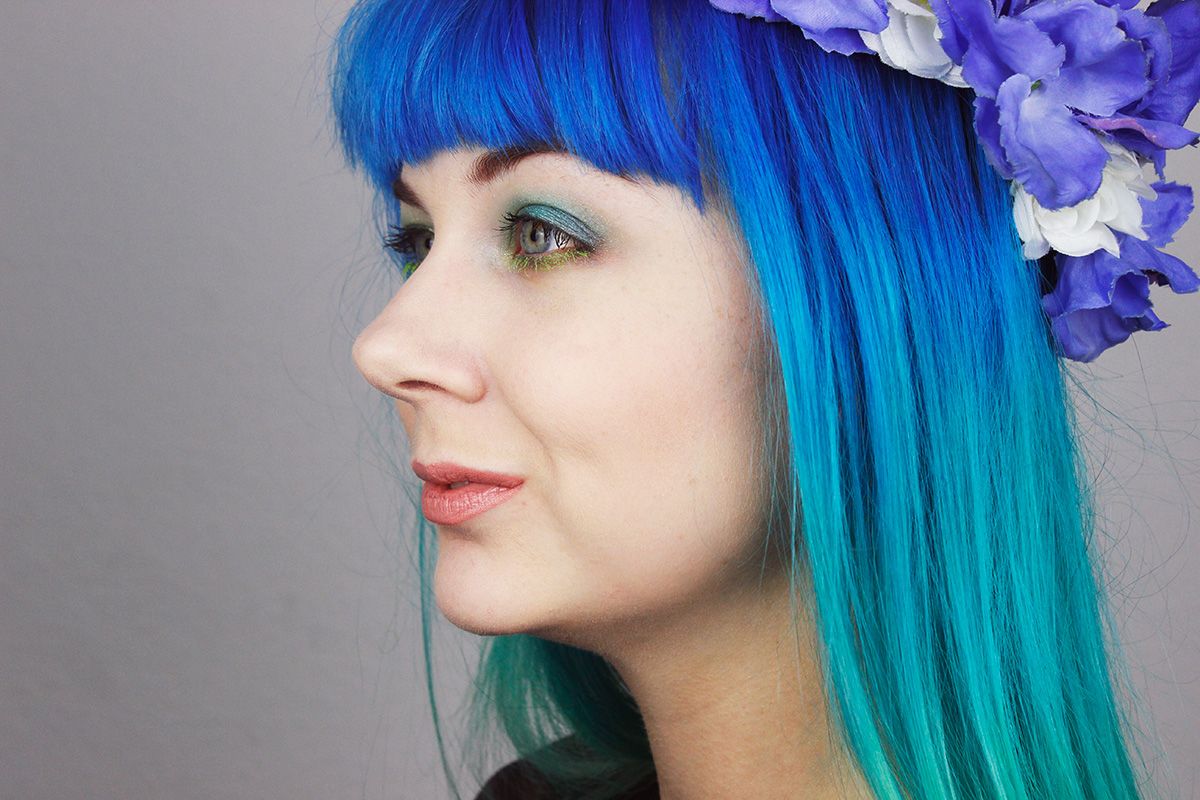 PHOTOS & WORDS: ZOE LONDON
EXCELLENT EXFOLIATORS FOR ALL TYPES OF EXFOLIATING!


FEATURING:
INDEED LABS FACIAL POWDERED EXFOLIATOR*
THE BODY SHOP VITAMIN C MICRODERMABRASION
GOLDFADEN MD DOCTOR'S SCRUB*
First up, *how* hard is it to photograph things that are all white! Argh! Impossible! Once again another small foray into skincare, because i've got myself a little capsule collection of exfoliators that do the job, and do that job well. I've always loved exfoliating, there's something so satisfyingly hypnotic about gently rubbing the exfoliator all over your face and then seeing the immediate results, and at the minute i've been using these three for a while and loved the results. So to begin, here's a photo of all three of them squirted out of the packaging so you can see the different textures as much as possible! The powder is Indeed, the darker brown one is The Body Shop and the white one is Goldfaden MD.
THE BODY SHOP VITAMIN C MICRODERMABRASION
I've used this one for over three years now, (obviously this one featured here is a new one!) and after running out of my previous, I picked this up again last week. You can see that I loved it back here in this post from 2011! (How dark are the photos? Jeez.) Anyway, your first impression will be that this stuff smells great, because it does. It really smells zesty and orangey – gorgeous. What I like about this is that the exfoliating beads are absolutely tiny as it's a microdermabrasion, and therefore it's so gentle. It's got shea butter in it as well so it feels nice and soft while you're rubbing it over your face – this one is softer than the Goldfaden MD one to rub all over the face. Overall I think this is a great all round exfoliator, I don't rate it as much as the Indeed labs one in terms of immediate payoff, but it's definitely done my skin a lot of good over the years. It costs £14 and does last a while as you only need a small bit – but you can buy it in a £2 sachet to try!
INDEED LABS FACIAL POWDERED EXFOLIATOR
This. Now this is a right little gem. I've wanted to try one of those powder to creamy style exfoliators for ages, and when I got my hands on this Indeed labs one, I couldn't wait to try it. I've been using it now for the last three months and I honestly don't think my skin has ever looked better in my life. You can see above in the photo side on – i've only got a small amount of foundation on – how clear and smooth my skin surface is at the minute. I definitely think this exfoliator has a huge part to play in it. I also absolutely couldn't believe the price of it – it's only £12 from Boots! Amazing?! This stuff is so good for your skin, having hyaluronic acid in it is amazing for blemishes and breakouts. You again only need a small bit of it, and you can mix it with a lot of water or a little bit of water to get different consistencies. It's amazing! I'm so impressed by it and I know i'll be using it for years to come.
GOLDFADEN MD DOCTORS SCRUB
This is a little bit of a push the boat out kind of skincare piece. I hadn't much heard of Goldfaden MD before until this little baby was introduced to me back in April. I've been using it pretty religiously ever since. It says on it that it's to be used daily but I use it maybe once a week max, combined with another day of one of the other two mentioned above. It's another microdermabrasion style exfoliator (can we tell I like those?) and it feels a bit rougher on the skin than the Body Shop one – but it's not necessarily a bad thing. I love how soft my skin feels after a good gentle circular scrub all over my face with this and even though it's pricey, i'd recommend it.
So depending on your budget and favourite style of exfoliator, maybe there's one in my top three for you! Do you use any of these already? I'm in love, they're some of my most treasured skincare items at the minute! Click below to check out the items in their stores.
S H O P
!function(d,s,id){var e, p = /^http:/.test(d.location) ? 'http' : 'https';if(!d.getElementById(id)) {e = d.createElement(s);e.id = id;e.src = p + '://' + 'widgets.rewardstyle.com' + '/js/shopthepost.js';d.body.appendChild(e);}if(typeof window.__stp === 'object') if(d.readyState === 'complete') {window.__stp.init();}}(document, 'script', 'shopthepost-script');

JavaScript is currently disabled in this browser. Reactivate it to view this content.