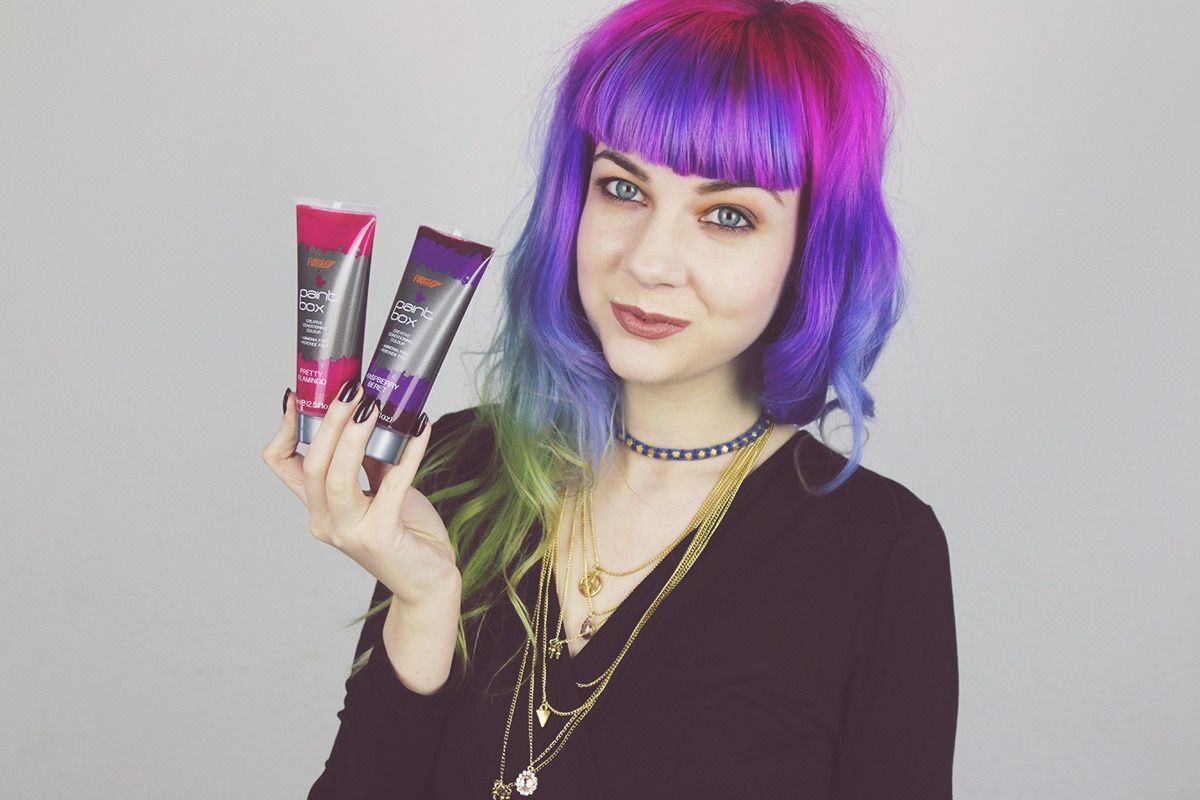 +–+–+
PHOTOS & WORDS: ZOE LONDON
I SPONTANEOUSLY DECIDED TO DYE MY HAIR RAINBOW COLOURED, HERE'S HOW I DID IT MYSELF AT HOME!
+–+–+
I'm always changing my hair, this isn't new news really I don't think, but today i'm showing you my latest creation – which is a rainbow coloured Summery affair! I usually head into Fudge to have my hair done by the lovely ladies in the team, but this time I thought id give it a crack again myself, as it's been a while since I got creative with dye and I had the itch to paint! I was going to film it for a video, but I struggled to dye it alone let alone fiddle about with the camera at the same time so I didn't this time around, but now I know where all the colours go I may do it next time – let me know if you'd like to see it and i'll find a way of making it work!
Anyway, as always I used the Fudge Paintbox Dyes, as I truly find them to be the best dye around. I find them to be really bright on application, pretty good lasting, and they don't stain my skin/nails/pillow/bathroom/clothes/everything haha.
The shades I used were as follows: Raspberry Beret mixed with Pretty Flamingo into Purple Haze, then Turquoise Blue mixed with Blue Velvet and Purple Haze into Blue Velvet, then Green Envy mixed with Turquoise Blue into Yellow Fever. Phew! Long.
I did it all by myself alone using gloves and a tint brush as well as my fingers. I start with the brush and paint it on in segments one by one, before using my fingers (in the gloves) to blend them all together. I also was careful to take the pink and purple round my scalp so that when I tie my hair into a ponytail it still flows nicely as colour. The fringe was the hardest, I had to pin some tin foil underneath it so I could get all the different colours in it – purple, blue & pink – and not stain my forehead!
SOME TIPS FOR DYING YOUR HAIR AT HOME
– Cover every surface so you don't stain anything, it's semi-permanent but it might still stick!
– Always test the dye colour first. Do a patch test for any bleach, and take a small bit of your hair and tape it to a piece of paper, then run the dye through it. It will always take to different base colours differently so it's worth testing it first.
– I also use kitchen roll to paint the shades on as I mix them up to make sure they're the right shade!
– Don't be afraid to mix colours like this, the semi-permanent shades can be used the same as paint.
– Wear an old t shirt or towel as not to stain clothes!
– Keep some micellar water on hand to rub the dye off your ears, face and neck.
– Take it slowly, one by one, and try and leave it on for as long as possible.
– Wash it out gently, with warm water, but unlike regular dye, you don't need to keep waiting until the water runs clear – it'll never run clear! Use your fingers to judge if there's any wet dye left in the hair.
– Always condition as much as possible, I use hair oil and hair masks after bleaching and dying.
– Be confident and brave, chances are it wont go as wrong as you think it might!
Good luck!
+–+–+
Mine isn't completely perfect, the pink ran through into the yellow and made some of it go a bit funny, so i'm going to fix it properly this week – to be honest i'll probably scrap the yellow and stick with a soft green/blue ombre on the ends rather than a full rainbow. I think it's just a little too difficult to keep up with during my busy schedule – yellow takes a lot of effort!
It's weird getting used to the pink on the top but I love the mix of colours, and it's fun for Summer to have something a bit more colourful and bright. If i'm honest, I don't think i'll keep it forever, but as the pink and purple begin to fade more I can stick my usual bright blue over the top and it'll go back to normal – so that's why I figured it was worth a go!
What do you think of my rainbow coloured hair? Would you give it a go at home yourself – or take a small element and try a little colour? Let me know what you think!
+–+–+
S H O P
!function(d,s,id){var e, p = /^http:/.test(d.location) ? 'http' : 'https';if(!d.getElementById(id)) {e = d.createElement(s);e.id = id;e.src = p + '://' + 'widgets.rewardstyle.com' + '/js/shopthepost.js';d.body.appendChild(e);}if(typeof window.__stp === 'object') if(d.readyState === 'complete') {window.__stp.init();}}(document, 'script', 'shopthepost-script');

JavaScript is currently disabled in this browser. Reactivate it to view this content.
+–+–+