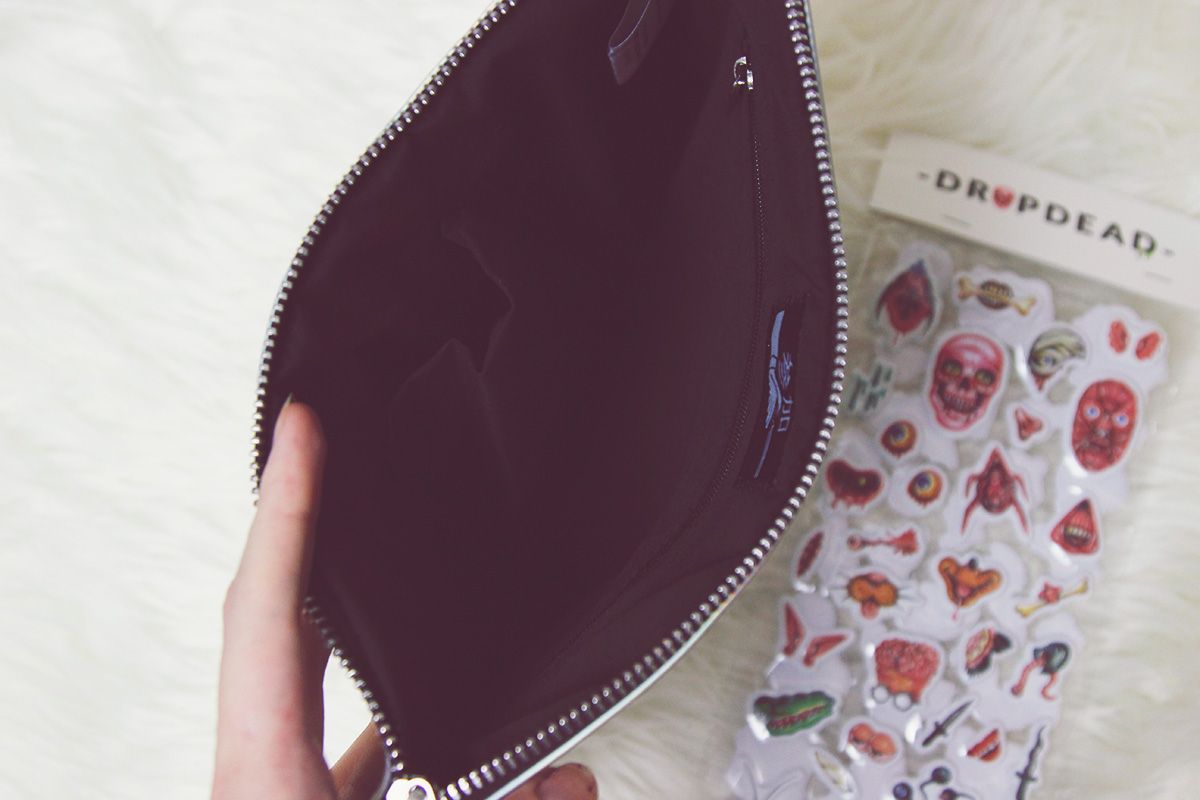 +–+–+
PHOTOS & WORDS: ZOE LONDON
A COMPLETELY CUSTOMISABLE CLUTCH BAG WITH FUN STICKER PACKS!
FEATURING:
IMAGINATION CLUTCH BAG: DROP DEAD*
+–+–+
I have never seen an idea like this before and i'm just absolutely smitten with this clutch bag from Drop Dead. It's a super shiny metallic silver bag that not only is an amazing size, but has a zip pocket and a little phone pouch inside too. I'm really into this kinda 'oversized' clutch square bag look, they were everywhere at Fashion Week and I think they're dead chic and stylish. Anyway, for those of us who are into quirky, more fun looking bags, the Drop Dead Imagination Clutch has you covered.
It comes with a double sticker pack, and these babies are those amazing stickers with the foamy padding inside, meaning they're cut out and 3D looking which definitely attests to the quality of Drop Dead, as I always find their stuff is always worth the money. This idea had the capacity to look tacky and cheap, but it just doesn't at all – I think down to the 3D nature of the stickers provided.
All the designs are these fun Drop Dead mixtures, from bugs and spiders to eyeballs and bones. What I love about the fact that there are so many provided is that you could either go mad with design and cover the bag in them, or you could just stick a few on. You could do one in each corner, a circle of them in the middle… the possibilities are endless.
This means that anyone who owns the bag will never have the same one as someone else! So cool? I went for a kinda random pattern as I just loved the idea of covering it in designs. I adore it and will definitely be taking it to Fashion Week with me as well as many nights out to come.
Shop the Drop Dead Imagination Clutch bag here
. What do you think of this idea?
+–+–+