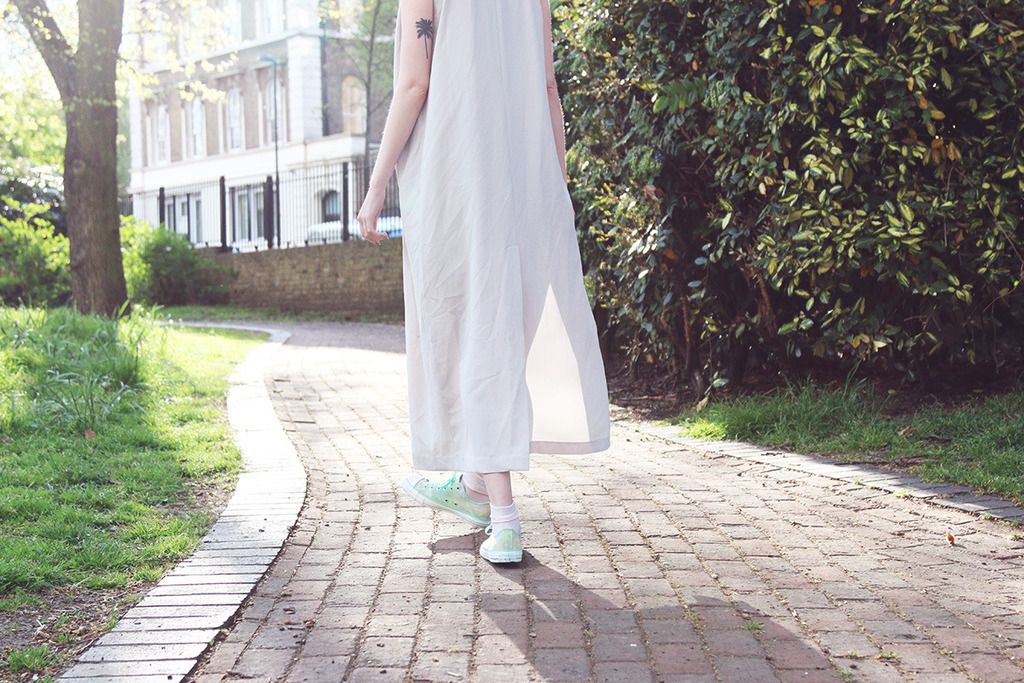 +–+–+
PHOTOS: GEORGE ROCKETT
EDIT & WORDS: ZOE LONDON
BLOGGING FULL TIME DEFINITELY SEEMS LIKE THE DREAM. BUT BOY IS IT LONELY.
+–+–+
While I count my lucky stars every day of the week that I can blog full time – honestly I know I harp on about it but i've had so many shit jobs in my life that I honestly appreciate being able to do this full time – it can be tough. In particular and the subject I want to touch on today, is that being a product of the internet age can actually be pretty lonely.
I do have a lot of amazing friends who span all different backgrounds and lifestyles, which is just so wonderful, and I can see them on a weekend or after work, but during the day, it's just me and my little flat. I'm almost like a housewife, but without any of the ironing. I live and work by myself until George gets home, and I just potter about by myself most of the time working on the things I need to do to keep this ticking over and paying my rent. I have lovely 'outdoor' days – and I try to do one a week if not more – where I go out all day and hop between press days, meetings and seeing my other blogger pals – but most of the week ill be by myself.
One of the things that I always reference is not having any work colleagues. In an office, even if there's two of you, or theres two hundred of you, you have someone else around you. Even for a bit of gossip, some work chat, or just a friendly face to make a cup of tea for. I don't have that and it's tough to make a lot of decisions by myself. Am I charging the right amount of money? Should I post this on my blog or is it bad content? Is this photo colour graded okay? Do I look like a twat in this video? I have to answer all these questions myself, and you don't really realise how much you miss your colleagues until they're all gone. Blogging in London is competitive, and unless you have close friends who won't step on your toes (i'm lucky I have two besties) you can't really ask those questions to others, as it's all kept kinda hush hush and no one wants to share what their management are doing or whatever. I get so bored not opening my mouth during the day that I find myself chatting to the women in the shop, the lady at the post office, or even just people in the street – because I miss basic human interaction. I'll often suggest to a brand to give me a call or Skype if we can't get to a meeting, just because I love chatting to likeminded people!
I'd say it's probably made worse in a bittersweet way by my job being online. In this modern world I can connect out to 32,000 odd of you with one tweet, but not actually open my mouth to converse. I try to reply to as many tweets as possible as I love the conversation, but it's still not real interaction and I still feel pretty lonely inside.
All of this sounds like complaining, but i'm not complaining in the slightest. I love my job. It's not even a job to me and that's how you know you enjoy your job – if you feel like you never work a day in your life. Reality is that I type this at 2am, after sat here planning blog content and working casually round the clock, with my days and times blurring all into one. Of course I have friends I chat to on chat all day long, and they are my rock and lifeline through all this, but it's just that working atmosphere that I do miss, and worry for future generations stepping straight from school into YouTube. It's lonely if you let it.
I try to make a real conscious effort to get out and about as much as possible, as I am a really social person and love being out anywhere at any time, so maybe that's why I feel the loneliness more. I don't know. But I guess it's good to see that behind the camera/blog front, the truth is that working on my passion can leave me left by myself more often than i'd care to admit. Blogging is a wonderful job and I treasure every day with love and happiness, but I do feel lonely. I also am willing to bet that most other full time bloggers also feel lonely, with the day to day running of their site, too.
Summer brings endless sunshine and joy in the city, and I want to see as much of it as possible. It's too easy to let the lonely feelings consume me and make me worse, so I want to read this back in six months time as winter draws in, and think to myself "hey, I don't feel as lonely anymore."
If you blog/work freelance full time and too feel lonely, you're not alone. And hey, come hang out.